‹
›
Article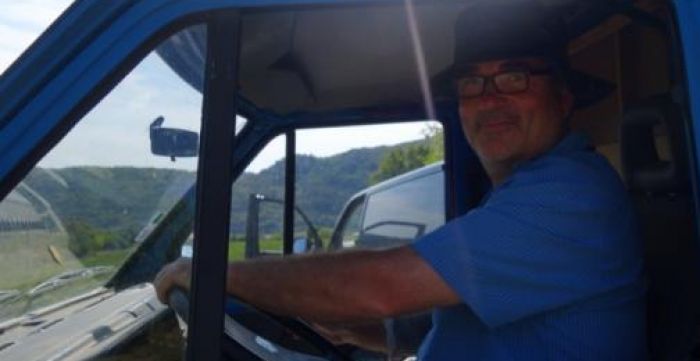 2007: A Recap of Recent Bottlings and News from the Cellar
As usual, the end of winter is for us a time to bottle our wines.

We had exceptional weather in April and bottled in ideal conditions. We picked the best days to rack perfectly clarified and "happy" wines as we had constant high pressures and a North wind for three weeks.
Châteauneuf-du-Pape Rouge 2005:
2005 is a solar vintage, and Châteauneuf-du-Pape a solar terroir. The Mourvèdre grapes (two barrels), which usually strain to reach optimum ripeness, have in this vintage an essential play into the final balance of the wine: the result is more fruit than spice, and quite close to 2001 in structure. Eight barrels or 2240 bottles.

There are two barrels of old Grenache from la Crau left, to be bottled next fall or later under the label Improbable.
Brézème 2005:
Global warming is a positive factor in Brézème! For the third year in a row, we enjoyed a perfect growing season, which ended in late September with really ripe Syrah at 12% natural potential alcohol. Denser than the 2004 vintage, the wine is closer to a Moulin-à-Vent than to a still Porto… 9880 bottles

The six barrels of our oldest "Petites Serines" will be bottled in June under the Domaine de Pergault label (around 1500 bottles and 150 magnums)

Côte Rôtie 2005:
The biggest challenge in Côte Rôtie was to avoid over ripeness and over-concentration of the grapes, just like in Condrieu, given the weather conditions in 2005. The mica-schist soils of Vernay and the old age of our "Serines" made it possible, at least in part. The wine is in the same style as 1999, and we think will be pleasurable early on and not meant for long aging. Three barrels and a half, or 1002 bottles and 12 magnums.

Mâcon Bussières Très Vieilles Vignes 2005:
After a second winter spent in two and three year-old barrels, we bottled this without fining or filtering. This wine has great purity, although it is still marked by its wood aging. Its balance and minerality should ensure great aging potential. Eight barrels gave a total of 2144 bottles and 36 magnums.
Brézème Roussanne 2006:
A novelty this year: in 2003, we planted 22 ares (0.22HA) with sélection massale of the old so-called "Roussettes" owned by François Pouchoulin; in 2006, these gave their first crop, tiny but eagerly expected. We blended young and old vines, half and half, and reached the record crop of five barrels, or 1380 bottles. The wine is lighter, less dense than in previous vintages, reminiscent of the year 2000.

The last two, and best, barrels of old vines will be bottled later and labeled under Domaine de Pergault (make your reservation asap.)
Châteauneuf-du-Pape blanc Vieilles Vignes 2005:
Like the Bussières, this is a very mineral, tightly wound wine. Only Clairette and Bourboulenc went into the blend this year, as last year. This has tremendous aging potential, with the Clairette fruit dominating right now, but the amazing Bourboulenc juice of 2005 will show its pedigree in some time. Similar to 2000, with even more style. Four barrels or 1160 bottles.
Condrieu Janrode 2006:
It is the only Condrieu we will bottle this vintage. This extraordinary plot produced a lively and balanced wine, where the varietal character of Viognier disappears in favor of the minerality of the soil. We judged the rest of the Viognier crop, from Vernon, to be characterless and too close to the majority of modern Condrieu wines, and sold it in bulk. Two barrels of new acacia wood or 568 bottles.

Other News in Charnay:
Last summer, Eric showed us his newly rented cellar in the village of Charnay-en-Beaujolais, where he lives. Close by, he pointed at a one hectare vineyard of Gamay which he had acquired with a group of friends/investors and that he is tending it in biodynamie.

Eric had formed a non-profit association to maintain this site and to prevent it from becoming available to real estate developers. Charnay is near Lyon and increasingly the vineyards are being ripped out to make way for new housing.

The site is currently in the AOC Beaujolais but the association decided to declassify to table wine and to overgraft with other grape varieties. This way, they would not compete with the Beaujolais producers in the village.

The goal is to produce delicious natural wine, available at a reasonable price to young people (of drinking age, of course) and residents of Charnay who can't afford good wine. Eric worries that too many young people are drinking plonk, going right to hard alcohol or beer and that the wine culture is losing out. The wine from this plot will eventually be sold in plastic jugs and will hopefully bring a new generation to the joys of wine. It will not be available on the American gray market.

Overgrafting is an interesting technique. Eric writes:

"During the last week of April, we grafted over an entire hectare. The summery weather and a powerful waxing moon made the sap surge in a spectacular fashion, very beneficial to the new grafts."

Overgrafting is a technique that can jumpstart a new vineyard by replacing one varietal with another: the live vine (dormant since this is done at the very end of winter) is cut below the grafting point, leaving only the rootstock in place. A piece of cutting is grafted, i.e. inserted into or ligatured against, the wood of the rootstock.

Eric collected cuttings from his colleagues, Cabernet Franc from Elian Da Ros in the Côtes du Marmandais (South West France), Malbec from Matthieu Cosse in Cahors, and Muscat from Jean Riché in Beaumes de Venise.

Of course, Eric had a special joker to play this game. One of the last experienced grafters in France is Denis Clavel, from St-Gervais in the Côtes-du-Rhône, where for years Eric has been buying grapes for his St-Gervais Village and Old Vines Cadinnières cuvée. Given the high cost of replanting vineyards with plants from a nursery, the Clavel family has perpetuated the now largely lost art of grafting from sélection massale in their own vineyards. Denis prepares the cuttings with an old tool, a relic of the past that cannot be bought anywhere.
A stick of wood is slipped into a slit directly into the rootstock.

Presto, no more Gamay, but baby vines of Cabernet, Malbec or Muscat with an old, strong root system, which will not suffer from drought nor excessive rain in their first years.

The first harvest is scheduled for the fall of 2010.