‹
›
Article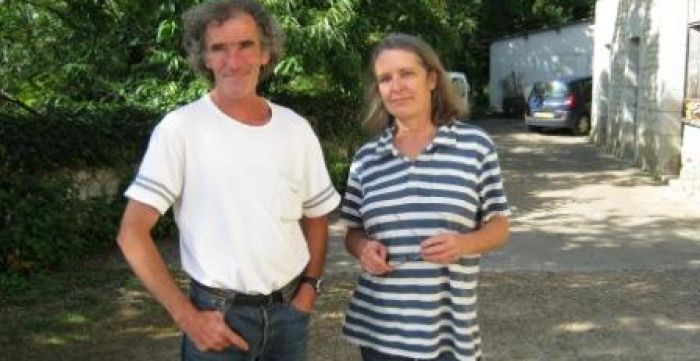 Catherine Roussel and Didier Barrouillet
I met Catherine Roussel and Didier Barrouillet in 1993 at the Angers Loire Valley Fair. David Lillie (who was then the Loire Valley buyer at Garnet Wines and is now co-owner of Chambers Street) and I were looking for a Touraine and drudging from booth to booth tasting one industrial Touraine after another. God only knows how many we tasted and between the high level of sulphur and the uniform sameness of all these wines, I was getting tired. So, I approached one of our last Touraine tables and asked the smiling and charming owner if they harvested by machine and used innoculated yeasts. When she said yes, I thanked her and told her we would not be interested. Dozens of wines later we were still empty handed.
The next morning, David and I were eating breakfast at our hotel and the same woman who I had arrogantly dismissed came up to our table, once again all smiles. She told us that she had a close friend who was making exactly the type of wine we were looking for and she had talked to her about us and that we should rush to the exposition hall because they would be there first thing at 9 am ready to have us taste their wines at Booth B432.
David and I got there early, anxious to taste their wines. Catherine and Didier arrived 30 minutes late, but finally had us taste through their range of cuvées.
Yes, this was what we were looking for! Naturally made wines with consistency, honesty and precise flavors and two crazy proprietors who seemed plenty serious but also very funny, witty and engaged. David ordered an insane amount of wine and a collaboration was born.
It has been a privilege for me to know Catherine and Didier. They have worked biodynamically, organically and naturally but still keep a distance from every dogma and sect that is now splitting apart the French wine world. They have their own road, their own style and count as friends assorted idiosynchratic winemakers from all over France and various schools of viticulture and winemaking. For Catherine and Didier, the important thing is to work hard to express a terroir and in the Clos Roche Blanche they have been blessed with one of the great sites of the Loire.
Even more importantly, they have become close and dear friends.
What is remarkable about the Clos Roche Blanche is that both Catherine and Didier had no training and no technical preparation for taking over such an estate. They learned everything on-the-job and have turned this estate into one of the most respected wine producers of the Loire Valley.
Congratulations to Catherine and Didier -- The 2005 Wine Personalities of the Year!

Denyse Louis from Louis/Dressner Selections interviewed Catherine Roussel for the following article:
The story of how Catherine's father became a winemaker is a little complicated. Everything came from second marriages, and Catherine's father, Jean, was adopted by his stepfather when he was nearly 30 and officially took over the estate in 1963. Jean Roussel started working at the estate during WWII, until his death at 51 in September 1975.
Catherine's mother, Solange, and Catherine, the older sister of the famous physicist Pierre Roussel and the younger sister of Françoise Roussel (who directs a major insurance company), decided to carry on with the estate, with the help of long-time employee René Vrillon. Catherine says it's thanks to him that the estate survived, because neither she nor her mother had ever vinified or really led the vineyard work, although they both had long helped out when they were needed. Most of the wine was then sold to négoce, although Catherine's father had been among the very first to bottle and sell his wine himself in the 60's.
In 1981, sick of feeding and taking care of 20 people for a month every harvest, Catherine bought a harvesting machine. Since René was driving the machine and couldn't be in the cellar, Didier Barrouillet, who was working for the first time at Clos Roche Blanche, took on the winemaking duties. Catherine already casually knew Didier, a Parisian, who was interested in both working the harvest and enthused about making the wine -- something he had never done before in his life.
Catherine says she has never liked making wine: it requires a lot of patience (she has none) and a meticulous nature (not her style). The 1981 vintage was not one to remember for its excellence, but Catherine offered to create a partnership with Didier. He stayed on to work for the estate, receiving a small stipend, food and a small house in the vineyards.
In France, it is difficult to work in any field without the proper diploma, so Didier went back to school in the fall of 1982, at the age of 30, to get a baccalauréat diploma as a "jeune vigneron". The quickest way to get a diploma was to pass a second baccalauréat, with agricultural specialization. So, while working full time, Didier studied on his own and passed the exam in 1983, and the GAEC Clos Roche Blanche was created as a formal partnership.
In his previous life, Didier was a Parisian who had passed his baccalauréat of science at 16, and gone on to special high flying math classes for two years. When time came to start engineering school, he left everything and took odd jobs, notably as a worker in a factory for three years. He also travelled quite extensively. His parents, an engineer and a nurse, had dreamed of being farmers themselves, but nothing predisposed Didier to becoming a winemaker (his two brothers now also live in the country, one of them working part-time at Clos Roche Blanche).
As an aside, Catherine was 30 when she discovered that wine was a pleasurable beverage. Her main goal in life was not to be a vigneron, but to live at Clos Roche Blanche. Didier says she has roots instead of feet. Didier drank only water in 1981, and thought that wine was making people stupid. Now he barely ever drinks water.
For ten years, things went on as in the past, but Didier was dissatisfied with the wines he was making, the wines were correct, even good, but not great. When he tasted around the appellation, he was more and more tired of the uniformity of the wines from the area, he could never tell which was from what terroir or even who had made a particular wine, they were all the same to him.
In early 1992, after the terrible frost of winter 1991, their neighbor Yves Bucher offered to sell them his vineyards. Clos Roche Blanche more than doubled its surface, from 15.5 hectares to 32 hectares. That same year, Catherine and Didier decided to completely change their methods in the vines: they stop using herbicide and pesticides and started the conversion of all the vines to organic agriculture.
They had already abandonned the use of chemical fertilizers a few years earlier, in favor of organic compost. That was a radical and brutal decision, and the vines did not like it much. Yields dropped dramatically, the vines looked sick, shrunken, as if trying to protect themselves against this sudden aggression. Plowing a soil that has been treated for years with herbicide kills all the superficial root system that the vines use to get most of their nutrients; it takes a while for the deep root system to take over and feed the plant, and the grapes. Catherine and Didier were so convinced that there was no turning back that in 1993 they registered their estate with Ecocert, a certifying organisation that oversees organic agriculture.
The first vinification gave a happy surprise and comforted them in their new way: the indigenous yeasts, unimpeded by any pesticide and fungicide, started the alcoholic fermentation on their own strength.
After two very difficult and nerve-wracking years, they converted a portion of the vines to the stricter practices of biodynamie. The wines were getting better and better, and by 1995, they were able to bottle and sell the entire crop. By the late 90's, the estate was down to 27 hectares, some vines had been sold to their friend and neighbor Michel Augé. In 2000, Catherine and Didier realized that they had too much work with 27 hectares and that they would make better wines if they concentrated more on their top parcels. They also didn't want to hire someone new. They decided to sell 8.5 hectares to their Japanese importer, Junko Arai.
Didier has since started a study of useful auxilliary insect with an entomological institute in Tours, and planted all sorts of flowers and herbs among the vines. Unfortunately, the crazy hot summer 2003 killed most of the plantations (there is no irrigation in French vineyards) and what survived did not make it in 2004 and 2005, two years with a big deficit in rainfall.