‹
›
Article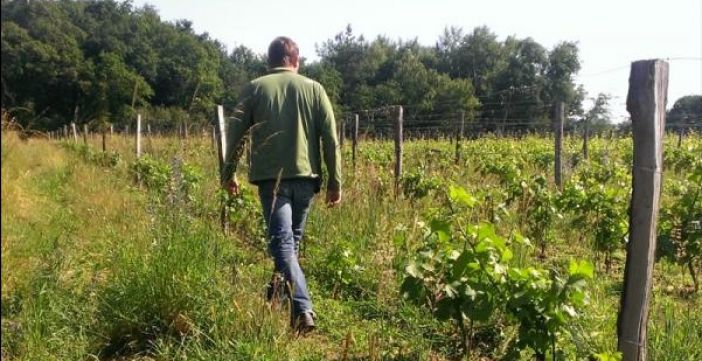 This visit to Clos du Tue-Beouf took place in July, 2013.
Words by Jules Dressner, photos by Maya Pedersen and John Kafarski.


Puzelat time! After a quick hello with Thierry and Jean-Marie, we headed straight to the Clos du Tue-Boeuf, the lieu-dit the estate is named after. The first part of the clos we visited were the three parcels that go into the "Gravotte" cuvée.




The three plots total one hectare. Thierry blends them together because of similarities in their soil composition: a small coteau of eroded clay and flint with shallow, chalky limestone, all planted in Pinot Noir.




The vines are 36 years old. Thierry recently ripped out a bunch of very old Chardonnay and Pinot Gris in the same area to replant Pinot Noir (all from massale, sourced from the Caillière and Gravotte, Hervé Villemade's Ardilles parcel and Prieuré-Roch).




This will effectively double "Gravotte"'s production in coming years.

Just a little further, the plots that produce "Caillière" awaited us. These are also planted exclusively in Pinot Noir.




The soils here are composed of red, sandy clay.




As you can see from the pictures above and below, they are much less absorbent than the Gravotte sector.




Still marching onwards, we crossed this little path to check out some Sauvignon Gris.




When I pointed out that the whole area felt extremely closed off, Thierry explained:

"The land costs nothing here so we bought everything around us to keep the trees and ensure nothing would ever get cut down. We didn't want to lose the biodiversity."

The Sauvignon Rose here was planted in 1998, when René Mosse used to work at the estate. The plot used to be woods, which Thierry's team cut down before planting the following Spring.

Some older Gamay used to be planted here as well, but Thierry recently ripped them out.

"They were shitty clones from the 70's. They had poor vegetal matter and were always sick."

Gamay will be re-planted here in massale.

From the Sauvignon, we took a quick drive upwards, which eventually led us to the lieu-dit Frileuse.




If you haven't noticed yet, many of the Tue-Boeuf cuvées are made from lieu-dits within the lieu-dit of Clos du Tue-Boeuf.

Frileuse roughly translates to "the little cold one". Unsurprisingly, it's the parcel that gets the coldest and frost is often an issue here. The soils are clay and flint, and less compact than Gravotte. The site consists of two hectares: one in Sauvignon, the other in Chardonnay.

We then drove around for a while, passing by the lieu-dit Buisson Pouilleux, some of Pierre-O Bonhomme's recently purchased Touraine vines, the Guerrerie parcel and Brin de Chèvre, a plot of old vine Menu Pineau planted in 1934.

"I work the very old parcels by horse due to their fragility. A tractor easily rips them out of the ground or breaks them."

Still talking about Brin de Chèvre, Thierry explained that the windy climate, solid clay and Menu Pineau being late ripening, this is usually where they harvest last.

"This grape is super resistant. Esca has never been a problem and it resists mildew. The three really local varieties -Menu Pineau, Romorantin and Pineau d'Auni s- are always the most resistant to illness. Gamay and Sauvignon have only been planted here for 100 years, and they are always sick. This is why we've started replanting only these old varieties."

Still driving around, we passed a Gamay parcel where Olivier Lemasson was working. It would have been rude not to say hello, so we did.




This parcel is planted on a very similar terroir to Frileuse.

After an extensive tour of the vines, it was time to taste, which didn't take very long since their is so little wine in 2012. Here's a picture of the TOTAL production of "Frileuse".




That's right, three barrels. It tasted good. Additionally, there is only one barrel of "Buisson Pouilleux", which also tasted good.

An exceptional rosé was produced in 12:

"We decided to make rosé because many parcels were hailed on. The tannins would have made the wine too harsh for a red."

Also, the little bit of "Guerrerie" Gamay harvested was consolidated into "La Butte".

After the tasting, we headed to the famed L'Herbe Rouge with Thierry, Jean-Marie, Pierre-O Bonhomme and Olivier Lemasson for lunch. This happened:




And this:




And this:




We also ate some good food, but that's inconsequential. Points of conversation included:

-A lot of growers working conventionally are slowly going out of business, as evidenced by Olivier Lemasson being able to buy old vine Côt, Gamay and Grolleau from guys who have quit over the last 10 years.

-The Puzelat-Bonhomme négoce will change to Domaine Pierre-Olivier Bonhomme as of the 2013 vintage. This has been years in the making: Jean-Marie is a few years away from retiring and Thierry, who will now be alone at Tue-Boeuf, has decided to focus his energy entirely on his family estate (on top of his importing business and running a successful wine bar in Orléans). Pierre-O made many of the 2011 wines and all of the 2012 wines on his own; both parties feel that he is ready to step up to the plate. Fan favorites like "Le Telquel", "Rouge est Mis" and the "Tesnière" Pineau d'Aunis will still be in full effect.

-As of early 2013, Pineau d'Aunis is officially declassified from use in the Touraine AOC.

"If you start a new plantation in Sauvignon or Pinot Noir, you get a 10,000 euro subsidy from the minister of agriculture. If you plant Pineau d'Aunis, you get nothing."

We also talked about the late Chistian Chaussaurd and Thierry's time as professors at the viticultural school of Amboise. Cho-Cho was there for five years, Thierry for three.

"On our own we were bad enough, but the combination of the two of us is what got us fired!"

Apparently, telling people to use less sulfur and native yeasts didn't go over too well...

Here are some completely unrelated pictures of Thierry's new puppy Horatio.




After lunch, Pierre-O drove us over to the really, really cool, 100+ year old Probilière parcel.




The soils here are composed of very fine clay and flint.




Some of the vines here are Gamay Teinturier, one of the only red pulped grapes in the world.

Some marcottage was going on.




The prior owner was pumping tons of chemicals into the vines, and was getting up to 100 hl/ha yields off of 12 canes!!! Pierre-O has converted the parcel to organics, reduced the amounts of canes to six and had 40 hl/ha yields in 2011.