‹
›
Article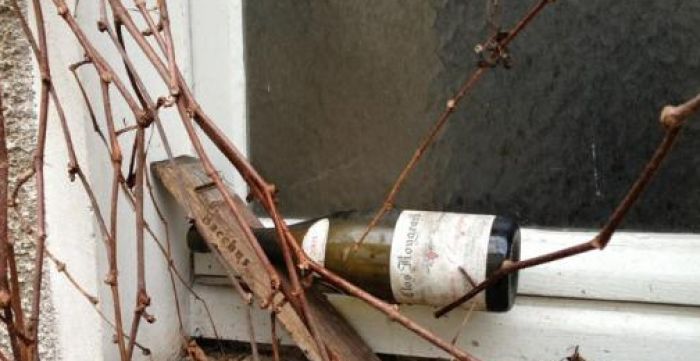 This visit to Clos Rougeard took place in January, 2013 .
Words by Joe Dougherty (RIP).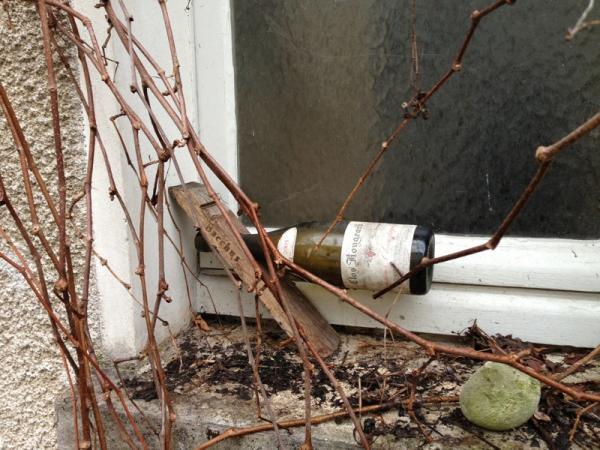 I was out of commission for the Rougeard visit (bummer, I know), so today's visit recap was typed up by Average American Consumer™ Joe Dougherty! Joe is a wine lover who lives in New York. In his remaining free time, he is an investment banker working to fund biotechnology companies. Before jumping the rails to Wall Street, he was a scientist for 20 years with a few degrees in chemistry. He finds that his scientific training adds an interesting perspective on the wines that he drinks for pleasure, not just analysis.
Let's all thank Joe for for letting me share this with you! Thanks Joe! Ok, ok, here goes...
JOE DOUGHERTY'S BE-ALL END-ALL RECAP OF CLOS ROUGEARD:
I had my first visit to Clos Rougeard in several years. Getting in there always feels a bit like getting an audience with the Pope. In addition to our group of folks from Seattle, Portland, SF, Chicago, Florida, NYC, etc., etc., there was a sommelier from some Michelin 3-star and some others who came and went in the ancient cellar.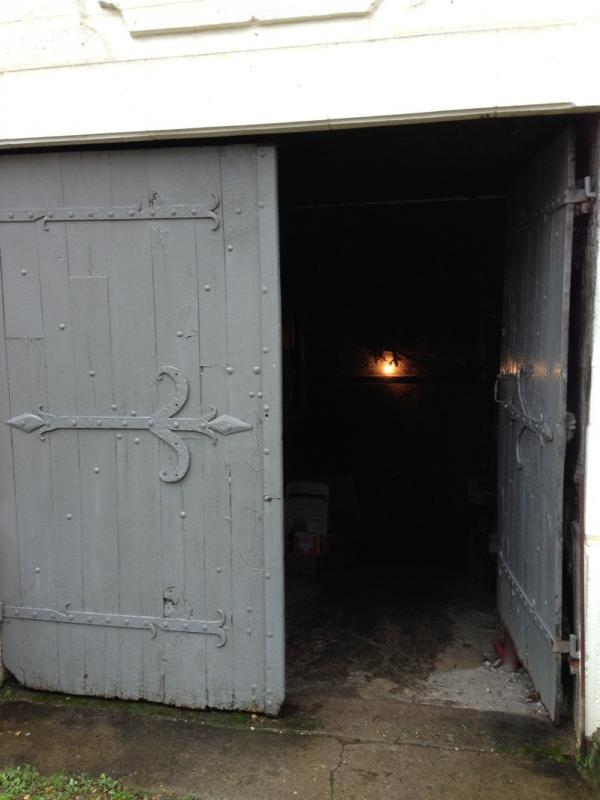 If you ask me, Nady overdoes it a bit with the spray-on cellar mold, but of course tastes vary in interior décor. After all the introductions, Nady said, "Salvador Dali had it wrong. He said the center of the universe is the train station at Perpignan, but clearly it is rather here in Chacé." Tentative chuckles all around.
He lost a lot of grapes in 2012 in Poyeux and the Clos to hail, but had less damage to the Bourg and the white. Yields were already down from the same poor flowering that affected most everyone. This estate shouldn't need an introduction to this crowd, but I'd mention that the Bourg gets 100% NFO, the Poyeux gets barrels that have seen one wine (mostly the Bourg, but for 2 years), and the Clos barrels that have seen one or two wines. He feels the essential thing in barrels is to leave the wood out in the weather for at least 4-5 years before use, and that various commercial efforts to accelerate that interval generally give a poor product. He has his barrels made locally to his spec. The production here in a typical vintage is "0-30,000 bottles." Zero being 1991. 2012 is presumably on the smaller end of that range. He didn't show us any 2012s.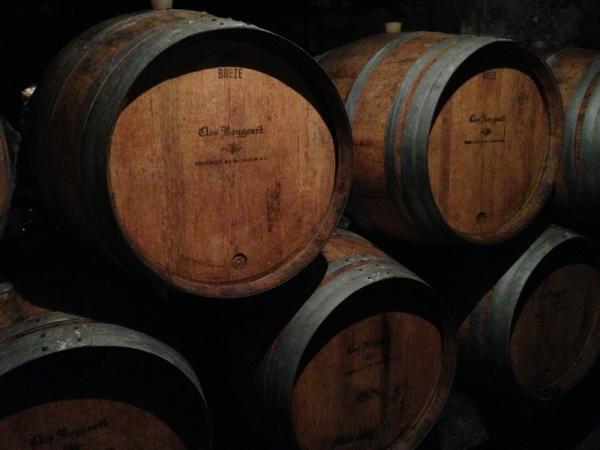 I mentioned elsewhere that these guys don't have bad vintages, only different ones, and I believe it. I can think of two wines in the last decade from them that I really didn't love, and even those you could drink.
He described 2011 as rainy and cool, with a good September. Definitely lighter than 2009 and 2010. The Poyeux has a barky Cabernet Franc nose, refreshing acidity, medium length, medium-light body, and fine tannins. Totally successful light vintage. The Bourg has sweet oak on the nose (though that usually moderates with another year of élevage), good fruit, medium weight, and a longer finish. These vines are roughly 70 years old.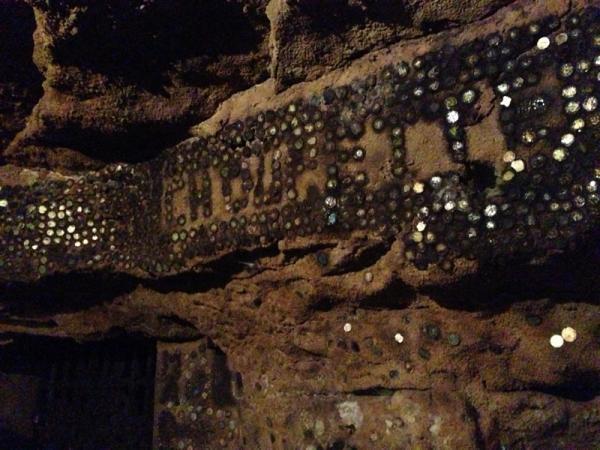 The 2010s were bottled on the day of our visit, but they showed well. He assembles 3 months ahead of bottling. The Clos includes anything he doesn't bottle as Bourg or Poyeux. 2010 is a bigger and more structured vintage, with higher acidity. The tannins have softened a bit, but the wine is quite classic. He will sell the '10s after another year in bottle. The Poyeux is more complex, with deeper fruit, and is perhaps a bit softer. The Poyeux has more sand than the Bourg's classic clay, but they share similar white tuffeau underneath. He feels the wines have similar longevity, that the Poyeux is more elegant, but thinks they just have different styles. But this Poyeux is classic. The 2010 Bourg is less open on the nose, but you can taste the hidden depth. Bigger in the mouth, much more tannic, with a long savory finish, this is memorable stuff. It's pretty, but finishes with real grip.
The 2009s are less typique, with more gras. Riper wines overall. The Poyeux is starting to have some bottle flavors appear, but it is much more plush than 2010, bigger, softer more round. Nady notes that 2009 and 2010 actually have similar acidities, but the fruit hides this to some extent on the '09s. The Bourg is darker but not opaque, with sandalwood, bark, and black fruit on the nose. It's big and rich on the palate (in this context), and the fruit cushions significant tannin on the long finish. I think this needs quite a bit of time.
The 2008 Poyeux is much leaner and more structured. Not friendly now, but IMO fun in 10 years. Nice of him to open one—it saves me trying any of mine for a good while. The 2008 Bourg is in step, with a very limestone feel to the tannins; it's lean but clean. Put it away. Nady comments that 2008 had similarities to 2010 for them, though the summer was cooler. Frost in spring cut yields, but they had good harvest conditions.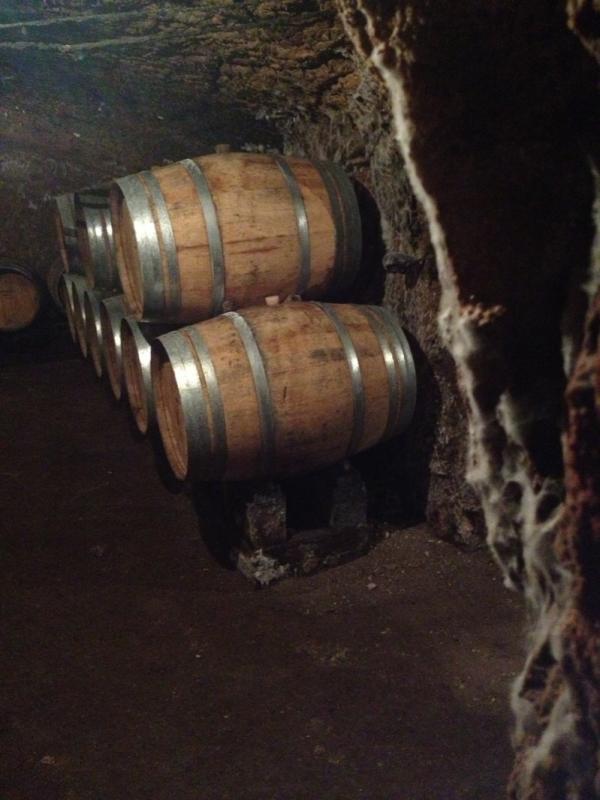 The 2006 Bourg is starting to get going—Nady feels that the tannins are rounding out, that you could start to drink it if you carafe it. I would be inclined to wait a few more years, personally. He mentions that the older the bottle the less he likes to decant—he'd prefer to pour slowly. The carafe is too much of a shock for old wines. I wish I had some of his wines that were old enough that I would worry about this.

He spares me another infanticide by opening 2005 Bourg for us. Quite dark and primary, but clean and fruity. Powerful but balanced, excellent acidity, the tannins are ripeish but plentiful; this is remarkable stuff. Glad to have some. But it's not for anytime soon.

The 2010 Brézé (dry Saumur Blanc) had been in bottle for a month. The barrels were 20% new, as he does a 5 year rotation for the white. The wine is leesy, rich, has some wood on the nose, but wow, faboo. Great acidity, tastes dry, an endless finish, a classic version of this somewhat eccentric wine. The 2009 is 14%. Nady feels it's a bit disjointed now, and I accept that. It shows a bit of heat, and it's a bit odd. This site has more clay than the Bourg, it's a cooler soil, he feels that chenin likes that. The 2006 Brézé is still showing wood, but Nady thinks it is coming into drinking now. Remarkable stuff despite the wood. I would note parenthetically that I opened a 1997 Brézé recently and it was still very leesy. I felt it could still use more time. I don't have enough experience with these whites to insist on what to do with them.

He opened 1997 Coteaux for us. 6 hl/ha, SGN, 190 g rs, 8.7 ta (!), 11.5%. 3 barrels, 3 years in NFO. Bow your heads.

This post is Clos Rougeard Approved.