‹
›
Article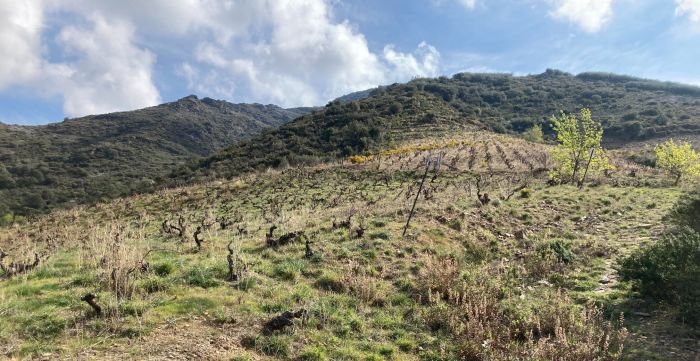 Words and photos by Jules Dressner.
We've known Joachim Roque for quite a few years now, but this was our first time visiting his estate. Fueled by croissants, coffee and a nice view of the Mediterranean, we were ready to go!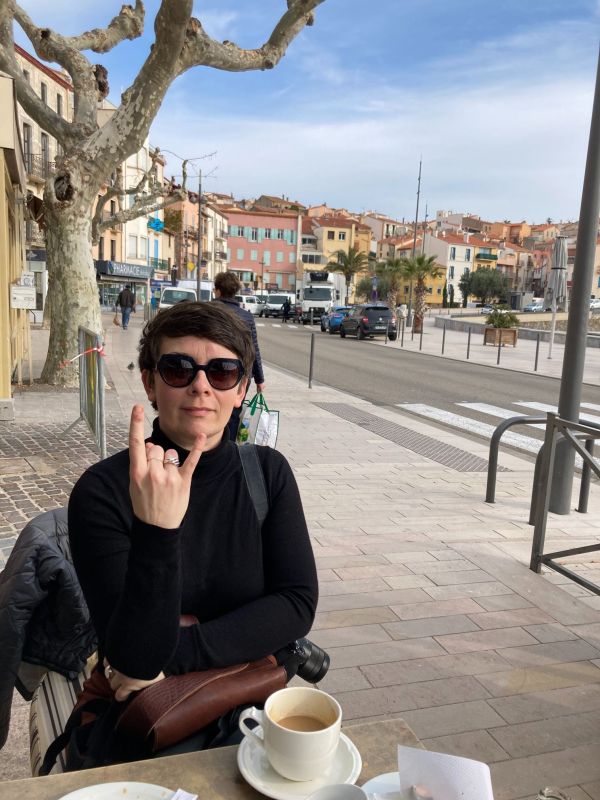 Joachim told us he wanted to start the visit in the vines of Saint-André, the village where he lives. Not realizing it was a solid 20 minute drive, we had some time to chat about this sector I'd never visited before.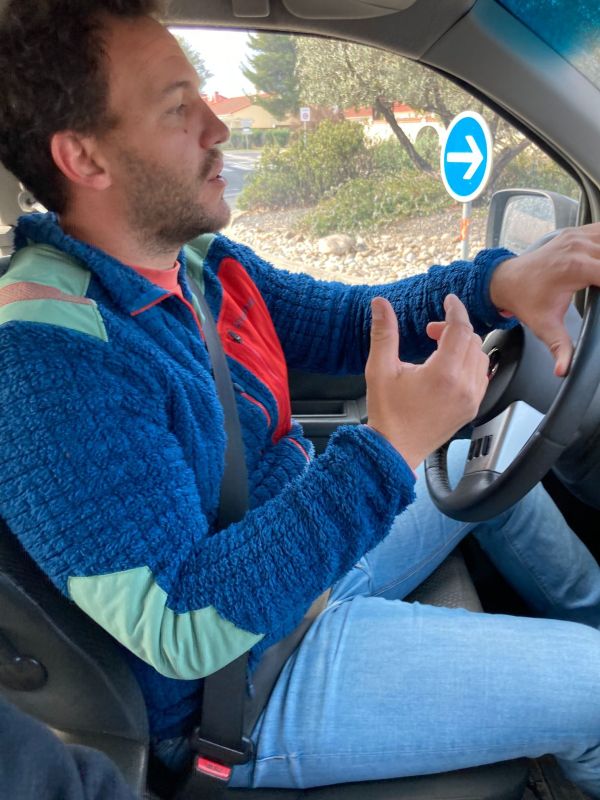 Saint-André is not only where Joachim lives but where he has the majority of his vines. The terroirs here are part of the very broad Côtes du Roussillon appellation.
The big project of the moment is to build a cellar minutes from his house for the 2023 vintage.
"It's much closer to Collioure and all the Saint-André vines are right there. From my village, there is only one road to Banyuls and the 9 Caves where I have my cellar. We're harvesting in August, it's peak tourist season. Sometimes it takes me an hour and half to get to the 9 Caves. It's a huge waste of time and energy."
The first sector we visited is Joachim's single largest plot of land.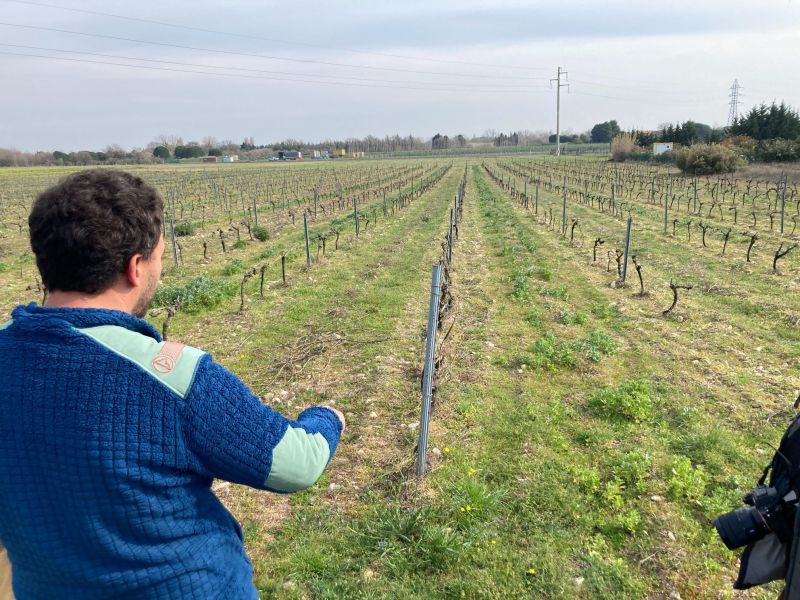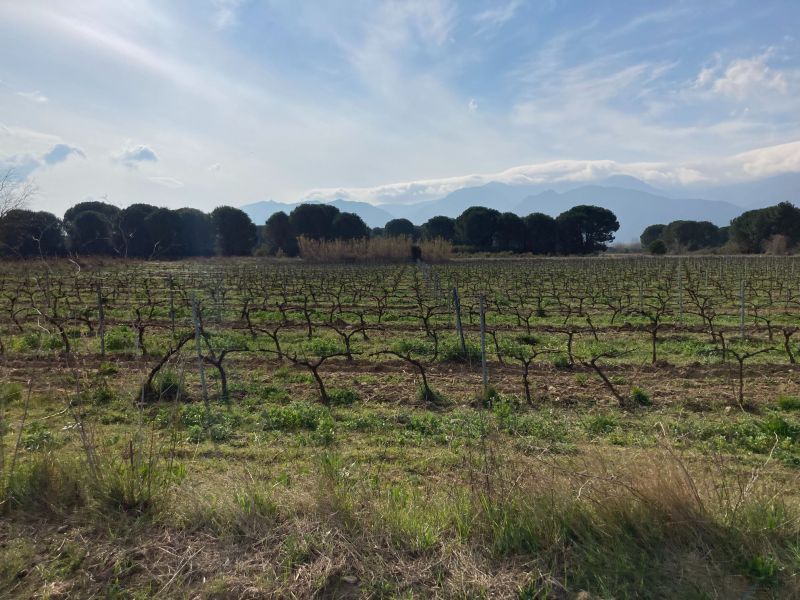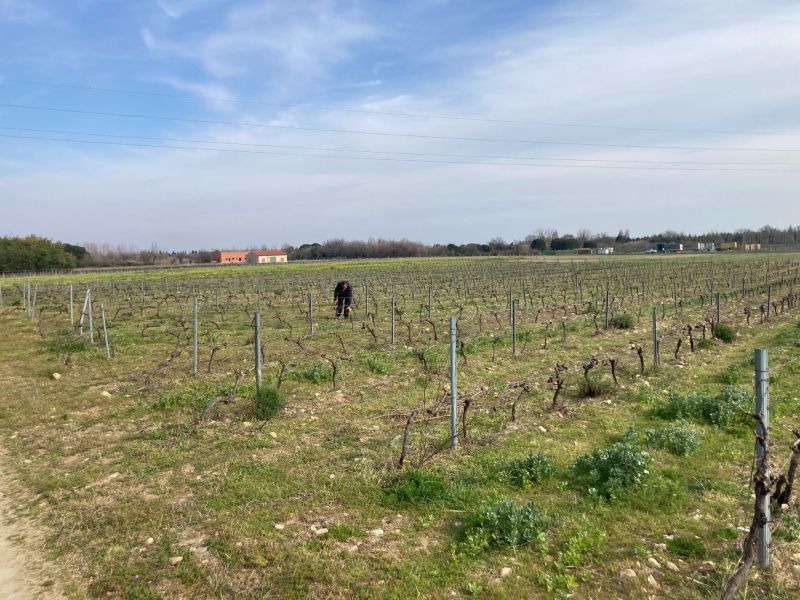 The main plantings are 12 year old Muscat that go into "Esperanza Blanc", along with the Syrah and Grenache Noir Joachim uses to make his rosé. In 2022, he will plant some Xarel-lo in hopes of making a sparkling wine. The cellar will also be by these vines, to the right of the building in the picture above.
The soils here are very sandy, so yields can get up to very respectable 40hl/h.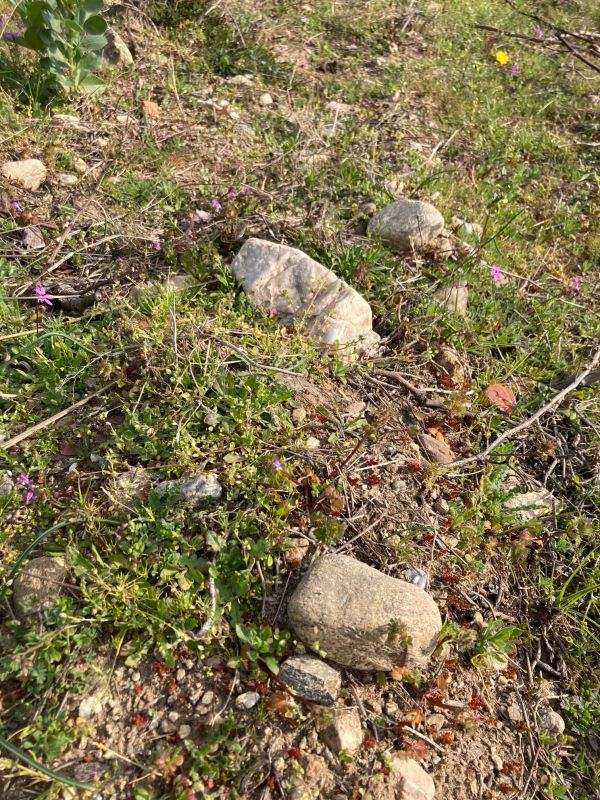 Some of the younger vines have been struggling, so Joachim planted mustard seeds between the rows to help with vigor.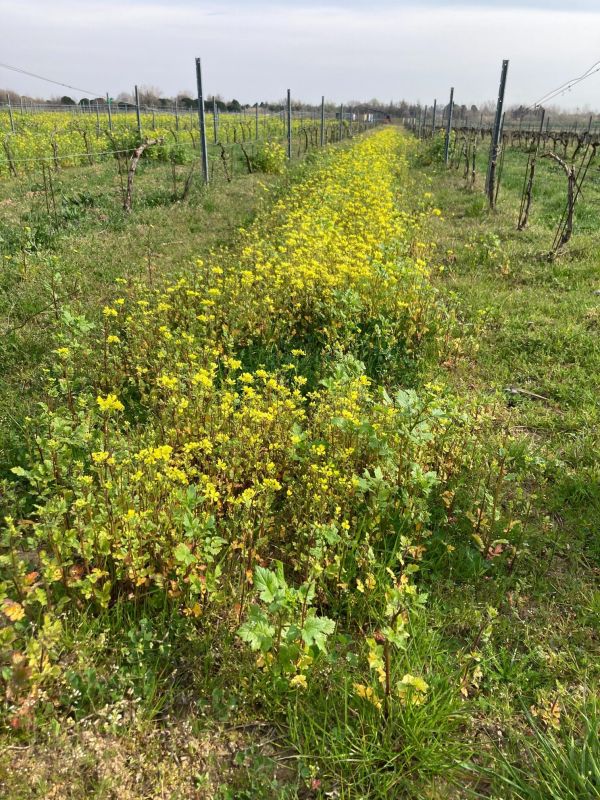 The second parcel we visited is what Joachim uses the for his "Brutal".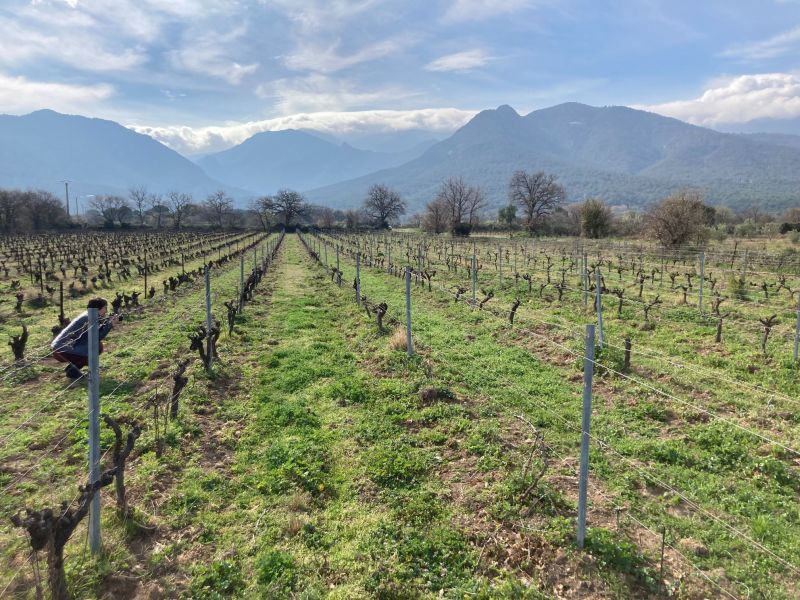 The parcel consists of Syrah co-planted with Muscat d'Alexandrie (hey, that's the same blend as Tom Lubbe's Brutal!) The vines are about 25 years old and planted on rockier sands. They are off an off-road with little else but little patches of vines.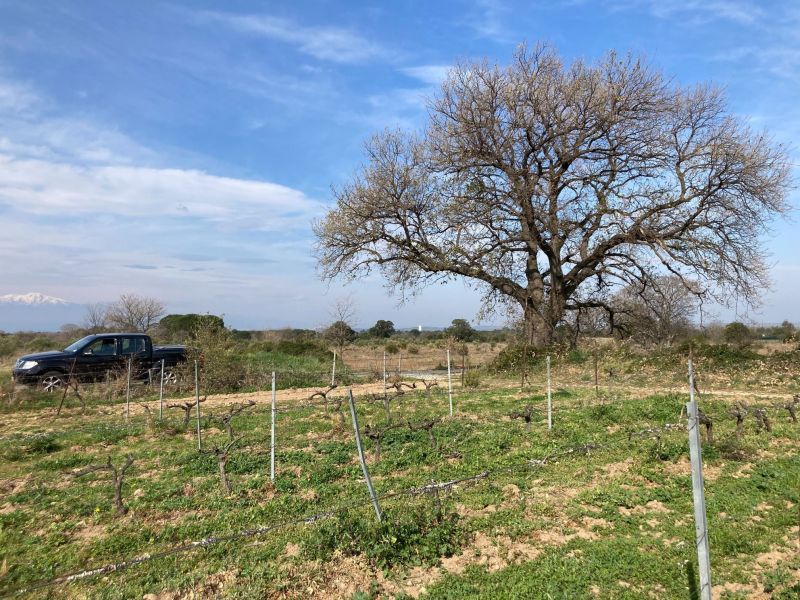 That's the Pyrenees in the above background on the left. You could see them at any point of the visit.
The third Saint-André parcel we drove to is planted in 1.2h of Grenache Noir and 1.2h of Syrah for reds, along with 40 ares of Macabeu and Vermentino for white.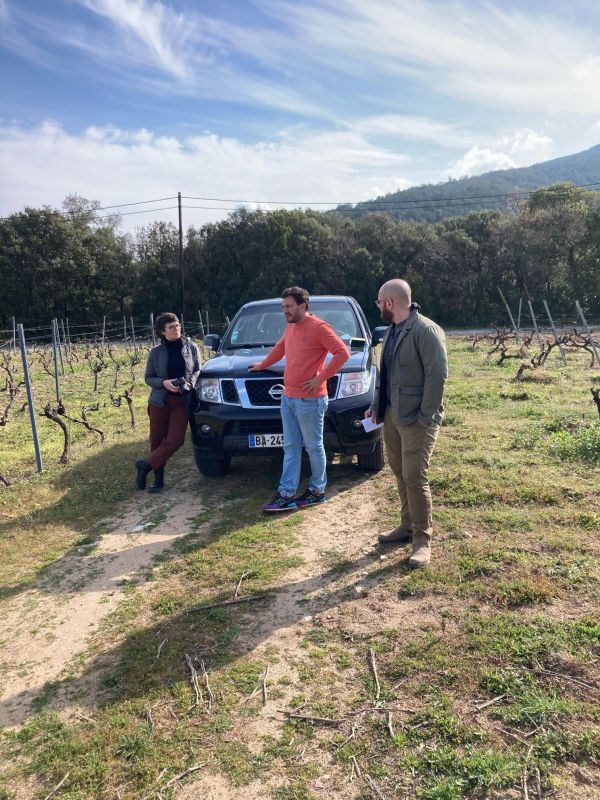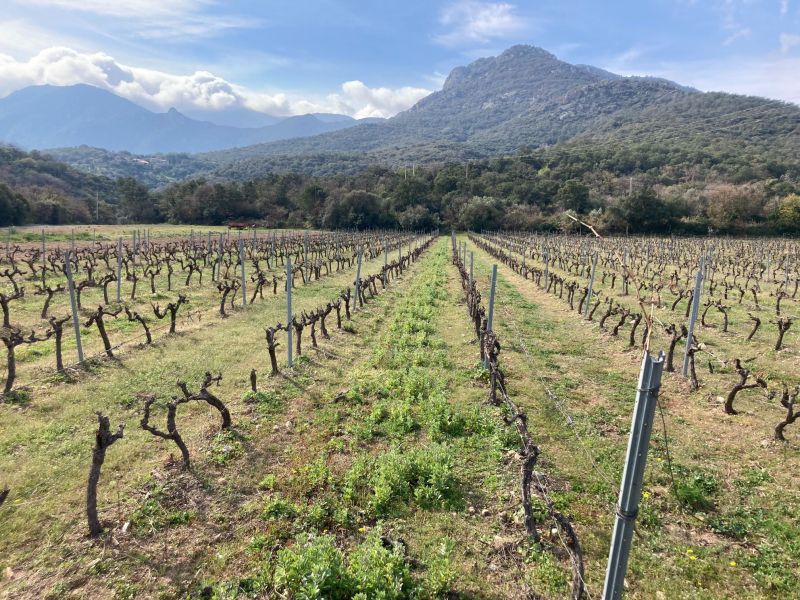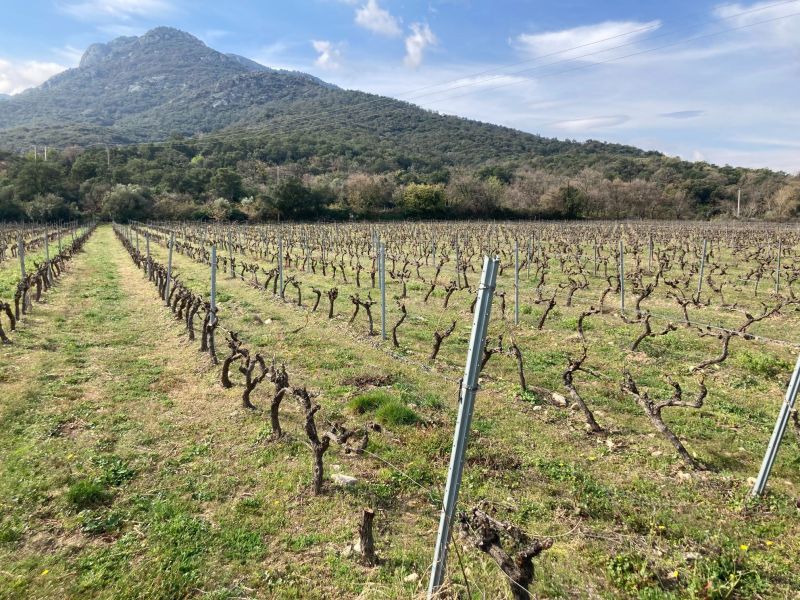 There are plans to plant 35 ares of Grenache Blanc here in 2022.
We didn't stop and see all 12.5 hectares in Saint-Andrée, though we did drive past a few parcels that go into the Tutti Frutti Ananas project. From this land, Joachim currently produces the Carterole "Esperanza" cuvées (white, rosé, red) and roughly 80% of the Tutti Frutti Ananas production.
We then headed to the Collioure terroirs. Joachim's main parcel is on the other side of the mountain from Saint-André. There were some stunning views on the drive over.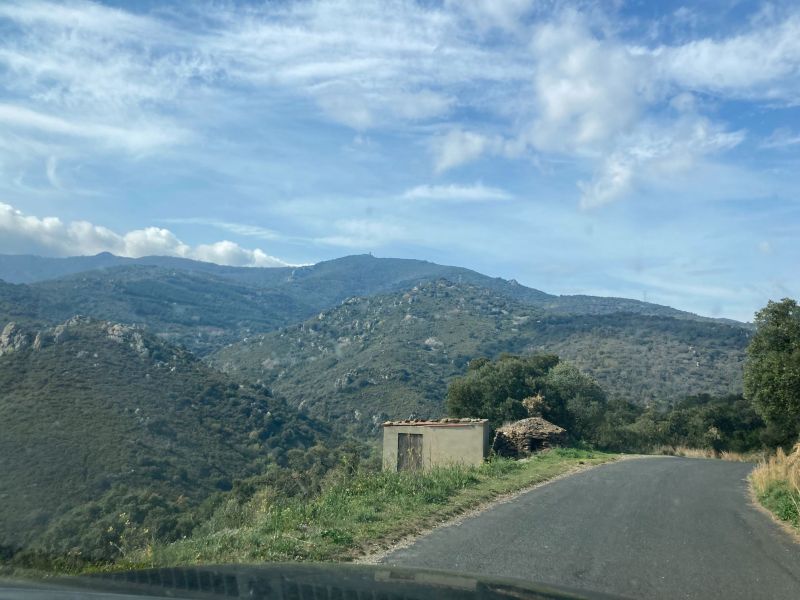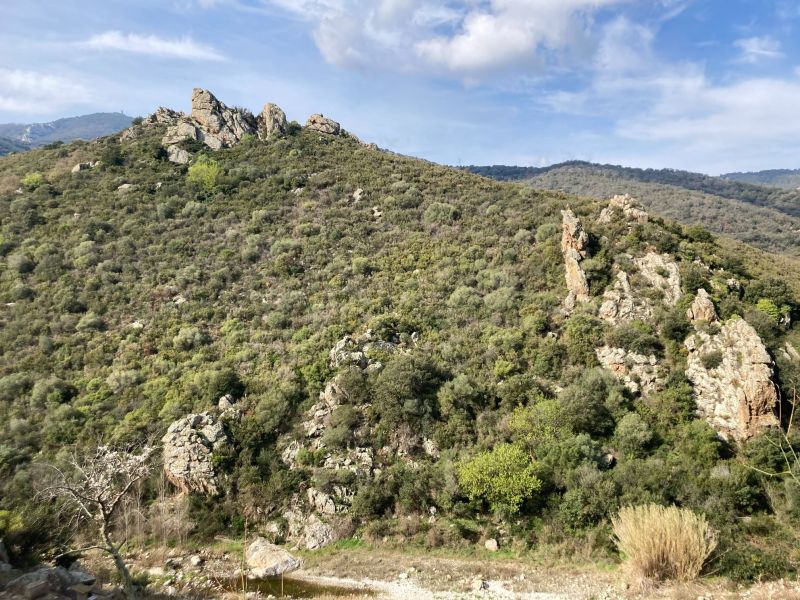 Fun fact: that rock on the top of the picture above is famous for mountain climbing and actually where special police and fire fighters train.
After settling down a windy road, Joachim gave us the the lay of the land. His main Collioure parcel has been dubbed Estafette because of the abandoned Renault truck of the same name living in the vineyard.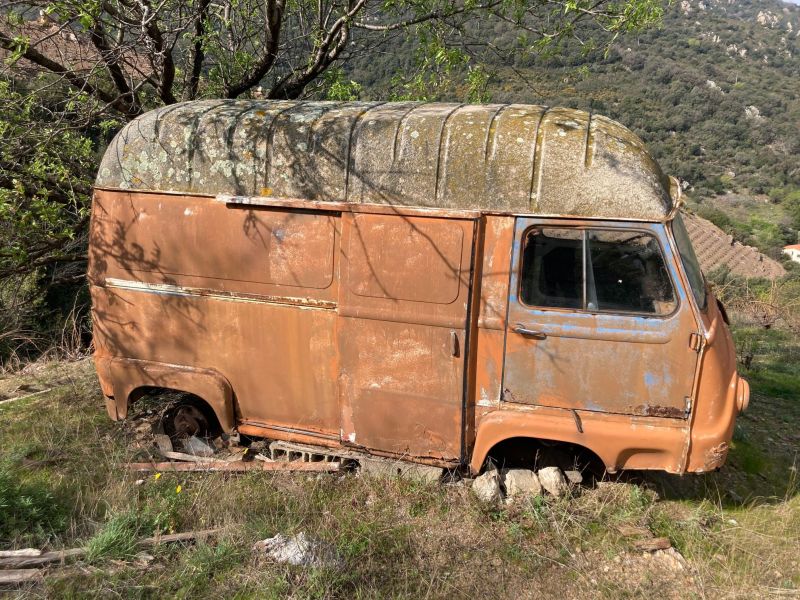 "I have no idea how it got here. But it's useful to hide in when it rains or it's cold!"
Hey, at least this is one lieu-dit where we actually know the name's origin! If you pay attention, you'll also notice the truck on all of Joachim's labels along with some terraces, a fisherman and Collioure's famous church Notre Dame des Anges.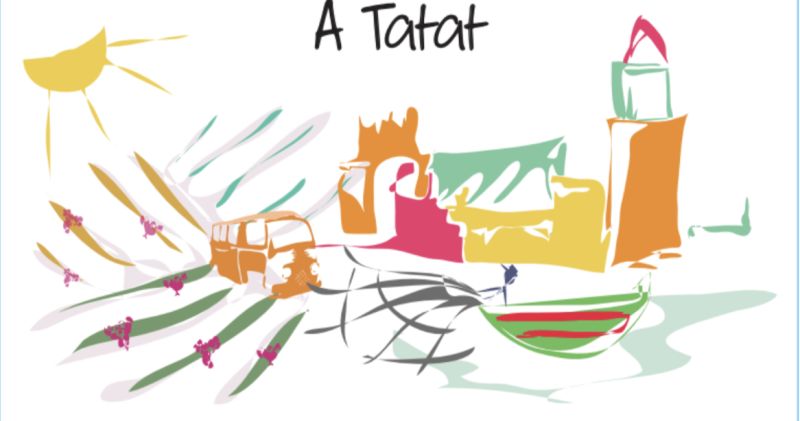 "If you're driving in the area, you can see the truck from pretty far away. We've thought of painting it with our name and having tastings in it. Maybe one day."
From this parcel, an "Esta Fête" white and red are produced. Grape wise, it's a traditional parcel planted with the three colors of Grenache along with some Carignan and a tiny bit of Roussanne.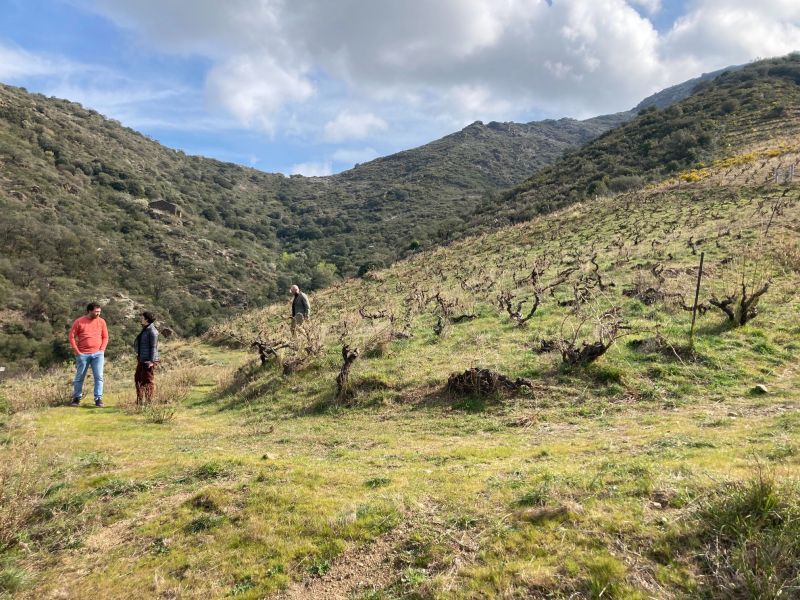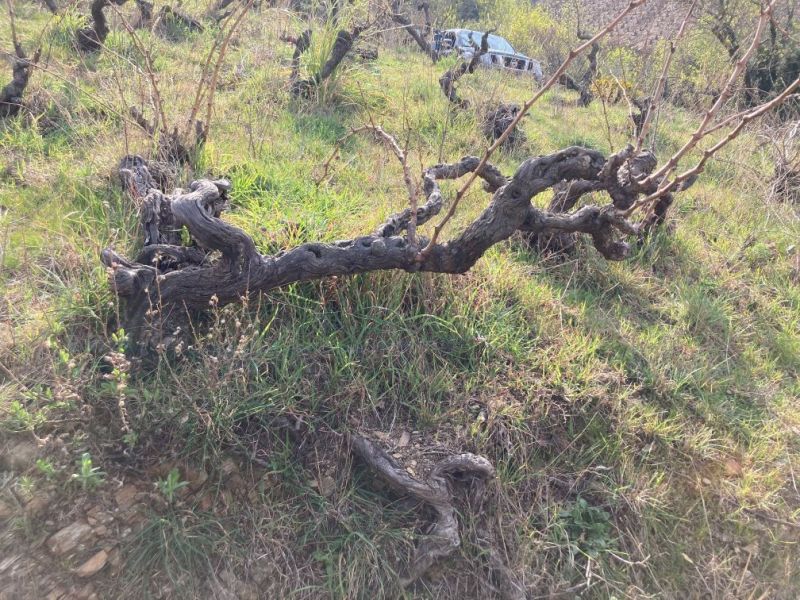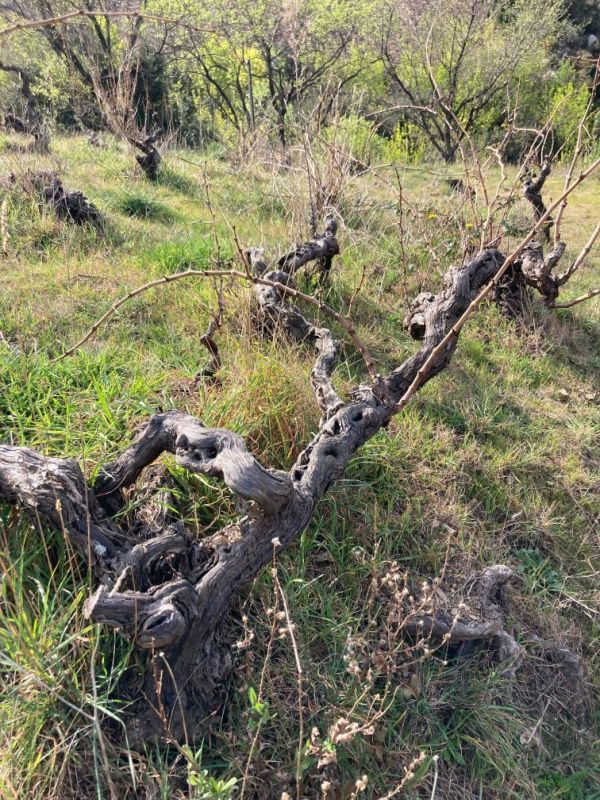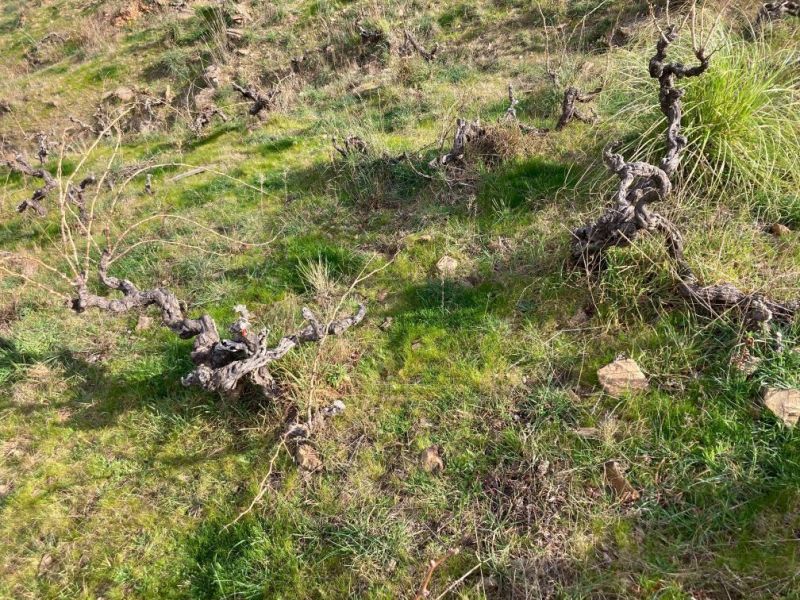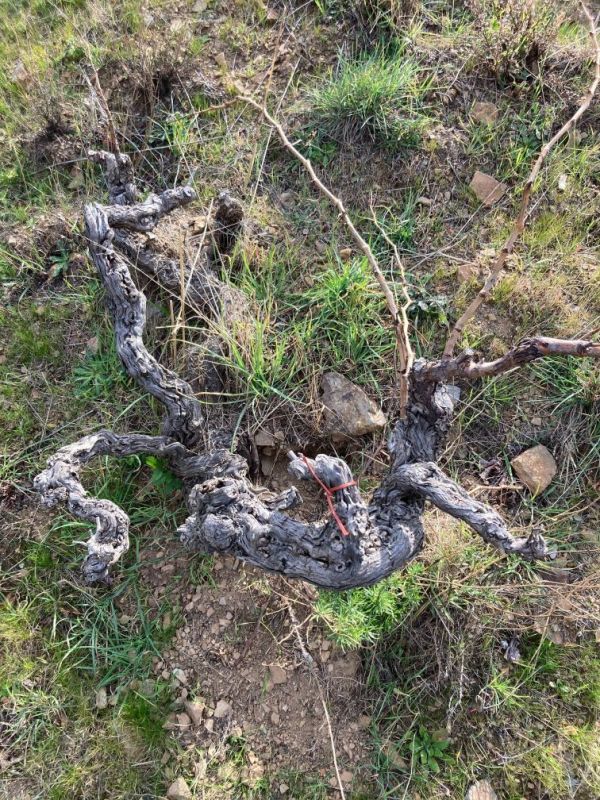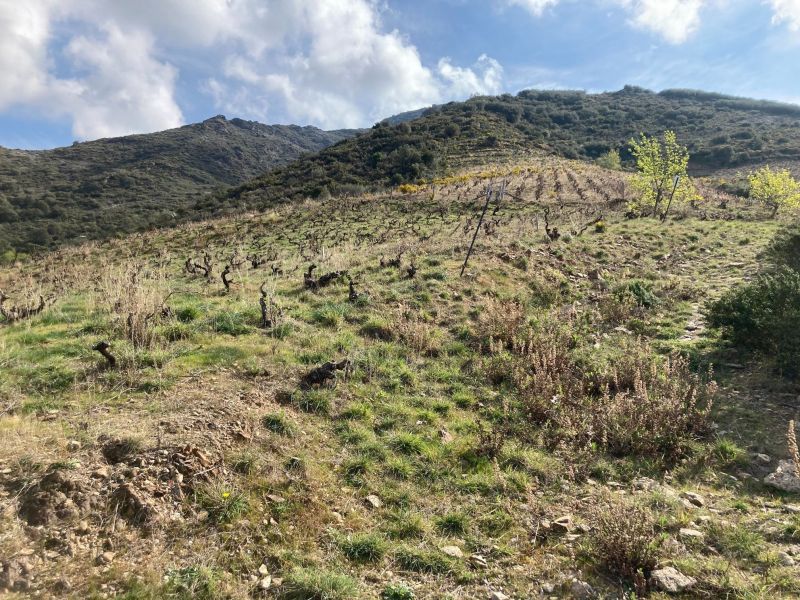 The view is not too bad either: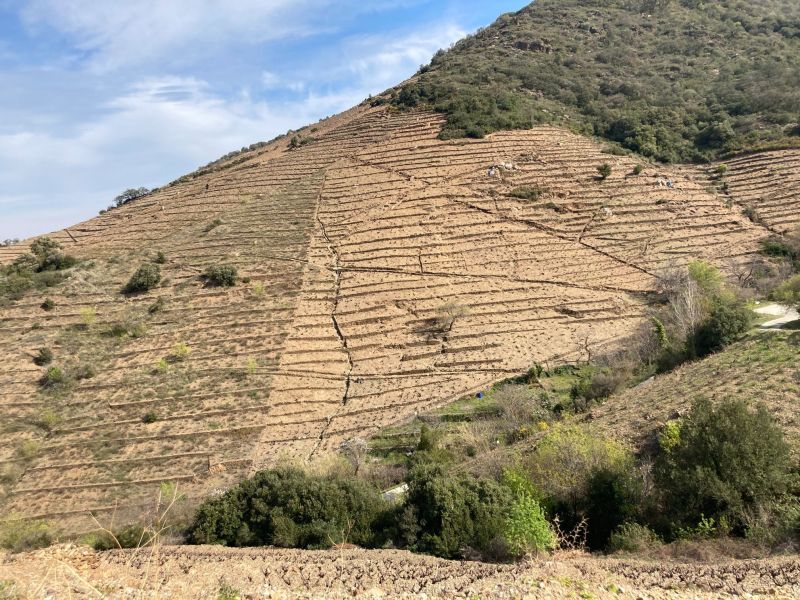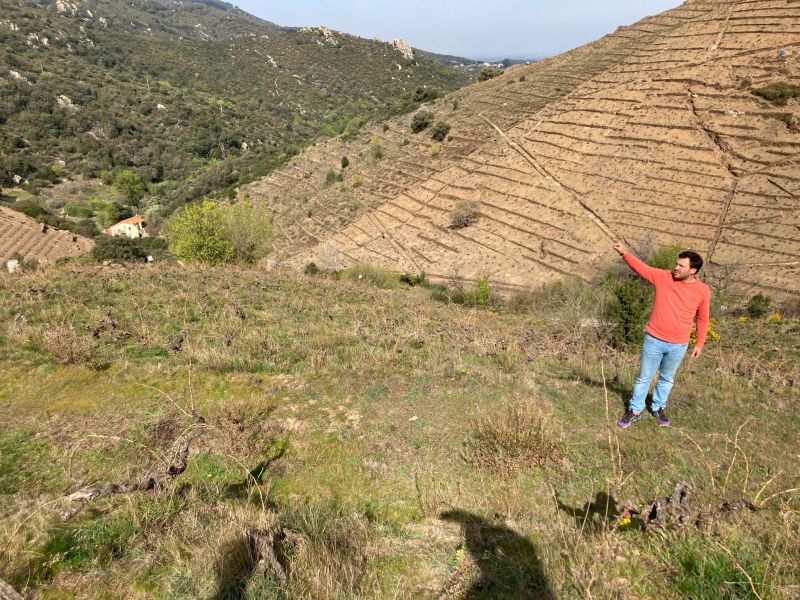 Directly above Joachim's vines, Manuel from Vinyer de la Ruca has one of his biggest vineyards. I covered it extensively in my 2019 Vinyer de la Ruca visit and recommend you read about if there.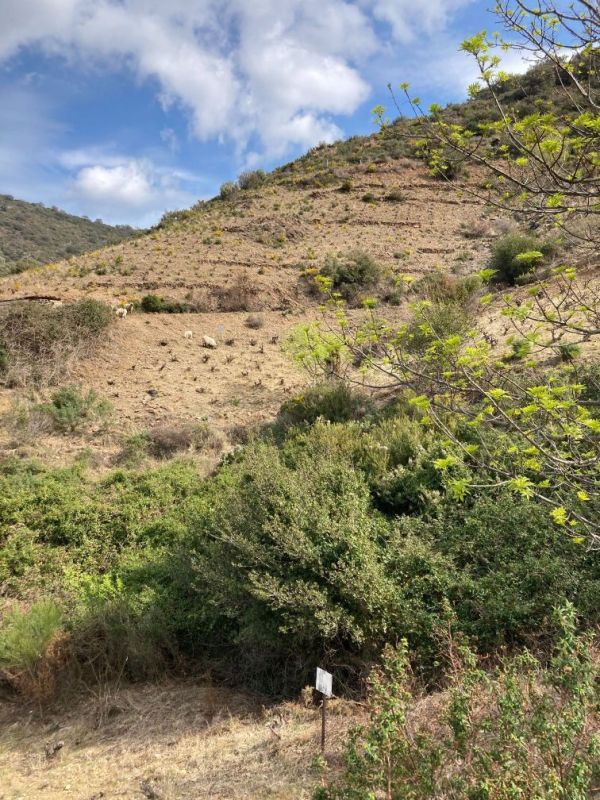 If you look closely in the photo above, you'll notice sheep. They thought we were there to feed them and were very disappointed.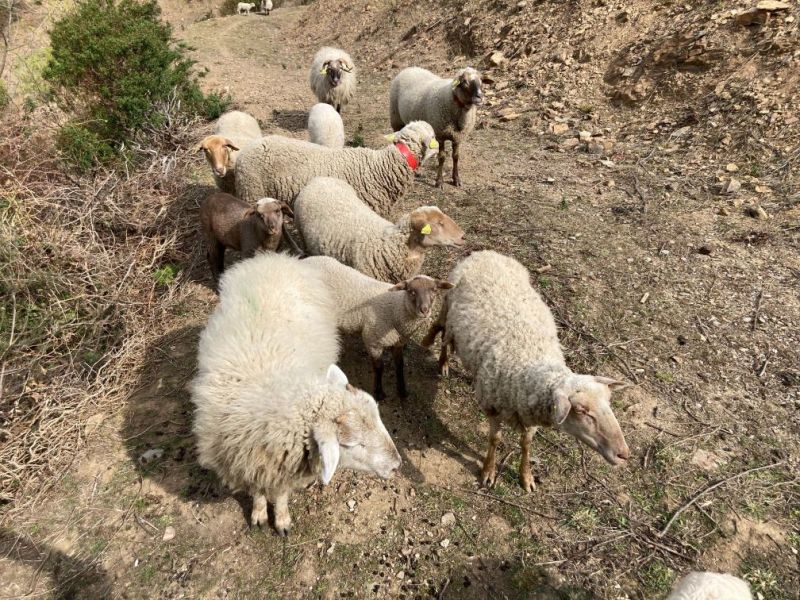 One thing I hadn't caught back in 2019 was that a large proportion of the grapes in Manuel's parcel go into the blend for "Morango", a cuvée from Tutti Frutti Ananas.
With the sheep still booing (behhhing?) us, we got back in the car, driving closer to Collioure itself to visit a second sector.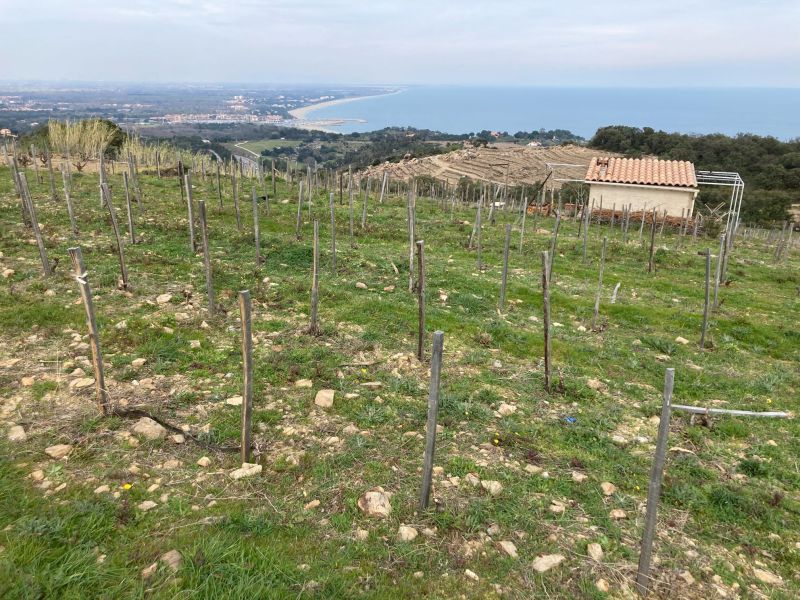 Here the terraces are much more spaced out and at a lower elevation. The three Grenaches are planted with Carignan, but Joachim is planting other varieties for fun because it is one of the only sectors in Collioure that is mechanizable. These are also the only vines Joachim owns.
It was lunch time, so we headed back to town for a lovely meal accompanied by Joachim's 2021's.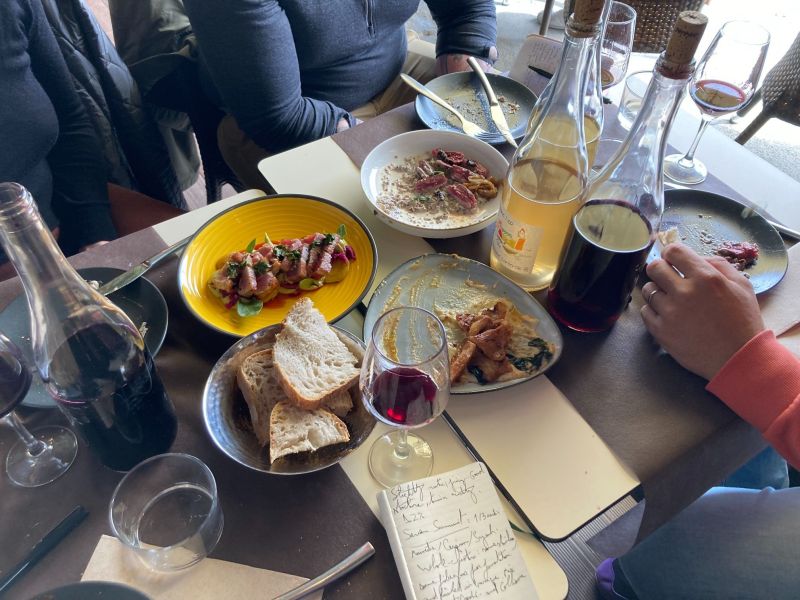 The wines were all showing quite well despite it being a very complicated vintage with long fermentations and a particularly worrisome spike of volatile acidity that forced Joachim to add a gram of sulfur to the wines before bottling. This is the first time Joachim has used S02 in his own production. He feels it's a concession but does not regret the decision.
After lunch, we got to be tourists for 10 minutes since the restaurant was right next to Notre Dame des Anges (which was unfortunately under repair scaffolding.)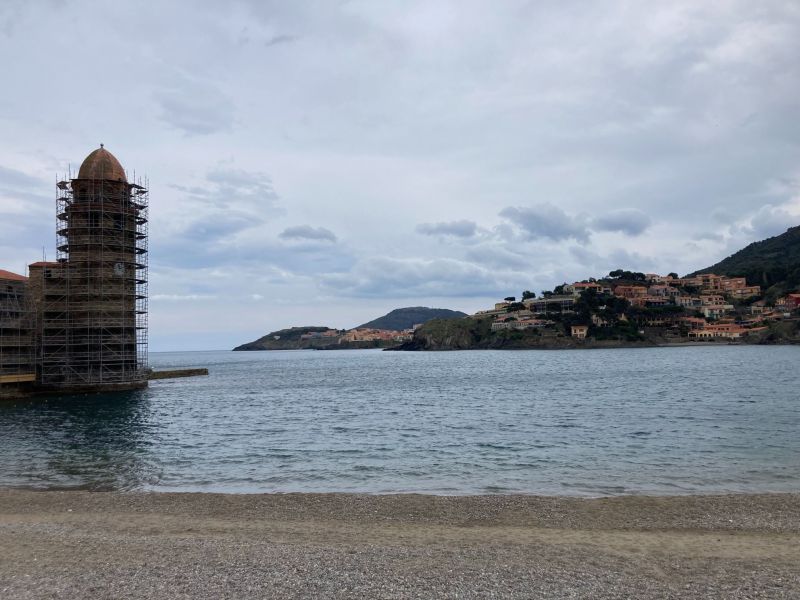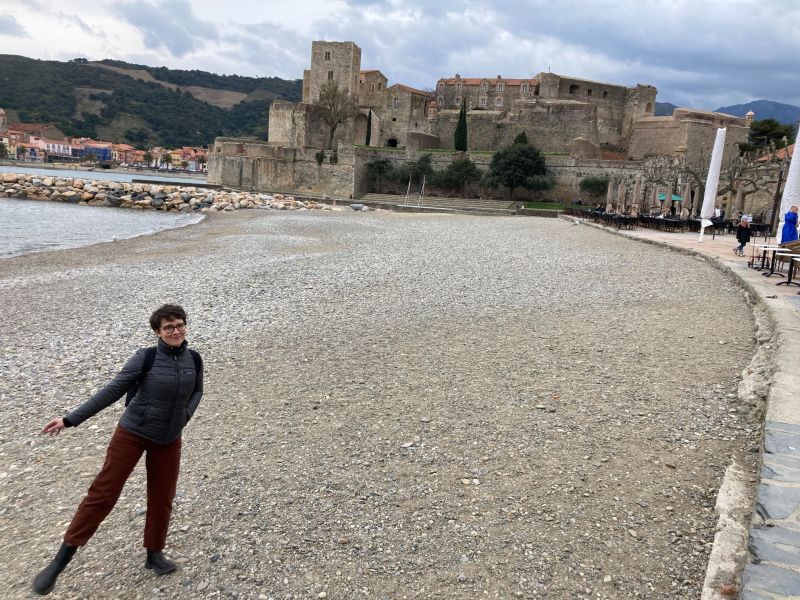 On the way back to Banyuls, we stopped by Joachim's third sector in Collioure.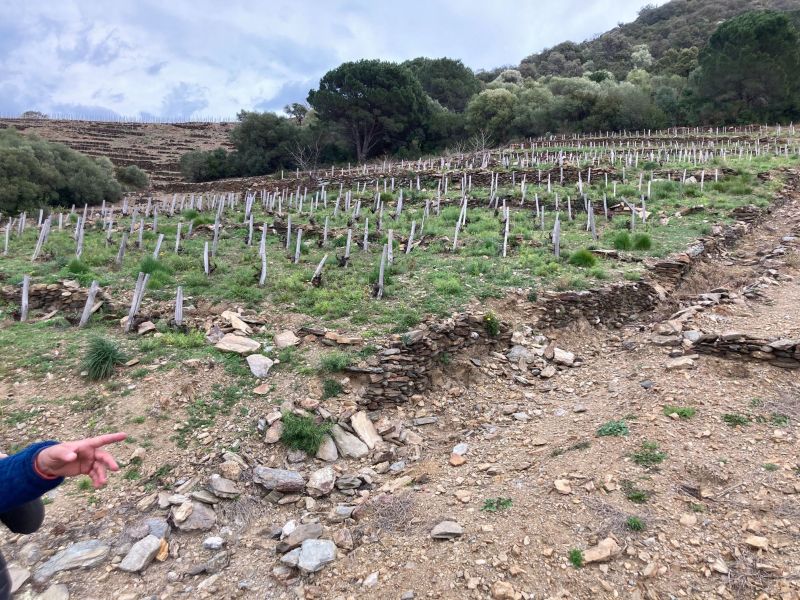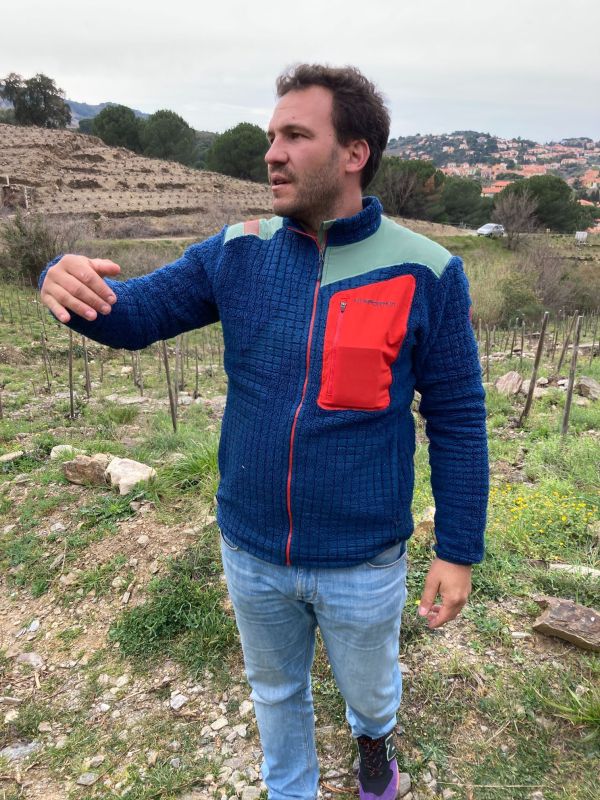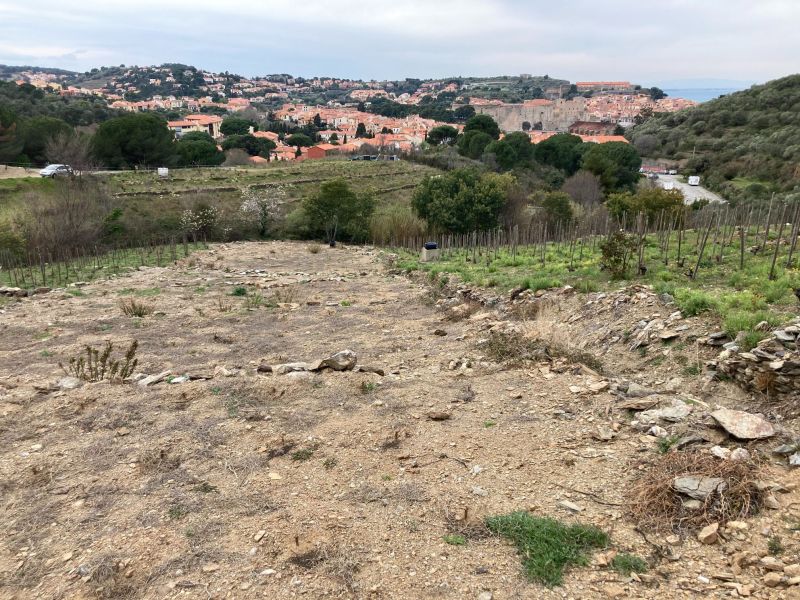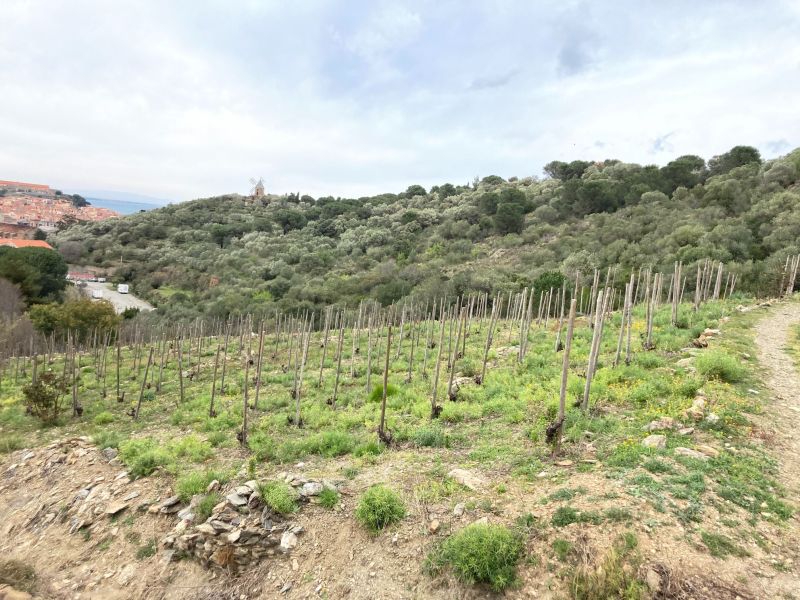 As you can see, these vines are directly above Collioure. Along with the traditional Grenaches and Carignan, Joachim has planted Roussanne, Vermentino and Mourvèdre in this area along with more Grenache Gris and Grenache Blanc. A huge and unprecedented storm destroyed a lot of the vines here in 2014, so it was an opportunity to start fresh with these less traditional grapes. It was also a ton of work as they had to rebuild the terraces.
Before linking with Manuel from Vinyer de la Ruca, we stopped by the Carterole cellar to taste a last wine Joachim had forgotten at lunch.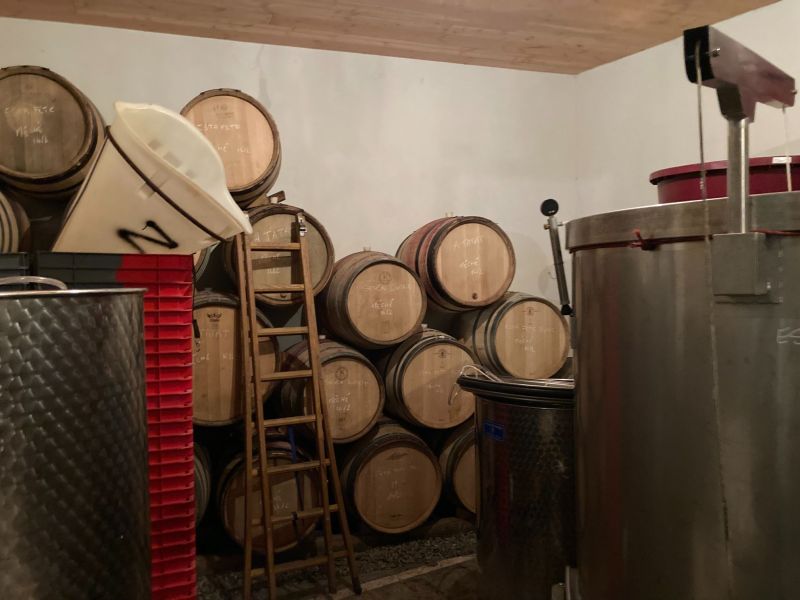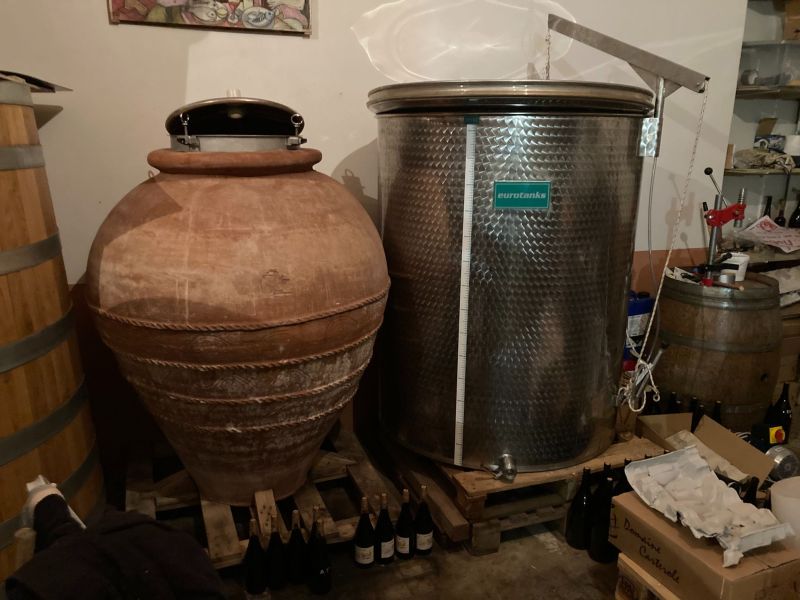 As with all the producers working out of the 9 Caves, the spaces are tiny and everything fits where it can. These bare bones cellars really afirm that the quality of these wines is coming from the terroir first and foremost.