‹
›
Article
Day 1: Settling In
It's that time of the year again. Louis/Dressner and twenty or so of our best customers are running amok in France, ready to taste, chat and laugh our way through two weeks of events, estate visits and, as it's shaping up, wacky hi-jinks.

The entire LDM staff, with the exception of Josefa Concannon, took a flight over from New York City, where I decided to to pass the time by watching Cowboys & Aliens, one of the worst movies I've ever seen in my life. I have this thing where I watch really bad movies on the airplane, because I feel that it's the only time I can justify subjecting myself to cinematic gold like this:
It was then a three hour drive from Paris to Saumur, where Josefa and I introduced some of our greener group members to the wonders of chicken flavored chips. They were universally well received and revered as quite delicious, albeit a bit artificial tasting. It's our goal to try the cheeseburger chips before the trip ends.
In Saumur, people visited the town while I slept through the afternoon (and evening). I was woken up by the hotel phone ringing; it was one of those weird times when you have no idea where you are and what's happening because of intensive travel/jet lag, but Kevin's "Dinner time" reminder rebooted my mind and I was ready to eat at L'Alchimiste. The meal was great, especially for vegetarian John Ritchie (of Chambers Street Wines), who ate a whole lot of bread. The French are not the most accommodating towards non carnivores, and we'll see just how much (or little) John gets to eat on the trip. Fortunately, the bread was delicious, and will probably continue to be...
We then went to a pool hall where it was karaoke night. As we walked in, three girls were butchering Bad Romance by NYC hometown hero Lady Gaga (444 million views! Damn!). This inspired Eben Lillie and I to rock the house down, which we promptly did with a stirring rendition of Ghostbusters by Ray Parker Jr.
Someone filmed it, and I'll post it at some point. We finished the night with an intense New York vs. Chicago foozball tournament (John from Marlow & Sons and I versus Jeremy from Telegraph and Jamie from Rootstock) where New York won. We weren't allowed to play right away because of an extremely competitive pool tournament that was going down, but after Les Pheonix reigned supreme, they removed their (home brought) pool cues from the table and we were able to play.
Today, we begin actually working by visiting the Grenier St-Jean in Angers for Renaissance des Appellations. Stay tuned!
Day 2 and 3: Renaissance des Appellations, Dive Bouteille, etc...
After a day off, it was right to work. We began our trip at Renaissance des Appellations, an event that brings an eclectic group of biodynamic vignerons from all over Europe under the same roof. The association was created by Nicholas Joly, but Mark Angeli of Domaine de la Sansonnière organizes the January tasting in Angers each year. They're actually about to take the show to the to U.S for the first time and will be in New York in February; you should check that out if you can. I wore a Steiner sweater to show my biodynamic pride.
Pumped from the last night's karaoke and heavy consumption of Desperados (a tequila infused beer that John from Marlow & Sons thought was blended with Sprite), we were ready to taste some wine! Highlights included the de Moor 2010's, a Gamay pétillant naturel from Les Maisons Brûlées and a Mauzac sous-voile (a la Vin Jaune of the Jura) from Causse Marines.
Dinner was at Les Canons, a wine-centric restaurant in the heart of Saumur. Average American Consumer (A.A.C) Joe Dougherty ended up ordering three bottles of Ganevat, because Joe Dougherty loves Ganevat. The Chicagans (is that how you call them?) wanted a foozball rematch, but for some reason the bar was closed at 10:30 on a Saturday night (we stayed till 2 on Friday). We settled for hanging out in the hotel and drinking two bottles of Vergano Chinato. Strangely enough, when Dan of Cordon Selections decided to go on his morning run at 7 am the next morning, the bar was open... Stange hours to say the least, and unfortunately no one was enthusiastic enough to drink Desperados and play table soccer before a full day of tasting.
Instead, we all agreed it was best to head over to the Chateau de Brézé for the 13th annual Dive Bouteille. The Dive takes place in the depths of the château, which makes for a spectacular backdrop for a tasting. But as anyone who has ever been knows, a château is not a great edifice for containing heat on frigid winter days, and the last three years had been insanely cold. I'm talking frostbite on your fingers and nose cold, and the idea of tasting red wine at 0ºC was waning on everyone. We warned our group to dress as heavily as possible: two pairs of socks, long johns, glove and hats as a bare minimum!
Much to our surprise (and delight), the organizers had done a great job with the heating this year, choosing to add a heater behind each vigneron. To top it all off, it was a mild winter day, so it was actually quite warm in there! This meant that layers had to be peeled off, and that we the wines could actually be tasted at a normal temperature. It ended up being a great tasting!
A ton of highlights, including Vincent Thomas' 2010 carbonic Pinot Noir, Yannick Pelletier's soon to be bottled 2010's, Luca Roagna showing up only four hours late, Pascal Potaire's Menu Pineau/Chenin pétillant naturel (keep your eyes peeled for that one), a Sauvignon from Olivier Lemasson rich in RS, an Alexandre Bain VdF Gamay and the Georges Descombes 2011's.
One producer I'd like to talk about in a little more detail is Louis-Antoine Luyt, who makes wine in Chile. Some of you may remember us bringing in his Clos Ouvert wines a couple of years ago. Unfortunately, the 2010 earthquake completely destroyed most of the wine already bottled, as well as his vines. In the aftermath, his partners decided to bail out on the Clos Ouvert project, but Louis-Antoine has decided to continue, for the time being with rented parcels from all over Chile's wine country. He is also making and bottling wine under his name as a separate entity.
Everything is dry-farmed (the vast majority of South American wine is irrigated) and it's cool stuff: a País (local grape originally brought over by Spanish conquistadors) from 350 year old vines really impressed me, as well as his Carignan and Cinsault from 80 year old vines (Louis-Antoine explained that these varieties were planted because the area has a nearly identical climate to Corbières). I've yet to taste South American wines as elegant, full of depth and minerality (not to mention the lighter alcohol...) We're starting fresh with Louis-Antoine, and look forward to getting these in the U.S as soon as possible.
Days 4, 5 and 6:
Monday was our final day of tasting at organized events, and we went to two: Salon des Vins Bio de la Loire and Les Pénitentes, a tasting organized by Thierry Puzelat, René Mosse, Hervé Villemade and Christian Chaussard. This is the first year this event took place, and it served as as "off" of the Dive Bouteille, which in itself is an off of the Salon des Vins de la Loire. So yes, we went to the off of an off. That's how underground we are...
It was good to catch up with the guys in a more intimate setting and to taste a whole bunch of 2011's. The skinny with the Loire for this new vintage is simple: if you liked 2010 (which you did, because it was a great Loire vintage), you'll be happy to know that 2011 will be quite similar in style. The Tue-Boeuf and Puzelat négoce wines are killer this year, as well as those of Briseau and Nana Vins et Companie. Villemade had some great stuff as well, and while we only tasted one Mosse 2011, it was quite promising. Everything should be getting bottled in March.
It was snowing pretty hard all day, and while it wasn't too bad in Angers, once we hit the road things started getting ugly. Ken Rosati, who left a good hour before anyone else, ended up driving from Angers to Chitenay on a completely unplowed highway, which took him five hours (the drive usually takes two). Josefa, our Designated Driver while Abroad (D.D.A), got stuck behind two snow plowing trucks going 40 km an hour for a while and it took her about four hours. I was in a car with international wine personality Maya Pedersen at the wheel, and let me tell you that it was quite as intense drive. The road was icy and the snow was coming down super hard, with the wind blowing right at us. Pretty much the whole drive looked like when the Millennium Falcon goes into warp speed.
Maya said she started having vertigo at one point.
Finally, we got to l'Auberge du Centre in Chitenay. It's a beautiful hotel that is usually closed this time of year, but Puzelat is friends with the owner and every year we take the place over. This year, it was unofficially dubbed the Louis/Dressner Party Palace. We were all exhausted, and after the first of three great dinners at L'Herbe Rouge, it was time to call it a night and get ready for Day 1 of our private tasting, henceforth dubbed Viti Valaire International.
Day 1 featured mostly Italians (as well as our two Spanish producers), and we got to taste with Chiara Vigo, Cascina degli Ulivi, Alessandra Bera, Cascina Tavijn, Francesco Maule, Francesca Padovani, Olivier Rivière, Fernando Garcia, Silvio Messana, Elisabetta Foradori, Mauro Vergano and Dominique Hauvette. Louis Antoine Luyt made a cameo appearance, and you can you can expect interviews from the Spanish guys, Chiara and Louis-Antoine on the site in the coming weeks. It was a great tasting, with everyone's wines tasting well across the board.
I had dinner at the kid's table (aka anyone under 40) and the conversation touched on many important issues, namely what the best Arnold Schwarzenegger quote ever was.
Some favorites included:
"Get to the chopper!" -Predator
"It's not a tumor!" -Kindergarten Cop
"Who is your daddy, and what does he do?" -Kindergarten Cop
"See you at the party, Richter!" -Total Recall
"Chill out!"-Batman and Robin (as Mr. Freeze)
"You're fired"- True Lies
After a loud and festive dinner, we returned to the Party Palace, where Jamie from Rootstock used his newly acquired disgorgement saber to pop open bottles out the window (video at some point). Fernando Garcia tried to join us but thought that Kevin had said Sydney instead of Chitenay, so he got super lost. Francesco Maule and his girlfriend Erica eventually showed up, and I ended up in bed around 4:30.
Day 2 was a France-centric day and featured Jean Paul Brun, Franck Peillot, Alain Coudert, Emmanuelle Desvignes, Julie Balagny, Marie-Pierre Iché, Guilhem and Palma Dardé, Michel Tête, Eric Texier, Laurent Barth, Tom Lubbe and Claude Maréchal. 2011 might have been a weird vintage weather wise, but it's really shaping up to be something great in the bottle.
Day 7: François Cazin and Clos Roche Blanche
After five days of tasting events, we were ready to visit some of our vignerons. Our first stop was François Cazin.
We started the visit with a quick tour of the vines by the house and cellar. François explained that he is the fifth generation to farm his family's land, but the first to work only the vines; up until very recently, the farm had always been in polyculture (mostly livestock and vines), but François chose to focus only on wine while his brother decided to work with the lambs and chickens. Catherine Roussel has expressed many times that Cazin chickens are among some of the best in France; after consuming one this summer I can confirm.
The first parcel we visited consisted of Pinot Noir planted in the 70's. Planted in 1928 by François' grandfather, it's the second the oldest parcel of Romorantin in all of Cour-Cheverny. François had a lot to say about this relatively unknown grape.
It is believed to originate from Burgundy as the ancestor of Pinot Noir, and has always been very low yielding. From a production standpoint, what I found the most interesting was the following statement:
"50% of making a good Romorantin depends on when you harvest it."
This is far from an exact science, and every year is different. Romorantin (or Romo, for those who absolutely feel the need to abbreviate the name of every grape varietal), is a tricky grape to work with: it's naturally very high in acidity and has very thin skins, so if it is harvested too early it shows no fruit or minerality (think of sucking on a lemon) and if it it harvested too late, the pulp of the berry becomes mushy ("It's like jam instead of grapes"), the skins tend to burst and it becomes very susceptible to gray rot. This means one must harvest during a very specific window to make anything worthwhile. Like Goldilocks' porridge, it has to be be just right.
François also explained why you'll only find this grape grown in the 80 or so hectares of the Cour-Cheverny appellation. Like many other forgotten varieties, Romorantin was way more widespread in the Loire valley until very recently. With the increasing popularity of Sancerre in the 70's, 80's and 90's, the demand for Loire Sauvignon Blanc skyrocketed. Sauvignon has always been planted in Cheverny (which at the time was still a VDQS), and most growers decided to tear out their low yielding Romorantin vines in order to replant the more productive and popular Sauvignon. But a small number of vignerons decided to keep their Romorantin vines, which is why it is still around today.
When it was time to create the Cheverny AOC in 1993, these same vignerons (including François and Hervé Villemade's fathers) fought hard so that Romorantin -which they felt could produce great wine on its own- not be a prerequisite in the Cheverny blend (which currently consists of Sauvignon and Chardonnay). This led to multiple disputes; the only solution the panel could find was to create an AOC dedicated exclusively to Romorantin, culminating in the creation of Cour-Cheverny in 1997.
We then did a flight of Cour-Cheverny and "Cuvée Renaissance" from 2010 to 1990 (skipping a few vintages) and let me tell you, Romorantin ages beautifully. Certain vintages remain crisp and fresh while others take on a Riesling-like petrol quality on the nose and a rich, honeyed mouth feel. Two things recurred in each bottle: striking acidity and seemingly never ending finishes. I know they taste great young, but you all need to start aging them now!
Lunch was pretty crazy, simply because Claudie started us off with a ten pound bowl of rillettes (I'm not kidding, pictures coming very soon) and a pork terrine bigger than my head. Even though we barely dented either dish, people were in a feeding frenzy; I warned them to slow down because more food was coming, but they did not heed my warning. As a follow up, we had delicious wild boar in a mushroom sauce. As scrumptulenscent as it was, many people got way too full.
After lunch, we went to check out the legendary Clos Roche Blanche. While touring the vines, Didier pointed out the 117 year old Côt vines, as well as which vines Noëlla Morantin rents. Speaking of Noëlla, we did a quick visit to her cellars to taste the 2011's; it was her first year with no major problems and after three vintages. On top of the six hectares she rents from CRB, she has just acquired four hectares of vines from Bois Lucas (where she previously worked, and which in itself used to be Clos Roche Blanche vines before Catherine and Didier sold them), so as of 2012 she is officially a vigneronne!
The vineyards were stunning as always, and the cellar visit proved to be very educational, as Didier elaborated on his work in the vines and soil (much of which he touches on in great detail in his LDM interview). We got to taste the 2011's which are great. The one big scoop is that there will be no Pineau d'Aunis red this year; while this is very sad, everyone knows that no red can mean only one thing…
More Pineau d'Aunis rose in 2011!
Our visit ended with Catherine pulling out a 1964 Romorantin (made illegal to use in the Touraine AOC once Cheverny became a VDQS in the 70's), which used to grow on CRB soils. It was a little tired, but still vibrant and alive. What a treat.
If that wasn't good enough, Catherine reappeared with an unlabeled bottle and started pouring a deep brown liquid into our glasses. Everyone eagerly asked what it was, and we were in for a surprise: a 1911 Pinot Gris grown by Catherine's grandfather! Didier exclaimed: "It's not disgusting!", and most agreed. The color was a golden, dark caramel and I enjoyed it very much.
We then went to another big dinner where everyone over ate and over drank. Fortunately, we were all overeating dishes rich in the goat cheeses made right there on the farm and over-drinking back vintages of Clos Roche Blanche!
Day 8: Domaine de l'Oubliée and Luneau-Papin
After spending four days in the Touraine, it was off to Bourgueil to visit Xavier Courrant at Domaine de L'Oubliée. If you haven't already, check out his interview.
Before touring the vines, Xavier explained the short history of his estate. Domaine de L'Oubliée consists of six hectares spread through multiple parcels on three different sites (each with distinct soil types) in the commune of Saint-Patrice. He also owns a 0.74h parcel of Chenin Blanc. Xavier's only criteria when starting was to work with his beloved Cabernet Franc. After shopping around in Chinon and Bourgueil, he found what he was looking for.
The vines were formerly a part of Christophe Chasle's 18 hectare estate. Because his means were and still are limited, Xavier -who does 100% of the vineyard work himself- decided to start small; six hectares initially seemed like too much to handle, but he quickly realized that the opportunity was too good to pass up. As mentioned earlier, that all the land was in the same commune and simultaneously offering three unique soil types (sandy gravel, calcareous clay, flinty clay) was the clincher. The Chenin parcel was also a perk.
Another huge advantage for Xavier is that he has very few neighbors, so most of his vines are completely isolated. Most parcels co-exist with woods, wild grass, flowers, plants and animals, and Xavier plans on taking full advantage of his land's biodiversity to create self sustained eco-systems. The vines are in their third year of conversion to organic viticulture (with a long term goal of working biodynamically), and Xavier will be certified as of the 2012 vintage.
We started our visit to the vines with a tour of the parcels that go into "Notre Histoire". The soils consist of calcareous clay and the entire site borders the village cemetery. Only one row is shared with a neighbor, who is apparently "very nice". Walking from parcel to parcel in the snow, Xavier began explaining how vines used to dominate the agricultural landscape of Bourgueil before World War 2. In the aftermath, a lot of vines were destroyed and instead or replanting, people favored plain agriculture (cereal, corn, sunflowers, etc...); anything that could provide a productive crop farmers could turn over and see quick returns on. Pointing to the woods surrounding us, he described how these used to be densely planted (about 50/50 Cabernet Franc and Chenin Blanc) but now trees have been growing wild since the early 50's.
Moving along, we walked by an empty parcel; right before Xavier took over this plot, the prior owner had torn out some very old vines. Xavier's plan is to grow plants and vegetables (as well as wild grass) for three years to help the soil "detox", then replant selection massales. He's still on the fence on whether to planted Grolleau or Chenin Blanc.
Speaking of Chenin, the next part of the tour was a short car ride away; after getting off one of the village's main roads, we were whisked in the woods where the parcel is located. The 0.74 hectares are completely surrounded by trees and shrubs; with the exception of a few vignerons who have replanted Chenin in the last year or two, it's the only white grapes being grown in the area. Xavier uses a fence to protect the vines from wild animals hungry for ripe grapes.
Because Xavier and his wife Stephanie are awesome, they actually hired their buddy who owns a woodfire pizza truck to prepare us fresh flat-breads to spread our rillettes and cheese on. A homemade soup was very much appreciated as well. The 2010's were tasting great, as were the 2011's. The real suprise was an '09 pétillant naturel from Cabernet Franc. It tasted like rosé Champagne! I'm very happy about everybody making a pétillant naturel these days; they are so easy to drink and almost always cheaper than other bubbles.
After another meal consisting 90% of pork products, cheese and bread, it was time to visit the Luneau! Our car's built in GPS got us super lost (if you rent an Audi while in France and use its GPS, you will hate every moment of your car ride because of its absurd design and complete lack of functionality), which ended up being ok because we took a really scenic route full of inspiring winter sights. Ken was sitting in the backseat with me, and we got to talking about it being his first time to France. He felt funny because he'd been working mostly with French wine his entire career, and it was really great for him to put a place and a context to the wines he's been enjoying for so long.
Our visit at Luneau-Papin was quite epic. Our first stop was at the incredible Butte de La Roche plot. The vines are all on coteaux with South-West exposition and the view from the top of the hill is magnificent. You can see all of Muscadet from up there, and Pierre-Marie had fun by pointing out where other vignerons live:
"Just past that river is Marc Ollivier's. And Jo Landron lives by that water tower!"
The one incredible particularity of the Butte de La Roche is its soil. The site is actually a geological landmark because it is the only place in the world where deep, deep serpentine subsoil has erupted to to the surface after a series of underground earthquakes. Huge chunks of serpentine can be found throughout the vineyard site and the soil is very tough to work because of how rocky it is. This type of serpentine is a subsoil that no root could normally reach, and gives the "Terre de Pierre" cuvée a richness and minerality unique to the site.
The cellar visit was a lot of fun; we tasted the soon to be released 2010's (you're in for a treat) and 2011's from a range of different cuvées, and Pierre pulled out the huge batons used to stir the lees. We were then offered to taste a range of back vintages with dinner. The oldest were 1995's and proved what everyone needs to realize immediately: good Muscadet ages really well. Anyone will tell you otherwise, but when you're working with lees (in the Luneau's case two or three years at a time for certain cuvées), it gives the wine a richer texture that lets it evolve in bottle.
After another great dinner, it was time to say goodbye. Hands were shook, glasses were cheered, embraces were exchanged: everything was set and we were ready to go. Or so we thought...
We had just gotten in the Maya Mobile, aka Brown Betty, when the car in front us drove head first into the large ditch on the side of the road (to save them from the embarrassment, the driver will remain anonymous)! The front tires weren't touching ground and the car was at a 45% angle. We tried lifting it out manually while the driver backed up, but the car was too heavy for us. Pierre then decided to get the forklift and, you guessed it, attempt to FORKLIFT the car to level ground. This initial strategy proved impossible because of the angle of the car, and things only got worst when the very forklift that was supposed to salvage the vehicle from the fiery depths of the ditch got its wheels stuck in the ice! So now we had two stranded vehicles in the cold Muscadet night! David Mcduff insisted we call a tow-truck, but Pierre-Marie refused:
"This happens all the time! I'll go get the truck."
Five minutes later he was back with the truck. Pierre attached a strap to the axle of the trapped car, and we all got ready to push our hearts out in a classic push-pull-pump the accelerator in reverse scenario. This was it, our last ditch effort (get it? Ditch!). I was convinced this was going to be a terrible failure, that the truck was going to rip the back axle straight off. But after counting to 1, 2, 3... everyone played their part and we were able to get the car out! David Sink, in one of the most hilarious hilarious moments of the trip, yelled "We did it! By the power of Excelsior! Excelsior!" For those of you who don't get it: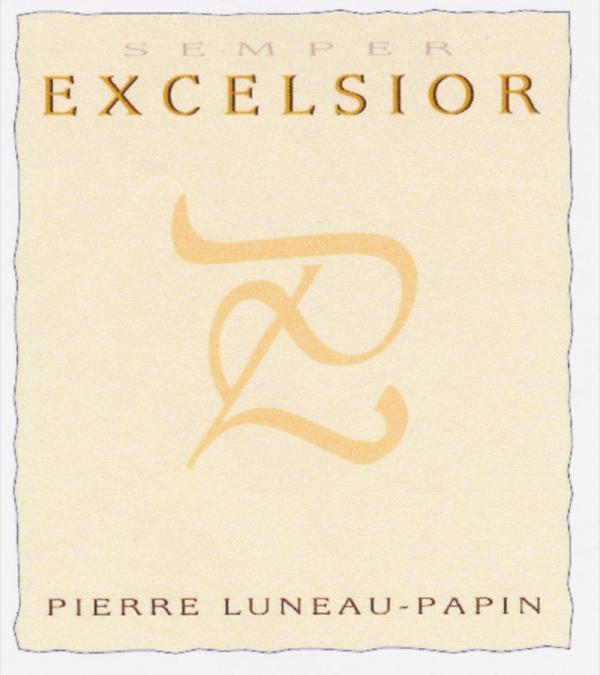 We did drink a bunch of it that night...
We were able to drive the car to the hotel but the heater was completely destroyed so it had to be returned the next day. That's what insurance is for, kiddos!
Day 9: Muscadet-a-thon:
Before I start this post, I must address a very serious issue. It was brought to my attention that there's been a a huge spike in demand for the Clos Roche Blanche Pineau d'Aunis rosé since my blog post about our recent visit, and how there would be more than last year. Our distributors' phones have been ringing off the hook with people trying to get palettes on pre-sale. But the unfortunate truth: their isn't that much to go around. As much as I'd like to tell you all that it was some genius marketing ploy (after all, I am LDM's Director of Viral Marketing (D.V.M)) and this was the best viral ad campaign since Bros Icing Bros, the truth is I was only objectively making a general statement as to the quantity, not the availability of the wine. Yes, there is more rosé in 2011 than in 2010, and more means more for everybody: more for the US, more for France, more for Belgium, more for Germany and more for Japan. In other words, you might get a case more than last year.
Anyway...
Muscadet-a-thon is a Louis/Dressner institution. Going 15 years strong, this annual visit to Marc Ollivier's abode has brought joy to those participating since its inception. The concept is simple: visit the vines, taste the current vintage, then eat a ton of oysters and home-made pâté while doing a flight of Pépière Muscadet dating back to Marc's first vintage (1983). If you guys don't know the back story, Joe and Denyse met Marc in 1989, and the first vintage they brought in was 1991; it was their first Loire wine. Joe adored Marc and adored Muscadet (seriously, our cellar in France is 50% old Pépière and Luneau-Papin), a wine that he felt was often overlooked for how well it can age. Marc had an old collection of wine dating back to his grandfather, so the idea of trying back vintages to prove Muscadet ages gracefully was a no-brainer. Muscadet-a-thon was born.
Our visit started in the vines. We began in the Clisson parcels, where Marc talked about his viticultural practices. It's taken a long time, but the 33 hectares of vines are finally eligible for organic certification; the soils are worked superficially and everything is hand-harvested. Muscadet is one of the only regions in France (along with the Beaujolais) where the vines are trained in Guyot, but with only one palissage line per row. Typically, there are two, which permits the plant's vegetation to grow more, resulting in spaced out bunches. Doing this leads to greater aeration of the grapes, which in turn leads to greater concentration. Marc is one of few vignerons who intentionally chooses to use two palissage lines for these very reasons. Every time he acquires a new parcel, he tears out each rows' posts to reinstall new ones; it's a lot of effort, but he feels it's an essential factor in the quality of the vine work.
Marc also intentionally limits the number of flowering buds each year to three or four per vine. This technique results in much lower yields, which means fewer grapes but more concentration and optimal maturity. Marc walked one row over to his neighbor's to count out how many buds were left on his: 1,2,3,4,5,6,7,8!
"I get about 40hl/ha from these vines. My neighbor here, whose vines are the same age and on an identical terroir, produces about 70."
After Clisson, it was time to check out the Chateau-Thébaud vines. These were acquired in late 2010, when Marc joined forces with his (relatively) new partner, Rémi Branger. Rémi is 26 years old, and has been working for Marc since 2006; prior to that he'd worked with his dad. In Rémi's own words:
"My father was a passionate vigneron. He loved the work in the vines, but had no desire to deal with the commercial element of bottling and selling independently. Therefore everything was sourced out to négociants. When he retired in 2010, I was already working for Marc and really admired what he was doing (making single parcel cuvées, highlighting specific terroirs...), so when he asked me if I wanted to be partners, I didn't hesitate."
The two are currently renting the vines from Rémi's father, with the possibility to buy at some point. Most of the vines were planted in the 70' by Mr. Branger Senior, and the oldest are about 60 years old. A new cuvée, the "Chateau-Thébaud", was produced in 2010 and is about to be released.
Our last stop was in the plot of Gras Moutons. Marc and Rémi agree that these are their "grand cru" vines: they're exposed full South on a coteau (that ends by the Maine river) and the site is marked by a particular micro-climate where a North to South wind constantly sweeps through the vines. This leads to greater concentration, which manifests itself through longer periods of maturation, both in the vineyard and cellar. As Rémi explained:
"The wind is great for aerating the vines, and you always get great complexity with these grapes. But they take a long time to reach their full potential. Even with my father, we would always harvest the grapes from here last. And though we didn't make parcel specific cuvées, we would still vinify each day of the harvest separately -which essentially meant vinifying by individual or identical parcels- before blending it all together. The Gras Mouton juice always needed more time."
Marc interjected that "more time" can sometimes be up to two or three years of aging in the cellar and then even longer in bottling!
After the vines, it was time to taste the 2011's. For those who didn't read it yet, check out Eben Lillie's Pépière harvest reports and pictures. To briefly reiterate, Muscadet, like most of France, had a very strange vintage weather wise: an extremely dry winter and spring led vignerons to believe they would be harvesting the most precocious vintage of the last century, but a wet and cold summer slowed vegetation/maturation down. On average most people started harvesting a week earlier than usual, though many were initially planning to start up to three weeks early!
For most, nature more or less balanced itself out, and teams of harvesters picked their hearts away in warm, sunny weather. Muscadet was not so lucky... A lot of rain and cold right before harvest led to a tremendous amount of gray rot this year. Marc estimates that, depending on the parcel, 75%% to 25% of the grapes were unusable; about 30% of their total production was lost. The parcels that were struck the hardest were the Briords vines; it sucks to say it, but there will be VERY LITTLE Briords in 2011.
Marc used 2011 as a perfect example why hand-harvesting is so important:
"I literally had my team splitting hairs with the bunches. If some of the clusters were partly rotten but the rest was usable, be it a half or one fifth, they meticulously salvaged the quality grapes. I cringe at imagining what a machine harvested Muscadet will taste like in 2011; if they had as much rot as me -and I know a lot did!- it all went into the production..."
The good news is that the grapes that DID make to the cellar were of excellent quality, and have produced a balanced and elegant vintage. As Marc pointed out, the wine's brine quality, notably absent in 2010, is back in full force. Alcohol is low, acidity is balanced and minerality is king. The first bottling of the base Pépière' will be available very soon.
It was then the moment we'd all been waiting for: oysters, pâté and old Muscadet! Much to my delight, there was NO pork at this meal. In fact there was even an abundance of vegetables (John Ritchie did a vegetarian victory dance)! But who cares about local, organic fresh produce? Let's talk about the meat! The oysters were from Brittany and delicious. There were three pâtés to choose from, all hunted, butchered and made by Marc himself: pheasant, rabbit and woodcock! They were all delicious, but the woodcock once again reigned supreme. The secret? About 25% foie gras blended in. Genius!
Funny anecdote about the Woodcock pâté. Last year, Jason from Marlow and Sons was on the trip. When John Connelly, who was on the trip this year, asked him about it, about all the sights he'd seen, the wines he'd tasted, the people he'd met, all Jason could talk about was the woodcock pâté.
"He didn't mention anything else about the trip, not even the flight of back vintages that day. He was obsessed with that pâté months after coming back."
It was also John's favorite, and after a year of anticipation I'm glad it lived up to his expectations. We also had a wild boar Shepard's pie which was off the chain. It continued the new trend of me eating wild board hunted by vignerons: the night before Pierre-Marie Luneau served us a terrine made from a boar he'd hunted and who could forget the Chingali stew prepared by Dora Forsoni last November! Obélix would be proud...
Note to anglophone vignerons who read this blog: I'm a fan of this trend and hope to keep it going.
Let's talk about the back vintages. We tasted pretty much straight through 1985, and not one bottle was tired. Some, for example 95, were so fresh, vibrant and full of acidity that they tasted like a current release. Others, like 97, darkened in color and gained a richer texture. In some cases the minerality still ran the show, while others started expressing the fruit we all knew was buried somewhere in there. I insisted we open a 1986 (my birth year), and Marc pretty much said: "Meh. It wasn't a great vintage..."
But he found one and did it anyway. We all agreed that it wasn't the most interesting wine of the flight, but it was still in great shape. I think the best part of the 1986 vintage was that it featured an amazing "Serve Fresh" label which inspired a lot of bad 80's hip-hop jokes: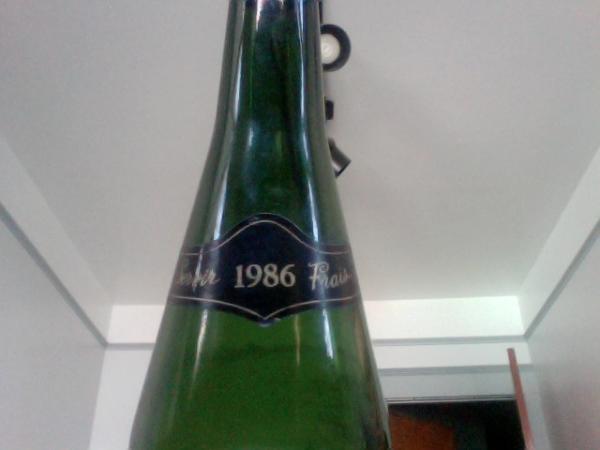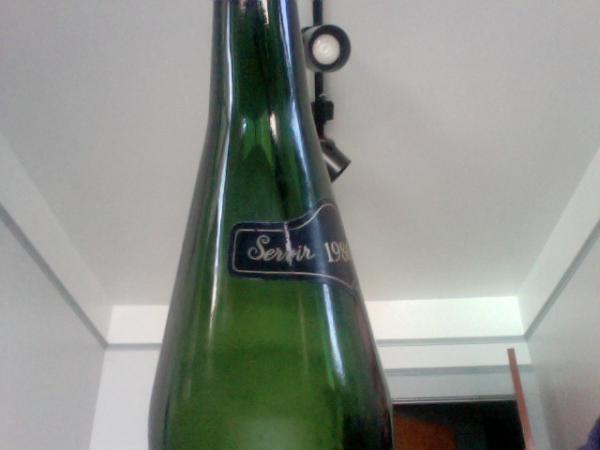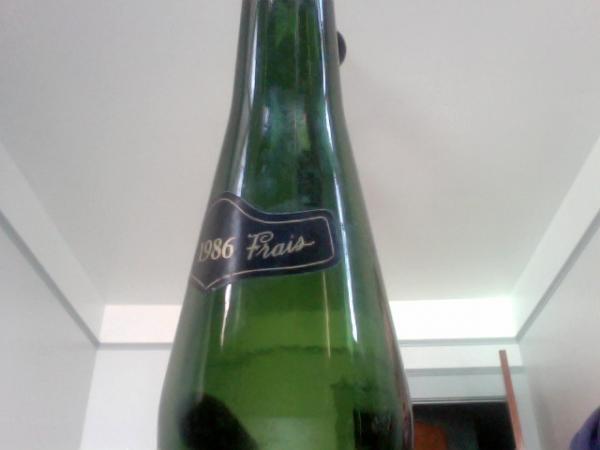 If I was more tech savvy I would have made an animated gif. out of that.
Day 10: End Game
Sunday was our "optional" visit to Closel that everyone was forced to attend. The snow from the last few days had settled, and our walk took us from the château to the vines and through the village. Savennières is a truly charming place, and I really wish I had pictures from that day because it was one of those visits meant more to capture a sense of place rather than absorbing factoids to write for the blog. One cool thing I did retain was Evelyne talking to the group about their future experiments with (less) sulfur. The inspiration came from her fellow vignerons in Savennières (Evelyne is the president of the AOC), a majority of which work organically or biodynamically in the vines and with native yeasts/low sulfur in the cellar. After tasting many of these low sulfur wines and seeing that they don't fall apart and can age well, Evelyne is reevaluating the doses she uses and plans to run a number of experiments to figure out how to use the least amount possible in her wine. At lunch, Denyse pointed out that since Evelyne took over in 2000, their has been a formidable change in the work both in the vines and in the winery; she is the one who pushed for organic certification and biodynamic practices (though the work had always more or less organic in the past), and that sulfur levels have been drastically reduced in the last decade. It's great to know Evelyne is committed to an evolution in her cellar practices and I hope the experiments turn out well!
After the visit we hung out at this terrible place called "Le Pub" in Angers and had dinner at Autour d'un Cep, a fabulous restaurant ran by Jo Landron's son. When we got there, guess who was having dinner? Jo Landron! Duh! François Cazin was also there. They sat our group of 16 in "the annex". "The annex" is the unused storefront next to the restaurant; they'd asked the owner if they could use it as a pop up with a prix-fixe for Renaissance/Dive and Salons des Vins de Loire. We were basically eating in a bare room that was still getting remodeled: their were power tools everywhere, a boombox (this song played at one point) and the waiters had to bring the food from the kitchen through the back yard in the cold winter night. It was a lot of fun.
The next morning we were ready for the Salons des Vins de la Loire. Because many of the vignerons we work with prefer doing Renaissance, the Dive or Millésime Bio (which took place two weeks earlier in Montpellier), over the years the Salon has become less and less of a focal point for us. Still, it's a great time to catch up with a lot of our growers we can't see anywhere else.
Our first stop was at Thomas-Labaille. The 2010's are serious! Jean-Paul describes it as a great vintage you can drink young, but that will truly benefit from cellar time. The 2011 tank samples were rounder and richer, with less acidity and more fruit showing. Different vintage, different style. From then on, we broke into small groups so that we could cover more ground. I was assigned the kid's group (meaning late 20's/early 30's).
Our first stop was at François Pinon. The 2010's were showing great. One big piece of news: as of 2010 the cuvée you know and love as "Tradition" is now "Trois Argiles". This translates to "the three clays" (the grapes come from three different parcels composed of, you guessed it...) and this has always been the name in France.
Our next stop was at Domaine Olga Raffault. Eric told us about their 2011, which echoed the story we'd heard over and over in France. He only had a few 2011 samples to taste, which all seemed well on their way. The 2010 current releases were fresh and vibrant, quite playful and fruity but still very "Chinon" aka peppery and tannic. A few months in bottle will do them good.
After that we spent some time with Bernard and Matthieu Baudry. It's starting to sound redundant, but the 2010's were incredible; they were universally recognized by the group as some of the best wines we'd tasted the whole trip. Besides "Les Granges" which is already available, these were all bottled the Friday before the show and will be hitting the U.S very soon. Rejoice! 2011 was also very promising: a little more on the fruit... The 2011 rosé is super good.
At this point it was lunch time, and after some pork and butter sandwiches, we decided to refuel with the ultimate palate cleanser: a coffee and beer. This strategy was taught to me by the very wise Jake Halper during last year's trip, and just like P.Diddy and Proactiv, Jake knew the secret way before any of us young ones. It totally works by the way.
During our break, someone stumbled on a wine called OVERDOSE in the official pamphlet. The description said: "the secret of its vinification leads to an overdose in pleasure." Everyone got really into it: some wanted to go try it then make believe they were having a drug overdose on it (in poor taste I know), while others like myself were perplexed about the "secret of its vinification". We all agreed the we had to check it out. This proved to be the single worst idea on the trip.
We got to the stand and asked if we could try the "O" cuvée. Before even tasting it, I asked what the secret of its vinification was. I didn't ask if it would lead to an overdose of pleasure.
"Ah, yes! The secret is that we age the wine in new American oak barrels for two years! And just like in old times, we bury the barrel deep underground in the soil."
At this point, I asked if by "old times" she meant with amphora, since there is no history of burying oak barrels underground for aging EVER. She seemed a little confused by the question, but answered with an enthusiastic yes! When I told Evelyne de Jessey and Eric Nicolas about it, she asked what the purpose of doing this was. Nicolas exclaimed:
"More work. First you have to bury it. Then you have to unbury it!"
The wine was the color of shitty American beer, tasted like an oak barrel and was marked by the other vinification secrets she failed to mention, namely the commercial yeasts and INSANE quantities of sulfur. By the time we'd walked over to Bellivière to taste, we had gotten what we'd asked for and were all overdosing. Ken and I started having hot flashes, John Connelly got the spins and Jamie thought he was going to faint. Everyone was feeling it hard, and it took between 15 and 30 minutes for each of us to feel better.
A big part of how we bounced back from our malaise was by tasting with Christine and Eric Nicolas of Bellivière. The 2011's are all bone-dry this year, which is exceptionally rare for them (read Eric's harvest report here). While I love the RS on Bellivière, it was interesting to see this alternate path. Also, the "Rouge Gorge" was my favorite red wine of the trip.
Our last stop was Fredrick Filliatreau. Once again the 2010's were showing really well and the 2011 tank samples offered something to look forward to. The really exciting discovery this year was Fredrick's first ever attempt at making pétillant naturel. That's right, everyone's making a pétillant naturel these days, and I couldn't be happier. Long live Pet' Nat'! The yet to be named cuvée is made with Cabernet Franc from young Chateau Fouquet vines, and man oh man is it delicious. Fresh, fruity, light, easy... Everything you'd want for an aperitif. This will definitely be making it's way Stateside, so keep an eye out.
That was our trip. That night we had dinner at Une Île in Angers and Gérard made the best Beurre Blanc sauce ever. We went to Paris the next night and John Connelly bought cheeseburger chips, which taste EXACTLY like Mcdonalds cheeseburgers. We had another great dinner at Jeu de Quilles. It was a snowy, beautiful (albeit freezing) night, and we finished strong on this trashy strip right by the hotel. It was full of weird, tourist trap, "gimmick" bars. The one we chose was Rolling Stones themed. Josefa got really into this one track (forgot the name) and some dude actually came up to and seriously asked her who was singing the song. It was one of their lesser known tracks, but come on dude! We then had a mini showdown for who could do the best Mick Jagger dance.