‹
›
Article
Poderi Sanguineto Visit (2013)
This visit to Poderi Sanguineto 1&2 took place in April, 2013.
Words by Jules Dressner, photos by Maya Pedersen.
Dora Forsoni is probably the coolest person I know. Even with the language barrier, she manages to be one of the funniest, warmest, friendliest, brutally honest and passionate people I've ever met. Spending time with her at the Sanguineto farm has been a true inspiration on both of my visits. In LDM's portfolio of characters, Dora is up there at the very top.

We arrived in the late afternoon, and were greeted by Patricia. She quickly filled us in on all the juicy animal gossip, namely that one of the geese is in love with one of the hens and its chicks.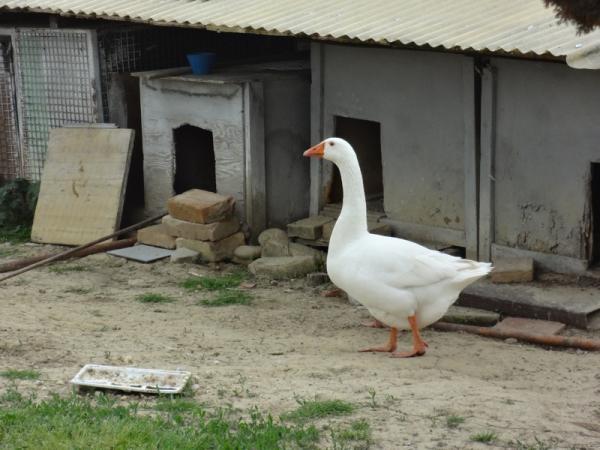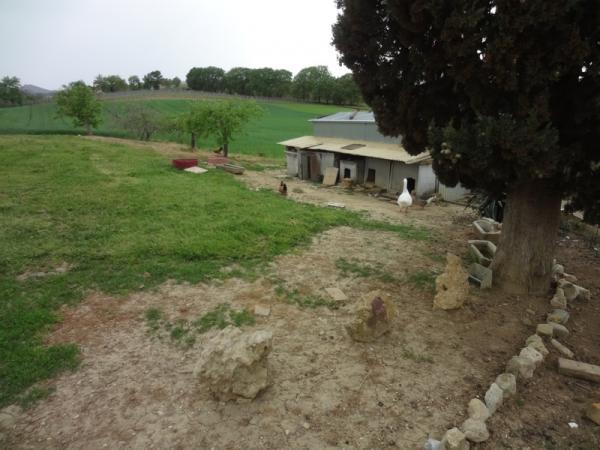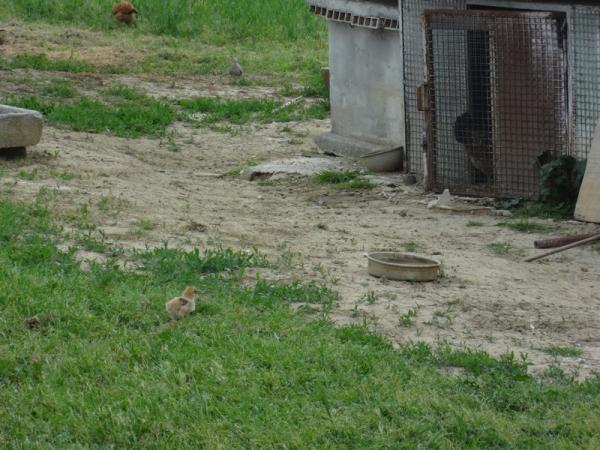 It follows them around at all times, protecting them from danger.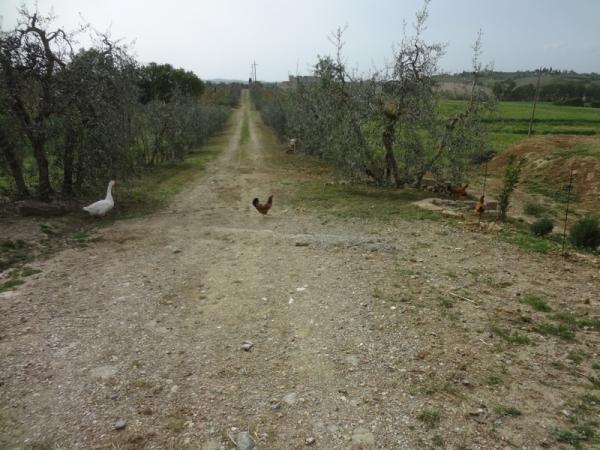 Dora was busy plowing a new, two hectare parcel she planted this year, so we walked over to say hello. After dramatically pulling up in front of us and jumping out of her tractor, the visit officially started.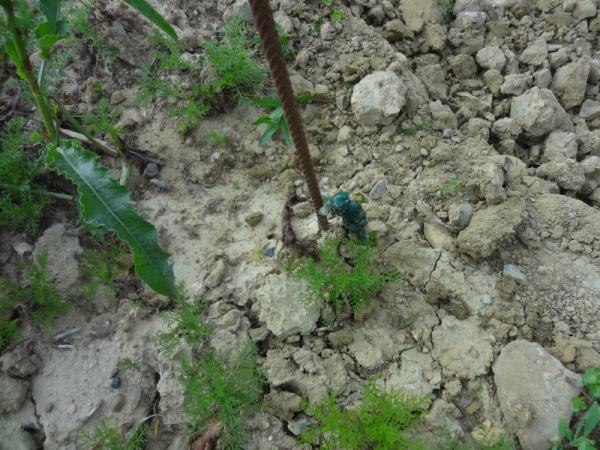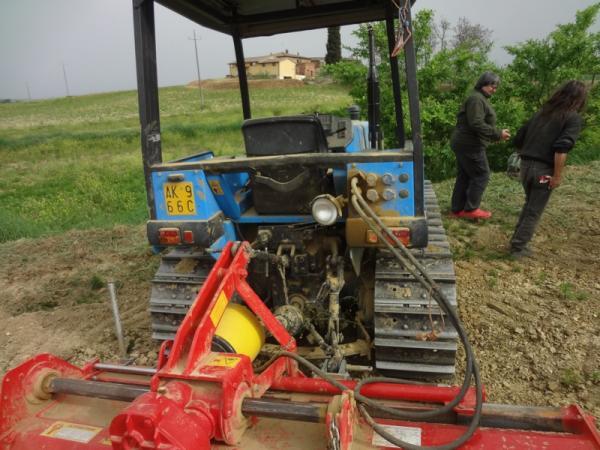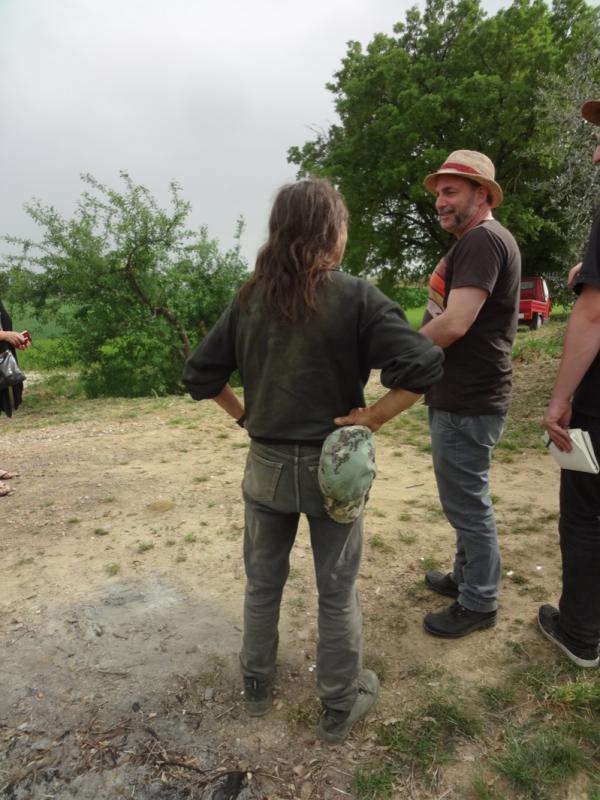 A hectare of this new plot will be used to produce IGT Rosso, and the rest will go into Vino Nobile and the Bianco. In Sanguineto's case, the Rosso and Vino Nobile grapes have always come from the same vineyards, but a newer law forces estates to claim which grapes will go into what for all new plantations. In total, the farm is 35 hectares, with 4.7 of those in vines. Everything is and always has been in massale.
The new plantation is next to a large portion of the old vines, which we checked out next.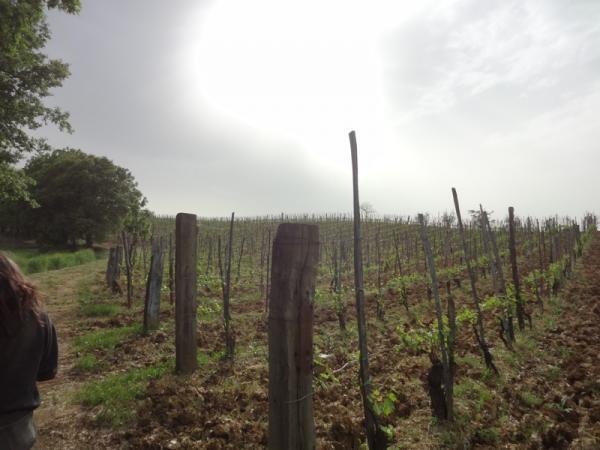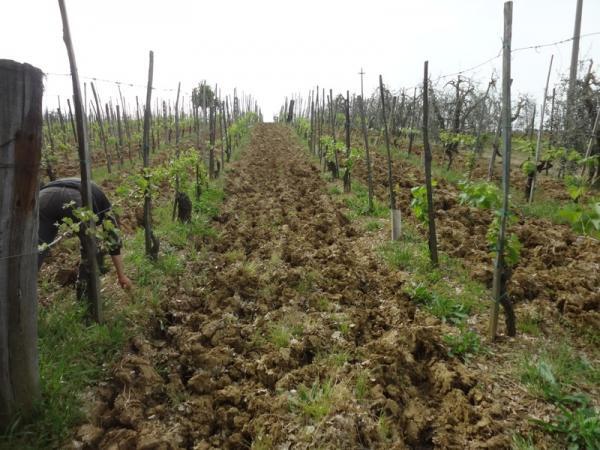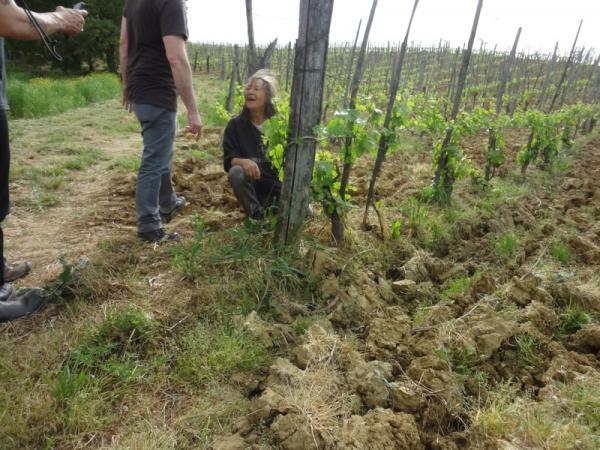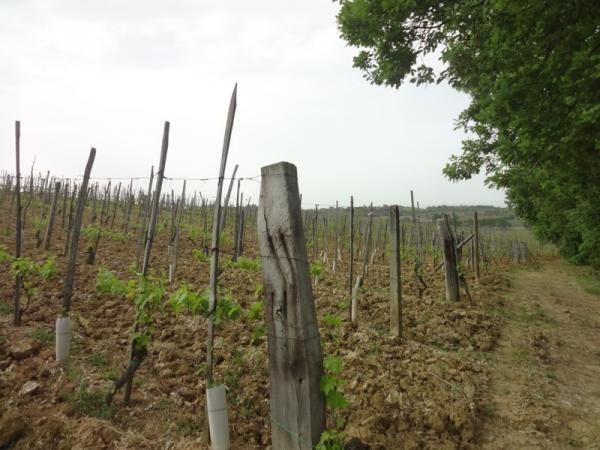 As you can see, the rows have all been freshly plowed with a tractor. Dora does this twice a year. Chemicals have never been used in the vines, and Dora is very much against any manipulation of the plant, particularly rognage, the process of cutting off the tops to create more sunlight and aeration, or alternatively to make more room for tractors and not having to tie them back up as they grow.

"Wineries that cut the top of the plant are doing the equivalent of cutting a human's veins. The plant stops concentrating on producing the fruit, because it needs to divert its attention to healing its wounds."

In a curveball twist none of us expected, Dora started breaking off vine stems for us to taste!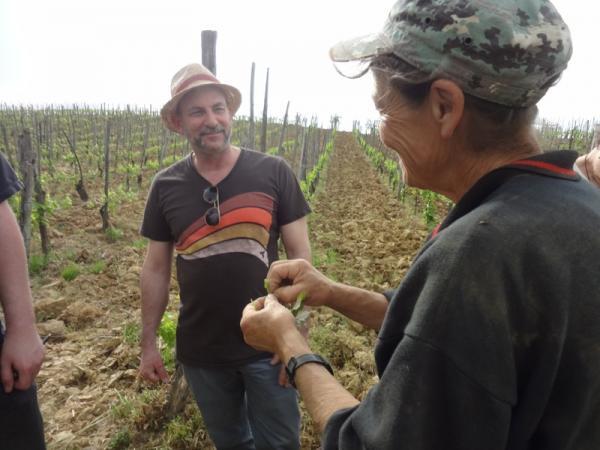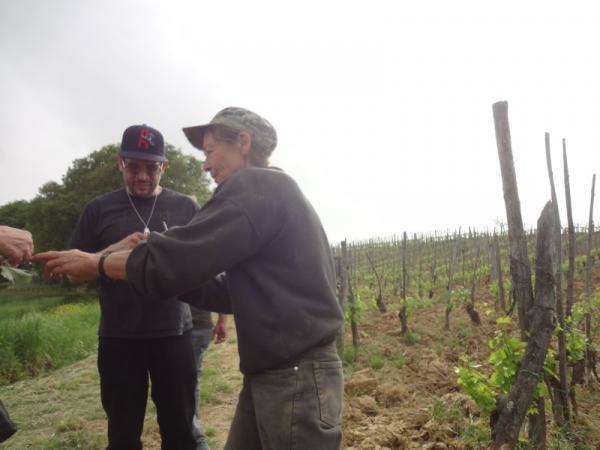 The idea was to make us understand why Caprioli (little dear animals, no word in English) -a big problem in many viticultural regions- love eating these so much. It was a mix of bitter and sweet, reminding me of lemongrass.

After finishing up our snack, it was olive tree time.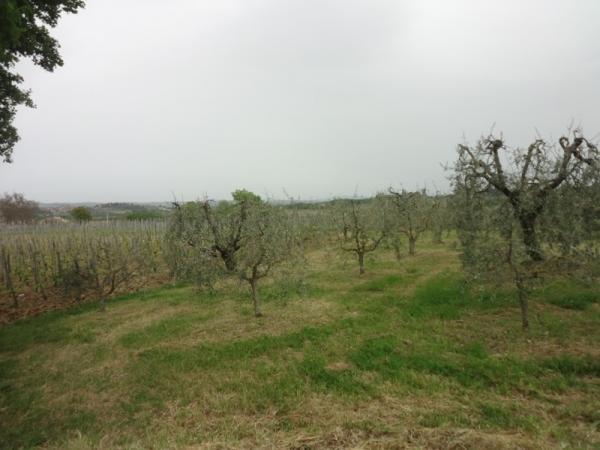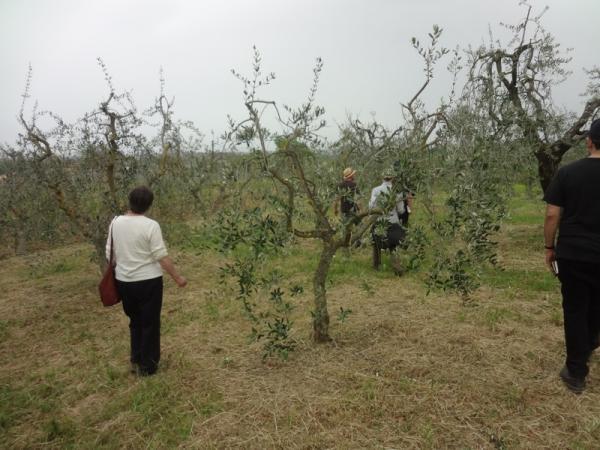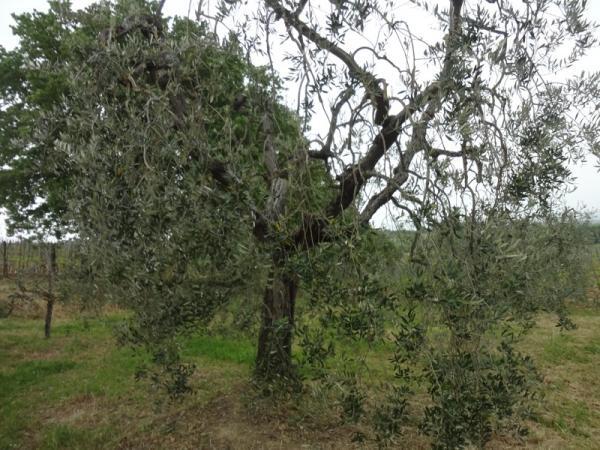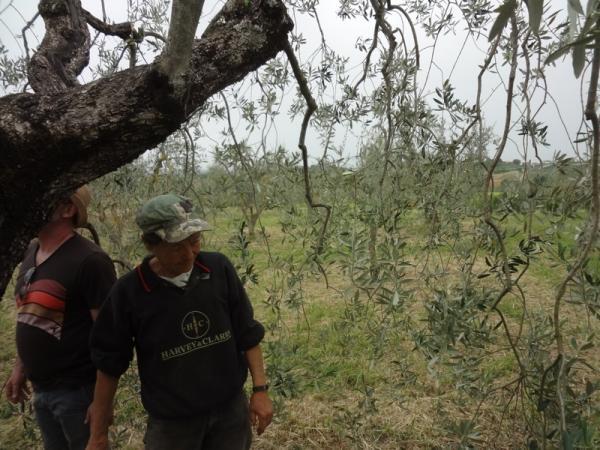 From there, we were off to the wheat fields, which take up a significant portion of land.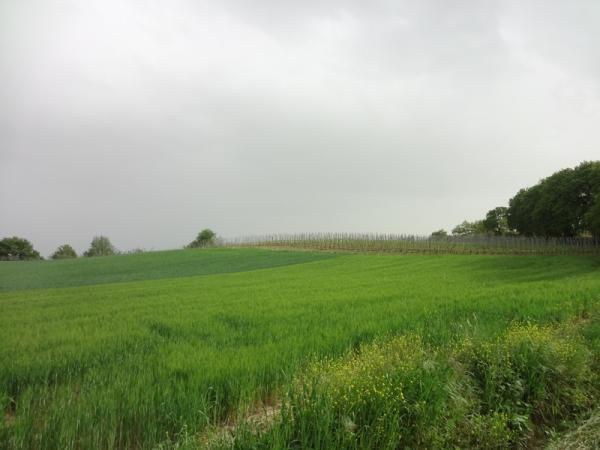 Unsatisfied with our previous snack, Dora started peeling off an un-blossomed wheat plant for us to taste.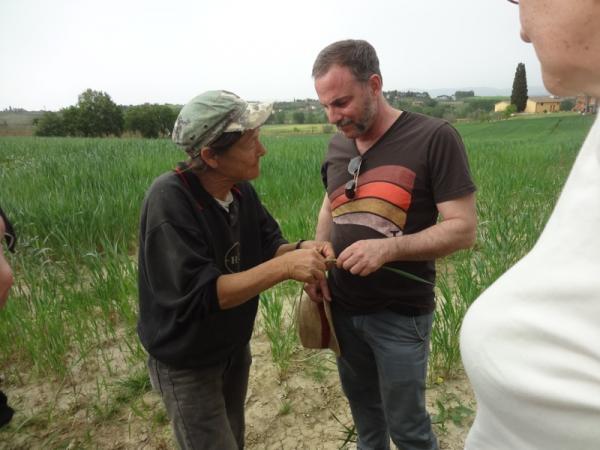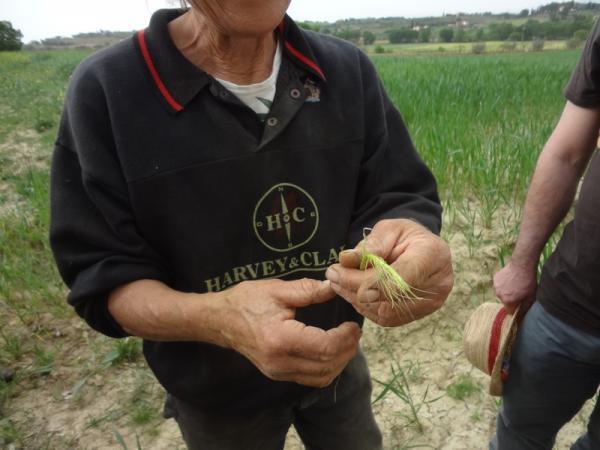 She seemed pretty happy with the results.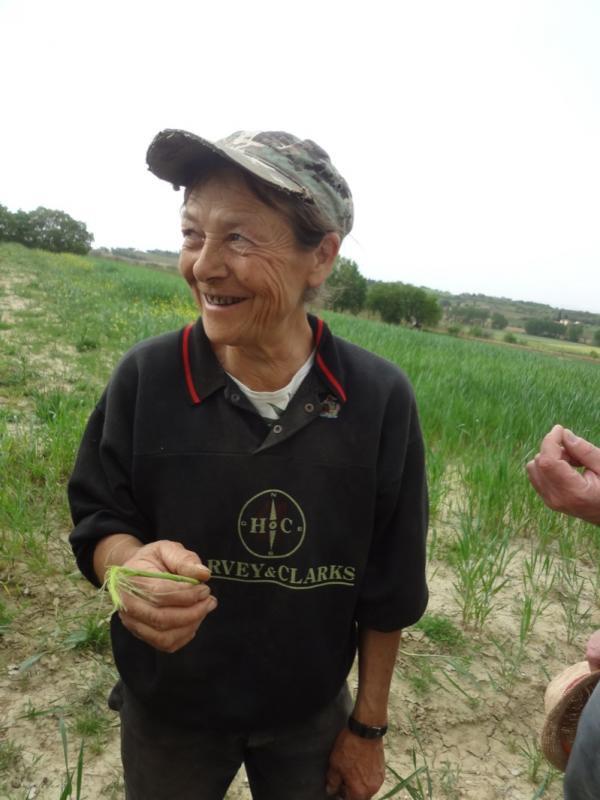 Walking back, Dora started complaining about how the tractor work had gotten dirt all over her. After taking off her sweater to reveal a tank-top any thrift store aficionado would die for, she let her hair down and looked like a member of the best heavy metal band you've ever heard.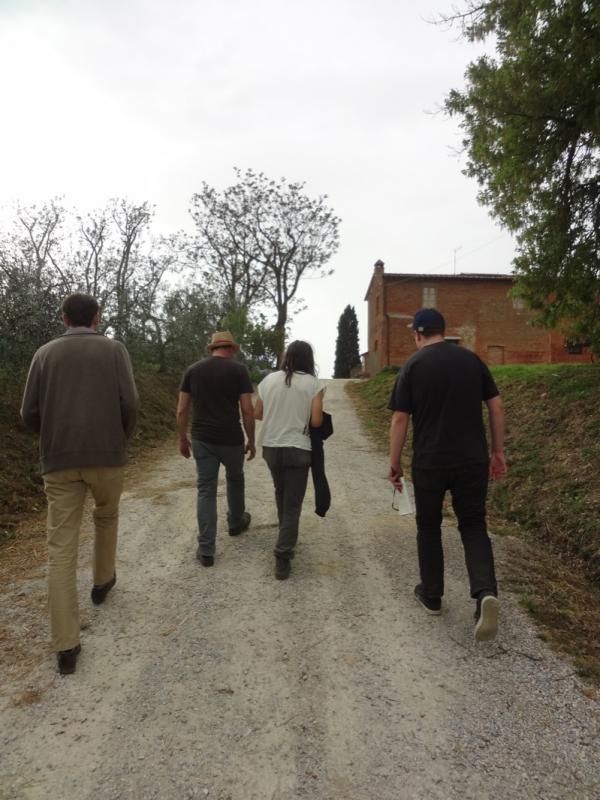 Seek out this 1986 masterpiece if you can. Totally worth it.

Here are some pictures of Casa Dora, aka "Dora's house".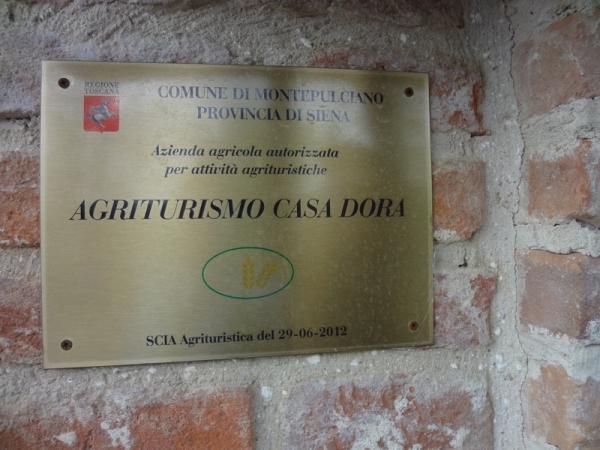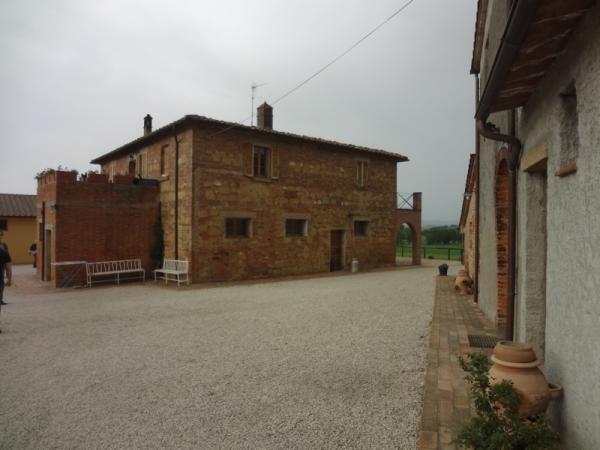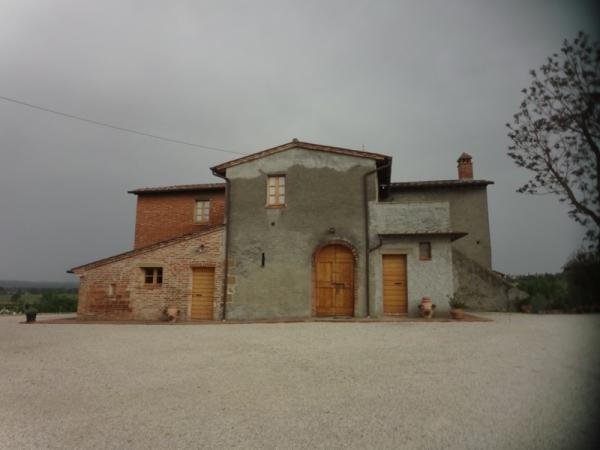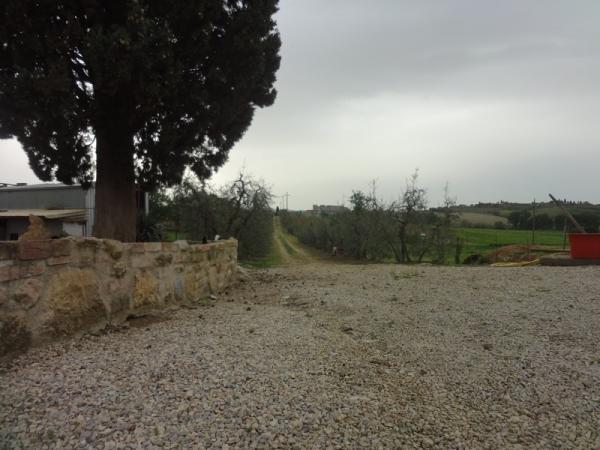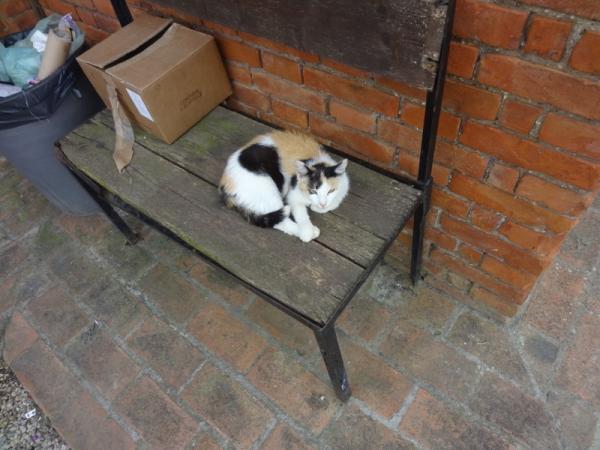 In the vinification cellar, we got to taste the 2012 Bianco, a wine Dora considers:

"The life of the contadina!"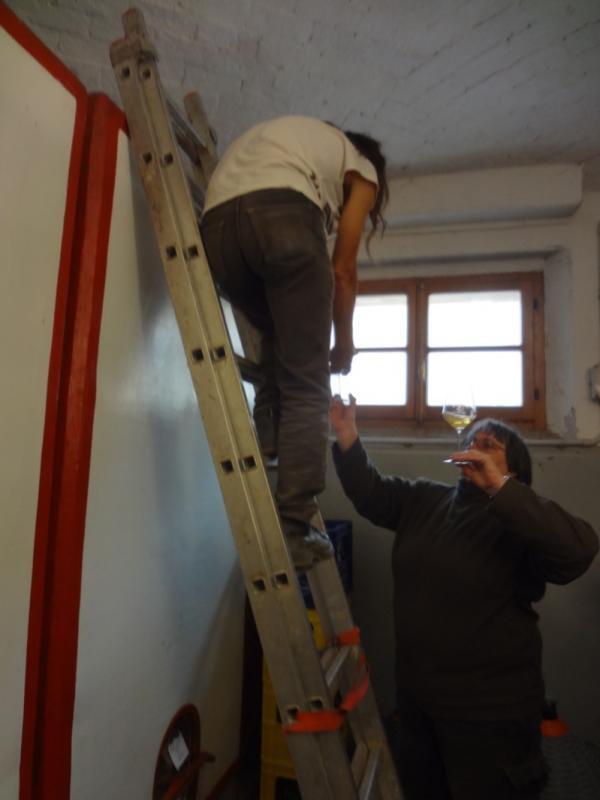 I've always loved this wine, and it's particularly fruity and generous in 2012. The pressed juice ferments in an open concrete vat with less than 24 hours of skin contact and no temperature control. It then ages in concrete tanks.

We also tried the 2012 IGT Rosso, which was delicious and incredibly balanced despite its 15 degrees of alcohol.

At this point, Dora said she couldn't stand being so dirty anymore, that she had dirt EVERYWHERE (even in her nose!) and that needed to shower immediately. When she was done, she returned in her swanked out, night-on-the-town outfit and we headed to the aging cellar to taste more.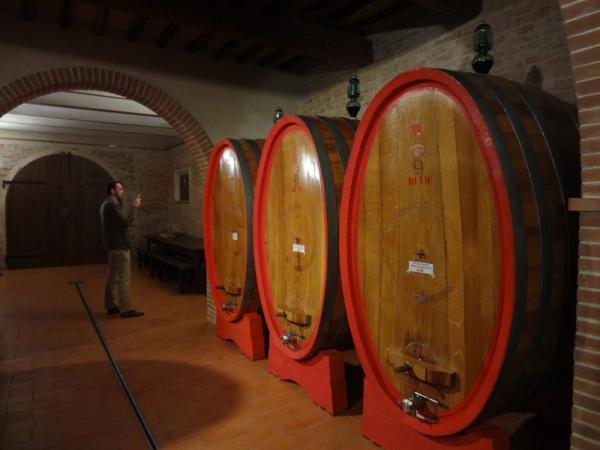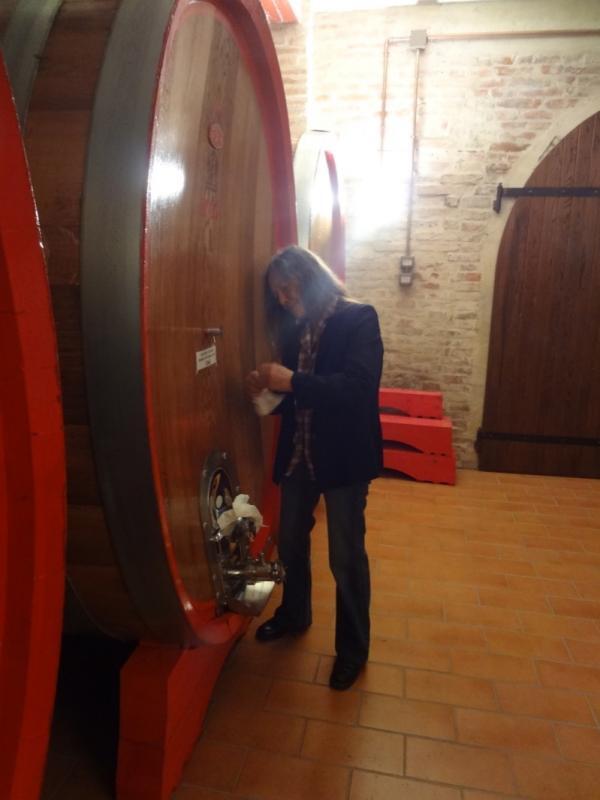 Everything was tasting really good, including the homemade "slayed and made" wild boar sausages served up to accompany the wines. One distinction Dora made sure to accentuate was that the wines are made with Prugnolo Gentile, Canaiolo Nero, Mammolo and local strains of Sangiovese.

"There are over 100 types of Sangiovese mutations in Italy. They are territorial. The consumer wants a simple explanation, but when they want to talk about Sangiovese, I ask them "which one?"

This got us talking about tradition and how it continuously keeps getting flushed down bureaucracy's toilet. You can now release a Vino Nobile as long as it's spent one year in barrel, six months in ANY container (wood, concrete, stainless, fiberglass, whatever) and six months in bottle. So by following the "old" law, Sanguineto releases their Nobile a year late. Ironically, the Rosso they've always intentionally declassified could technically be labelled a Nobile now.

"Here we have centuries of tradition, and with a few new laws, everything is up in smoke."

Another law that recently passed? 30% of ANY grape can be used "in reason" to produce a Vino Nobile.

"This was a direct result of the Brunello scandal. Instead of getting busted for putting something you weren't allowed to put into the wine, just change the law!"

We love you Dora!

The visit ended with a quick giro to the 0.7 h parcel that produces the IGT Rosso Toscano.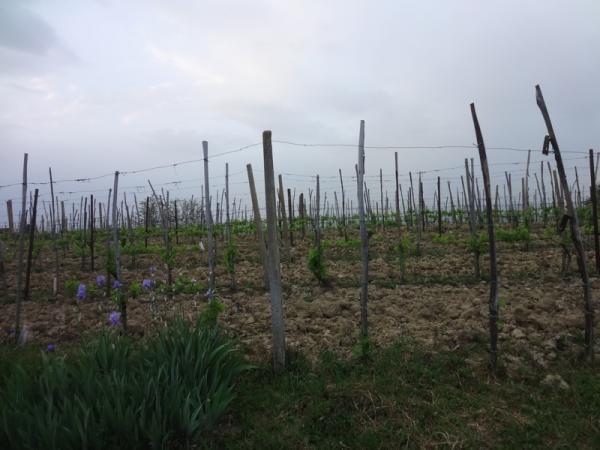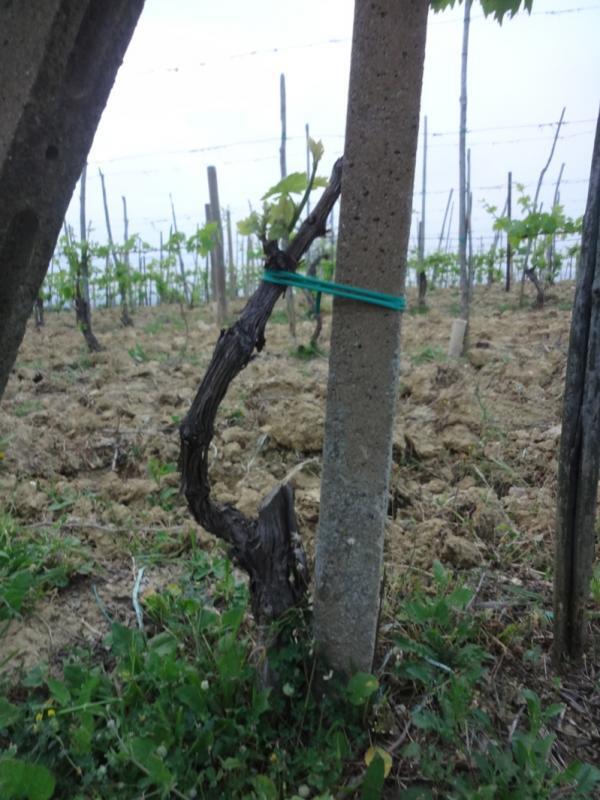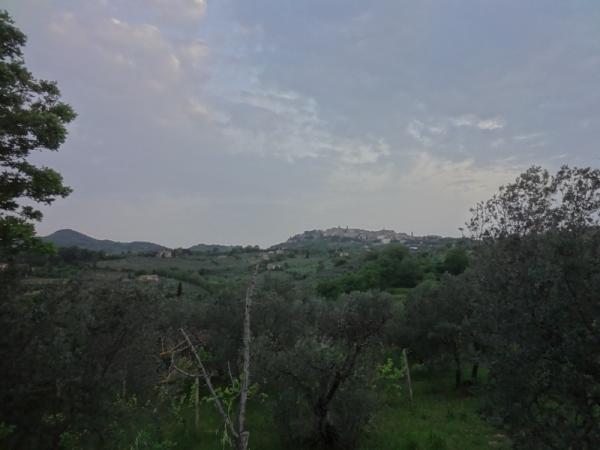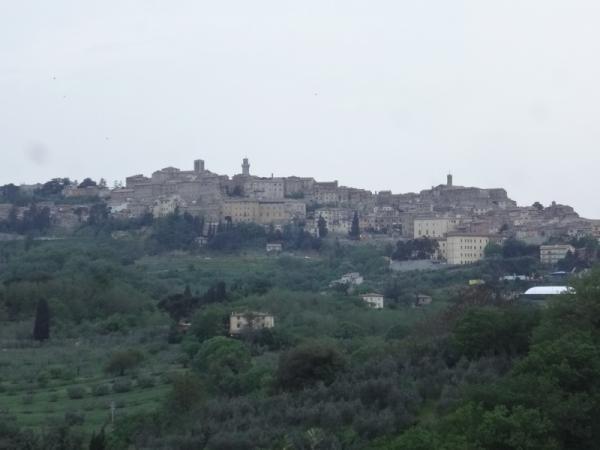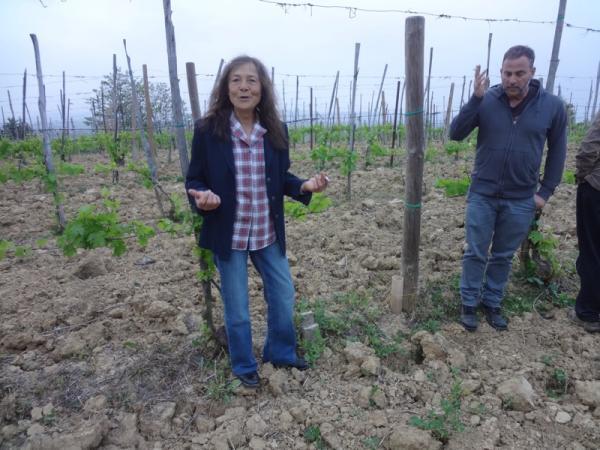 Dora rents this parcel. The grape grown here is the Nero Toscano strain of Sangiovese. This is the only wine Dora bottles as a mono-varietal.

Dinner was great, blah blah blah...