‹
›
Article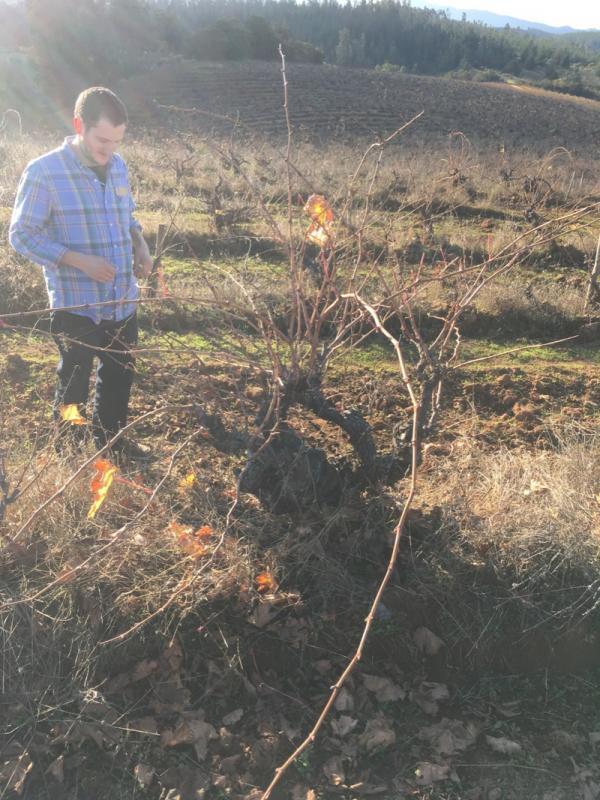 After settling in- without jet-lag for once!- we were ready to see some vines! Santiago is about four hours away from where LA is based in the Maule Valley, and this would be our first of many insanely long drives.

If you're unfamiliar with Chile's geography, it's a uniquely laid out country. Bordering Peru, Bolivia and Argentina, it is extremely long and narrow.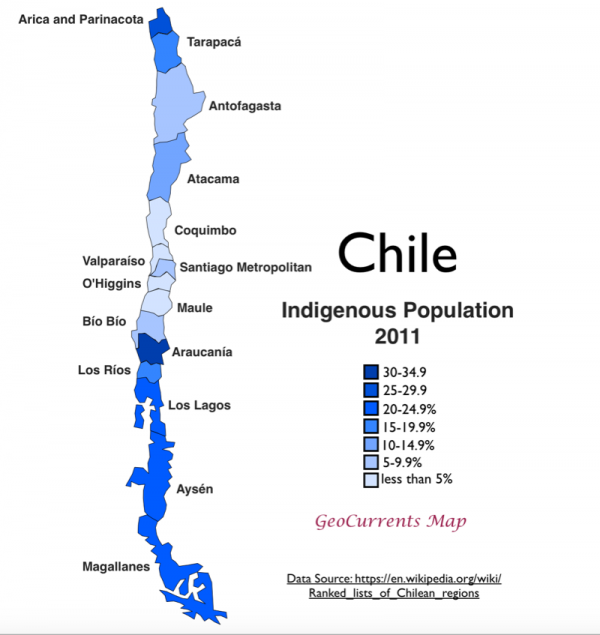 LA's work focuses on three regions: the Maule Valley, the Bío Bío Valley and the Itata Valley. While driving down South, we had plenty of time to catch up on LA's vinous beginnings (if you haven't already, read his interview for more insight).

The first wine LA ever made was some Cabernet Sauvignon and Carmenere in 2004 from grapes bought in vrac. Having worked with Phillipe Pacalet, he'd wanted to ferment them off their native yeasts but was forbidden to by the winery's enologist.

"He brought me to his office to have a "serious" talk about the need to yeast and re-acidify. The winery he worked for vinified the equivalent of 400 hectares of wine, so he was totally in an industrial mindset."

LA bought the finished wine back from this winery, and these were to be the first two Clos Ouvert wines (now defunct, Clos Ouvert was Louis-Antoine's first foray in Chilean wine).

Around this point in the drive, we drove past the vineyards of Don Francisco, the world famous host of Sabado Gigante.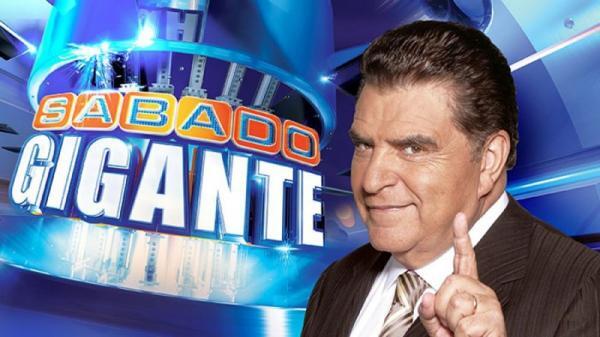 Seriously, google Don Francisco wine.

As the long drive whirled along, LA mentioned that the wood industry, specifically pine trees, is a huge part of Chile's economy. Used for cellulose and paper, the increased demand and resulting specialization has meant that a huge amount of the country's native woods were torn out to make way for these conifers. Pay attention to the pictures in the upcoming recaps (including the one at the start of this post), and you'll notice that pine trees are intricately tied to Chilean scenery.

"It's green everywhere and blends into the scenery so you don't notice as much, but these are NOT the native trees of Chile! To me, this is the biggest environmental disaster this country faces."

With lunch time approaching, we stopped by one of LA's favorite restaurants, Las Brisas de Loncomilla.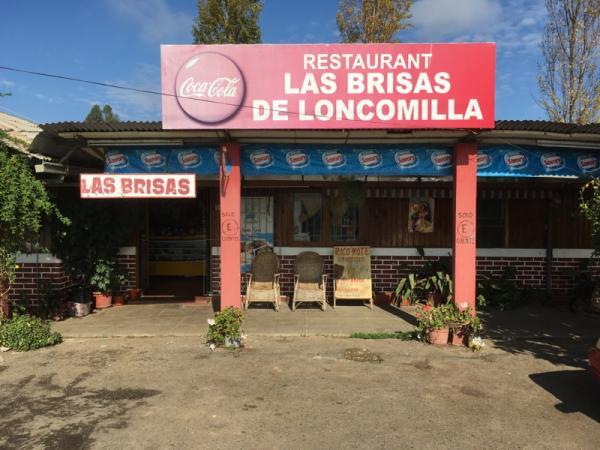 The first thing I noticed was at least five dogs just hanging around outside.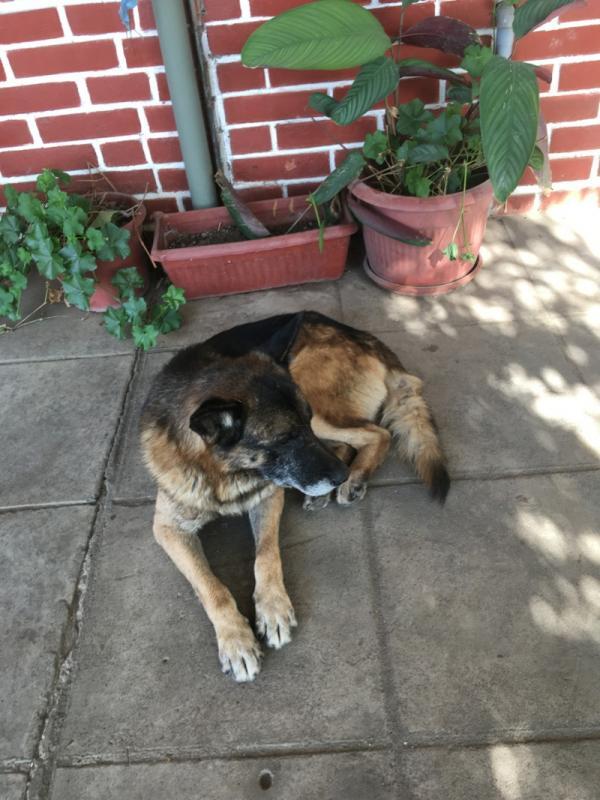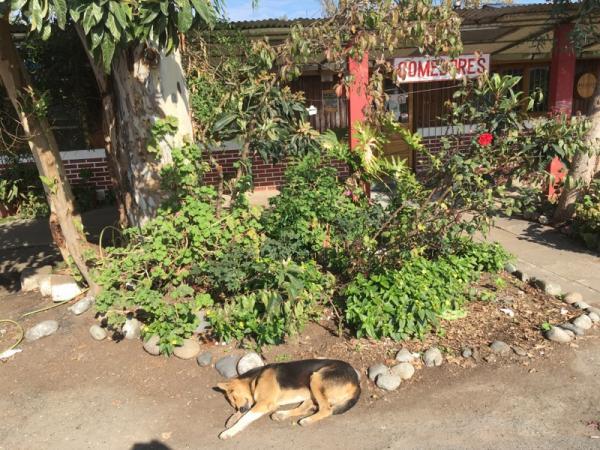 My favorite was this little creature.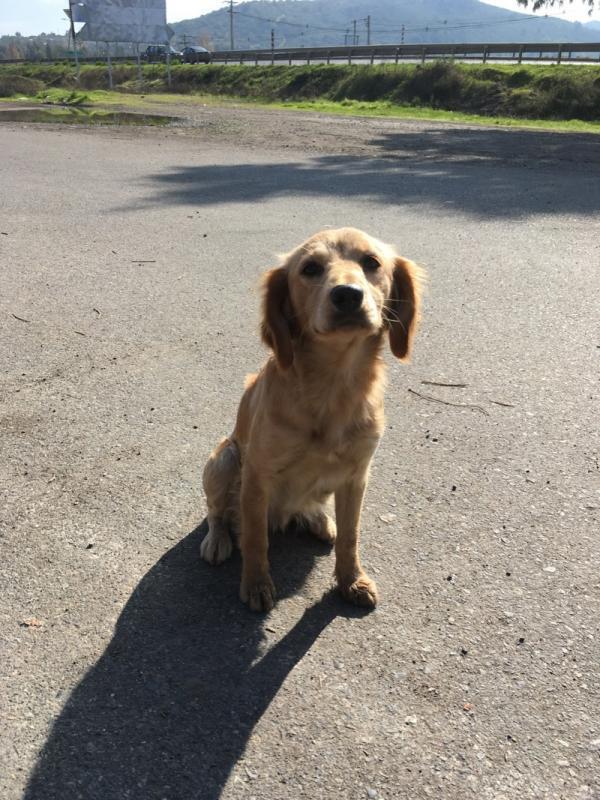 Naturally, I had to give her a nice belly-rub to prove it.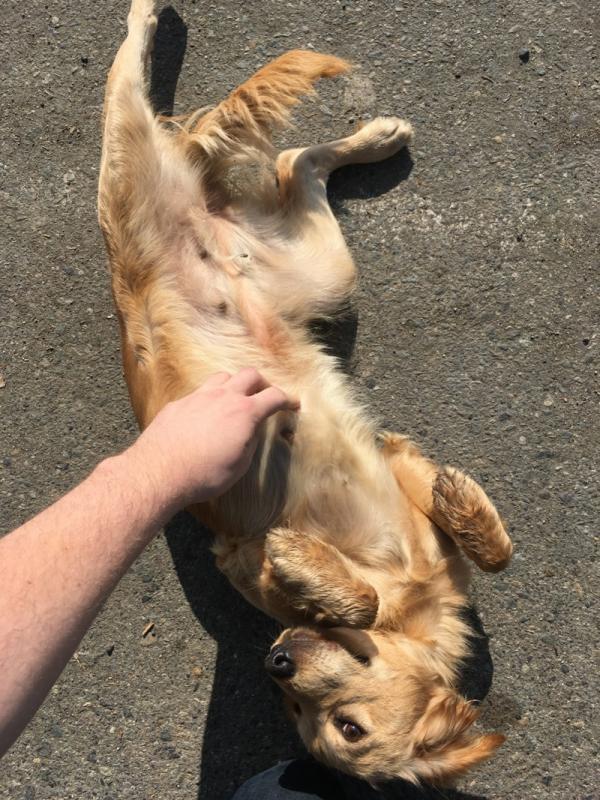 Shortly after sitting down, a man named Walter (who works with local farmers) dropped three Pipeños from a potentially new supplier. The best one came in a three liter coke bottle.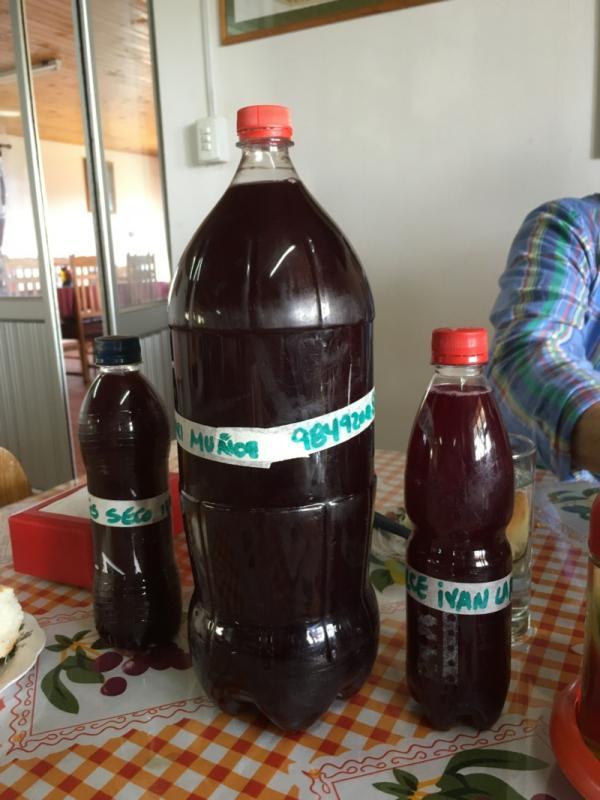 It might strike you as unorthodox, but keep in mind that the Pipeño wines are not typically bottled and this is how they are served. In fact, when we taste with LA each year to make our buying decisions, he always brings his samples in soda bottles.
The three liter País went down real smooth, but the two others, from grapes picked much later, were still in bubbling in their primary fermentation stages.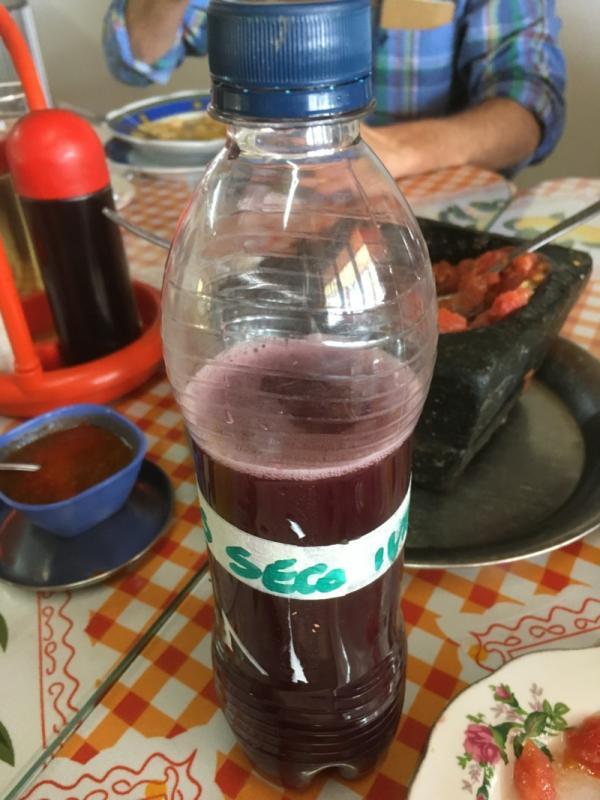 After lunch, it was time to visit our first vineyard! We set things off at Truqilemu, the parcel where LA buys his Carignan.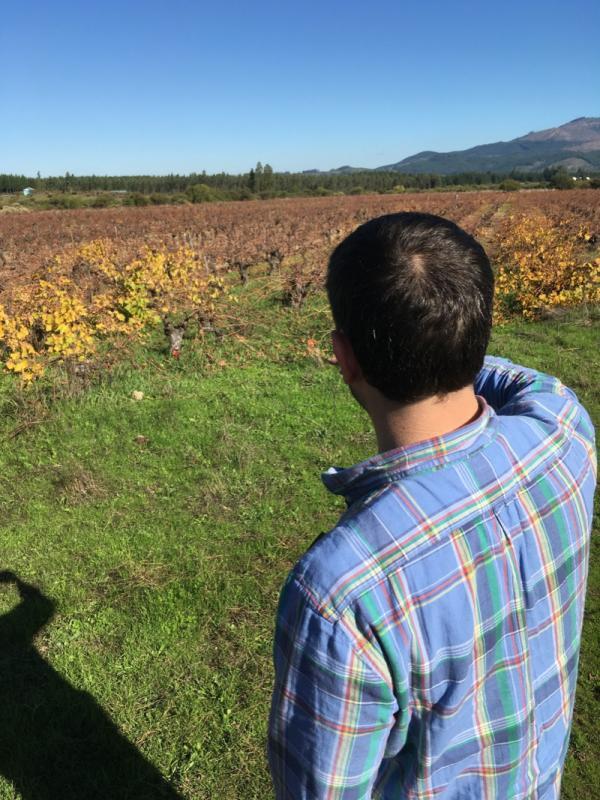 Upon arrival, we were gruffly greeted by Walter Orillana, the owner of the vines.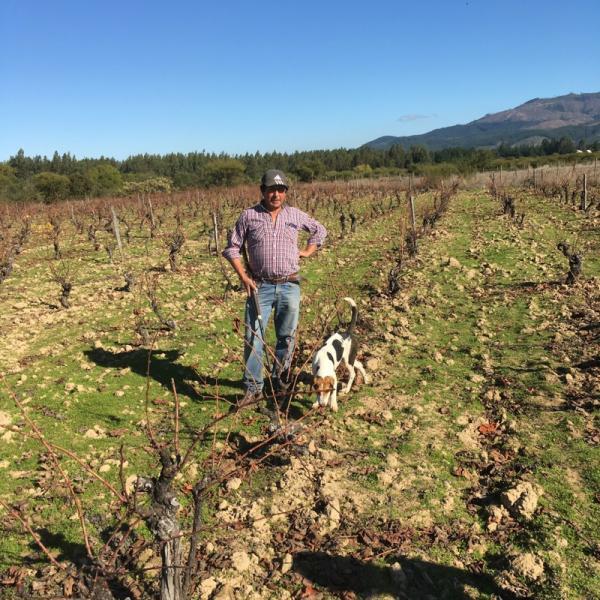 I'm not really sure why he needed his rifle, but he held on to it the entire time of our visit. Which is probably why I never got that close to him when taking his picture.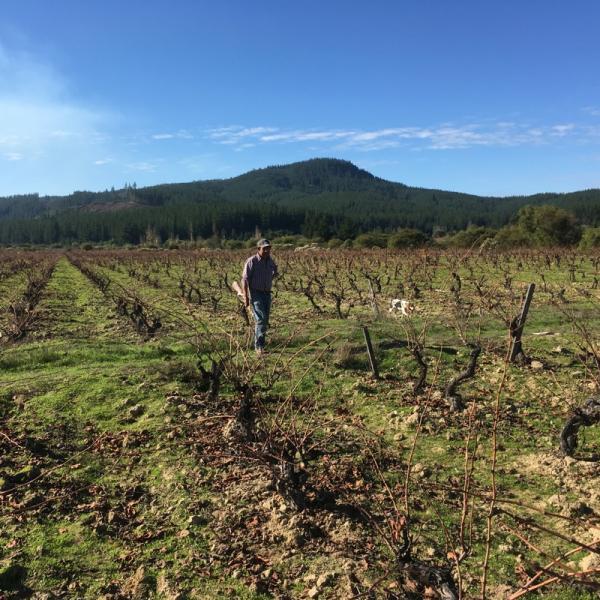 Truquilemu is the flattest vineyard LA works with. The vines vary in age, but he sources from those that are between 70 and 80 years old.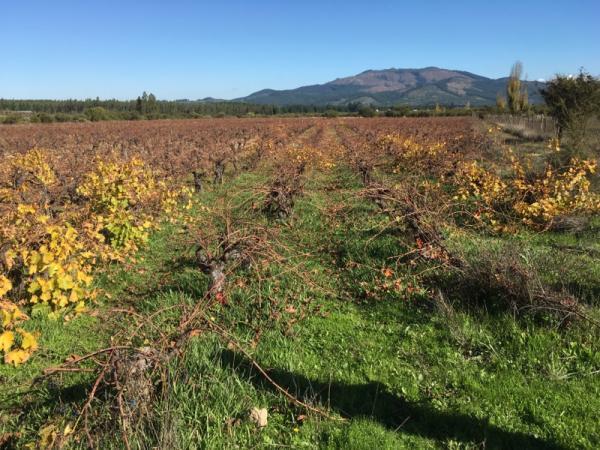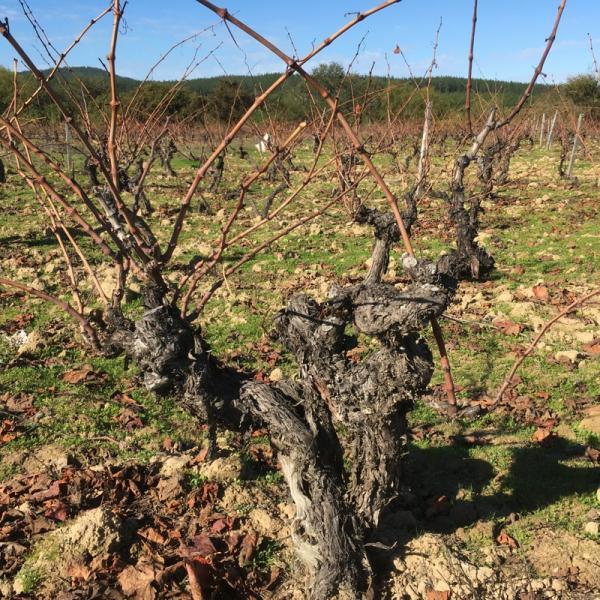 The soils are composed of clay and sands.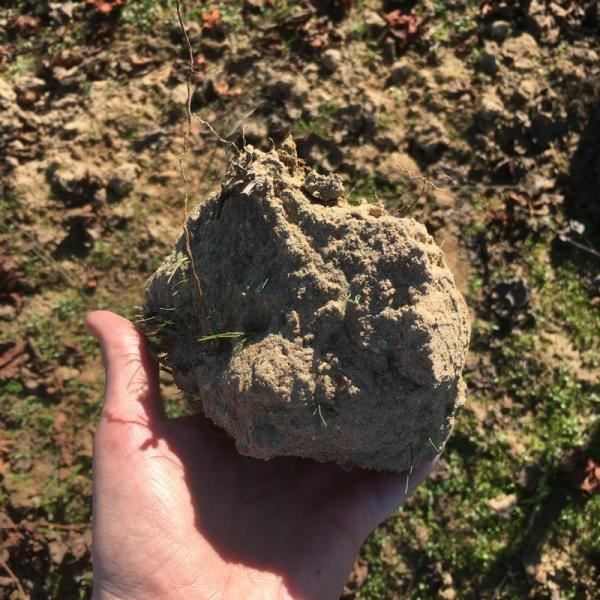 LA explained that Carignan has been grown in Chile since 1860, but wasn't really developed until the 1940's. He's been buying fruit from Waldo since 2009, and purchases the equivalent of 1.5 hectares.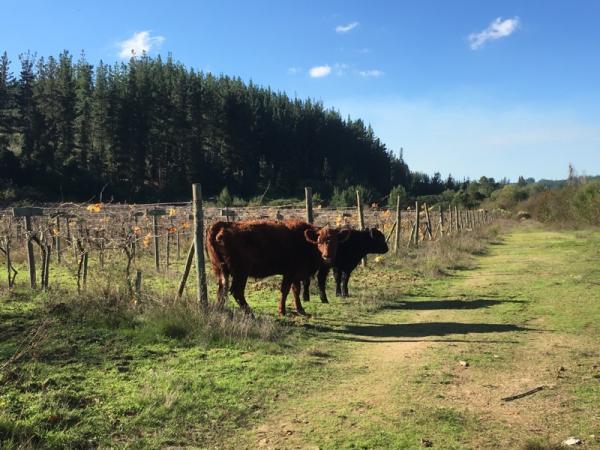 All in all, Waldo might have uttered 10 words the entire time we were there. But LA reassured me that his other suppliers are much friendlier.

"Waldo is the least sympathetic guy I work with: he never talks, always wants to angle business and is as friendly as a prison cell. But he works well and the fruit is beautiful."

From Truquilemu, we set off to Quenehuao, the site that produces "País di Quenehuao".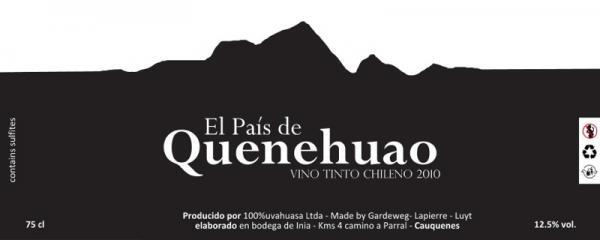 For those unfamiliar with the "País de..." line, LA only makes them from País, the original grape planted by the conquistadores hundreds of years ago. This single vineyard line is meant to highlight the most singular, unique terroirs he works with.

Luyt is the only person making single vineyard expressions of País, and he originally caught a lot of flack for this. You see, the grape is de-classified for use as a single-varietal in all of Chile, and thus cannot produce appellation wine. It commonly denounced for being a lowly, inferior grape that can at best result in mediocrity.

But LA never really believed what others told him:

"The conquistadores were well educated and intentioned in their plantings. You had clergy members observing and bringing those observations back to Spain in order to make agricultural decisions. So when you tell me País is a shitty grape that doesn't make sense here, it just doesn't add up to me. These guys knew what they were doing."

Anyhow onto the Quenehuao visit!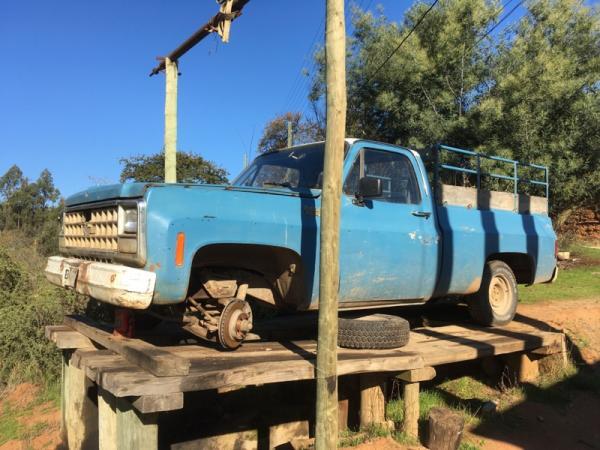 The vineyards we were about to visit were owned by Luis Gardeweg, an eccentric engineer who passed away last year. Before visiting the vines, we checked a still functional wool factory from parts he brought back from Europe in the 1950's and 1960's.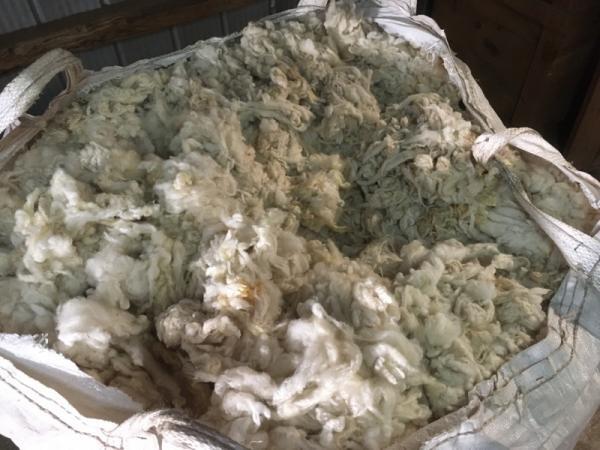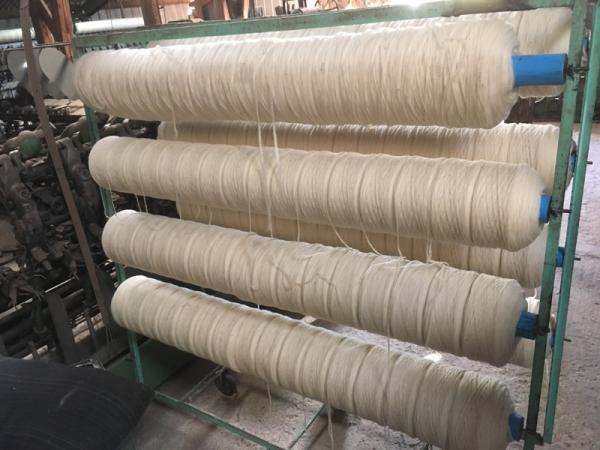 This is where LA gets a lot of his sweet sweaters. On to the vines!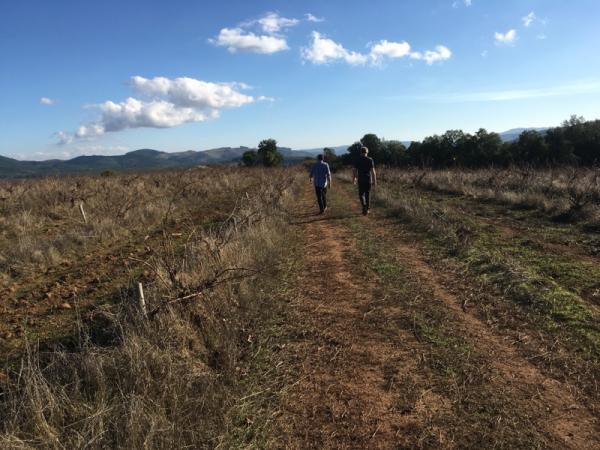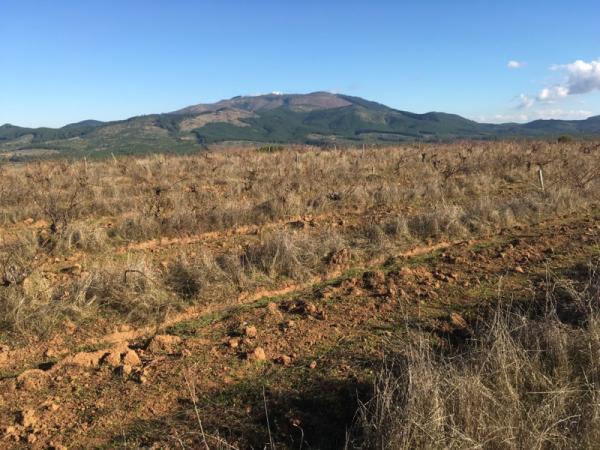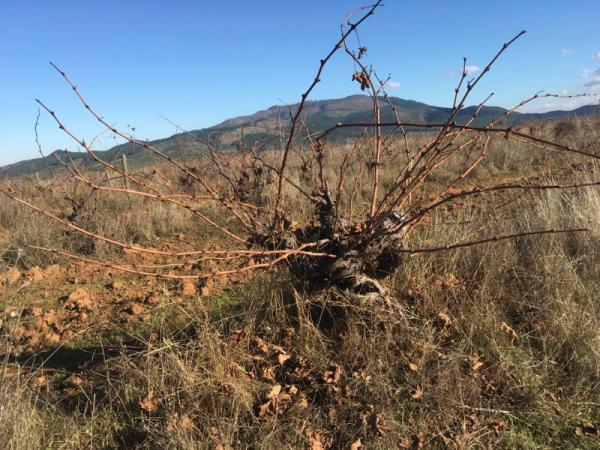 Quenehuao's vines are grown on red clay with granitic subsoils.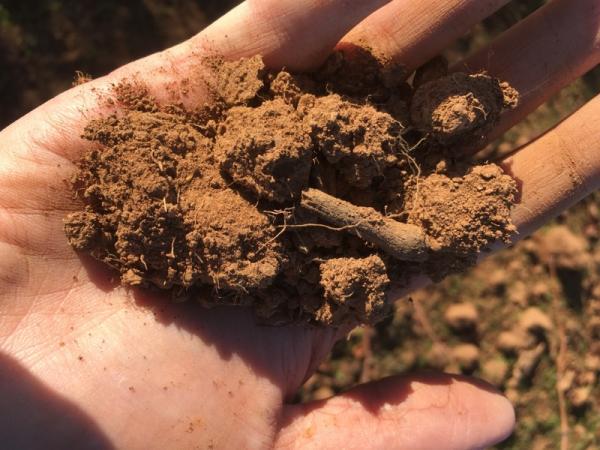 The vines are approximately 250 years old.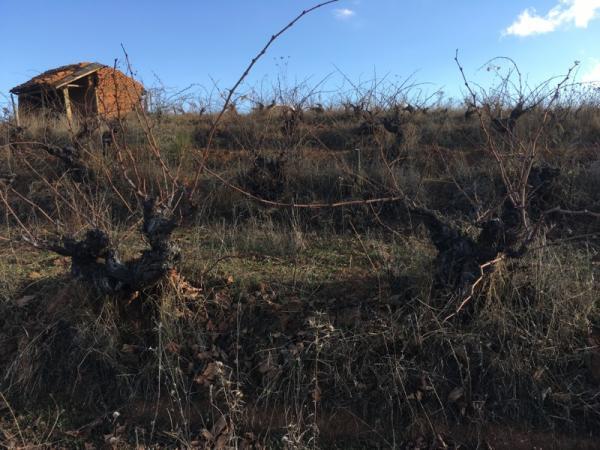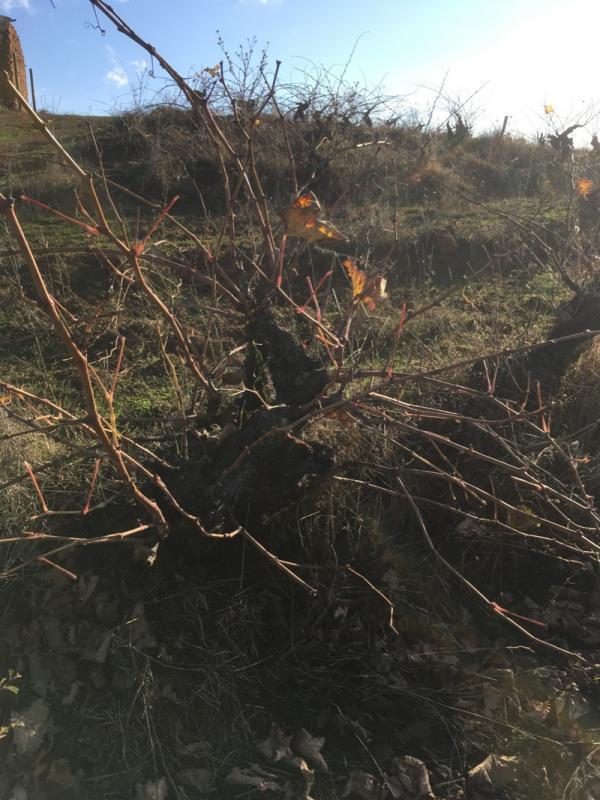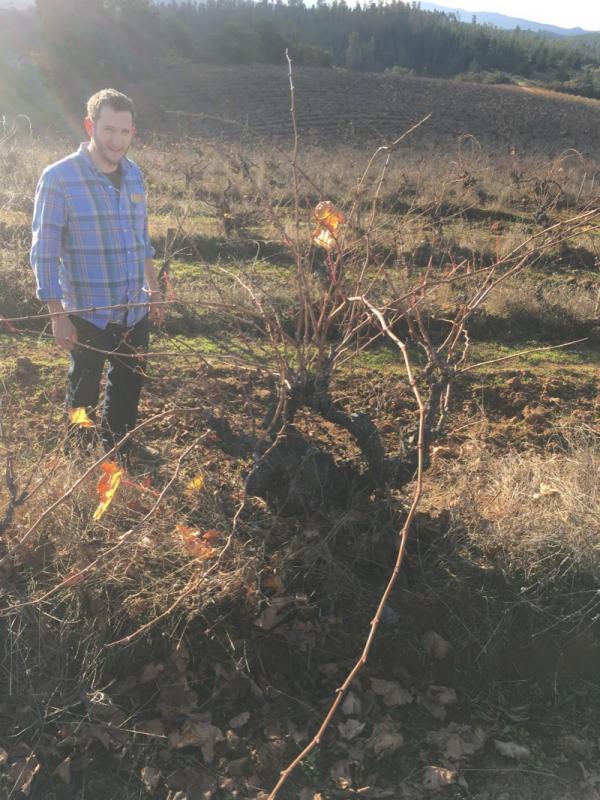 "There are no official records for the age of the vines, but you can make a fairly accurate estimate by examining the woods."

When I asked why some vines were much bigger than others, LA elaborated:

"The vines aren't all huge because when a wood becomes too gnarly, underproductive or broken, you let a new shoot grow from the bottom and eventually trim or snap off the old wood. Think of it as cutting your hair: it's the same rootstock coming from the same place but you need to touch it up every once in a while."

Phylloxera never affected Chile, so all the vines are all franc de pied off native rootstock.

Rabbit shit is everywhere, serving as a natural fertilizer.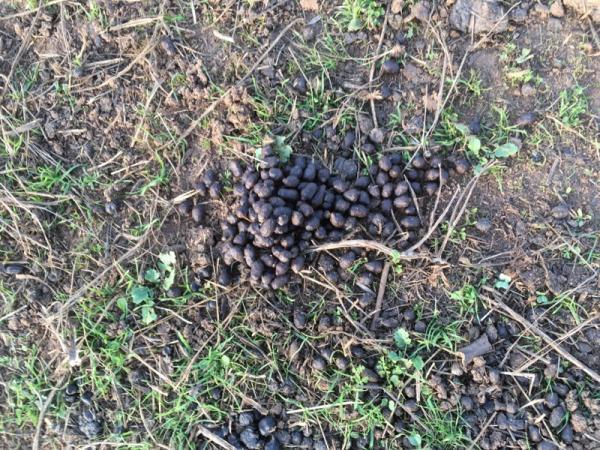 Quenehuao is name of the area, but for the wine LA is referring to the hill we visited, characterised by terraced vineyards on its sides as well as its flatter top. Because of its myriad of different expositions and granitic soils , it reminds LA of Morgon's Côte du Py in the Beaujolais.

"When Marcel (Lapierre) came to visit, this was the vineyard that confirmed to him that I was onto something special out here."

If you'd read the interview I linked to earlier, you would know that LA befriended Mathieu Lapierre in oenology school and spent many years in the Lapierre's vineyards and cellar before returning to Chile for good.

All this talking about Marcel got LA into zen mode next to a particularly beautiful vine.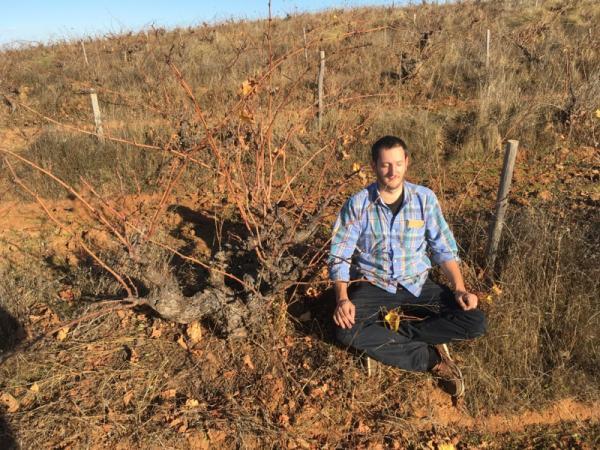 This inspired Keven Clancy, who also got in the mix.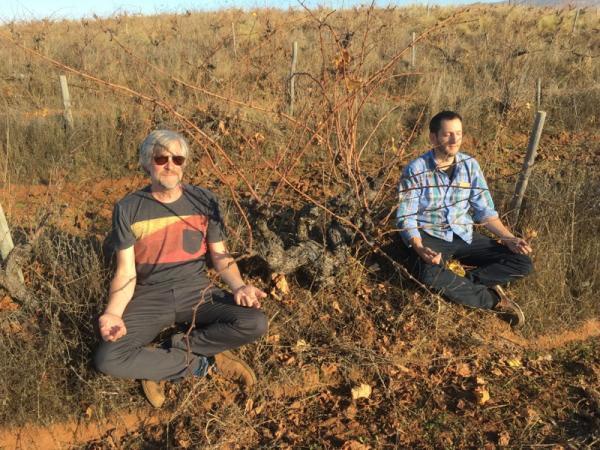 The spirit was so strong that even I got into the mix.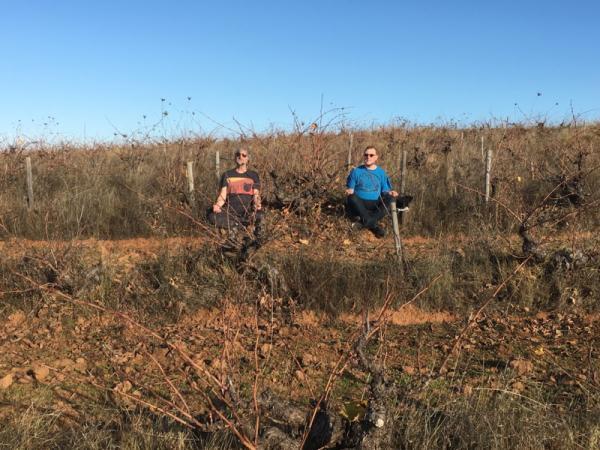 "The vines are so healthy here. The only product they've ever been exposed to is a minuscule amount of sulfur. It's not like the old vines in Europe that you can tell are on their last legs."

Luyt has been harvesting fruit from Quenehuao's terraces for nine years now.

On our way out from the property, Miguel and Gringa made sure we were well on our way.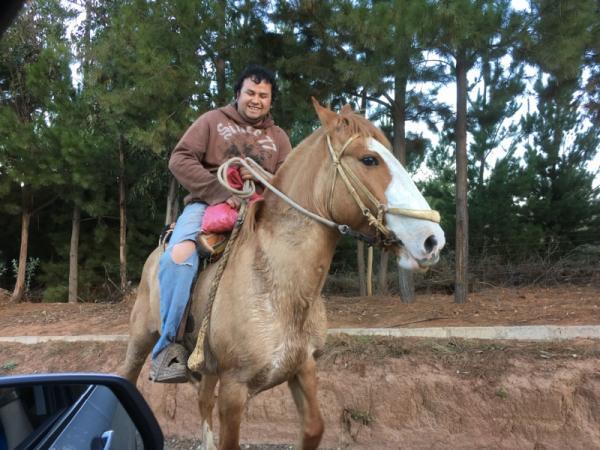 From Quenehuao, we drove to Chillán, the city were Luyt is based. Before getting home, we swung by the super market to grab some delicious box wine.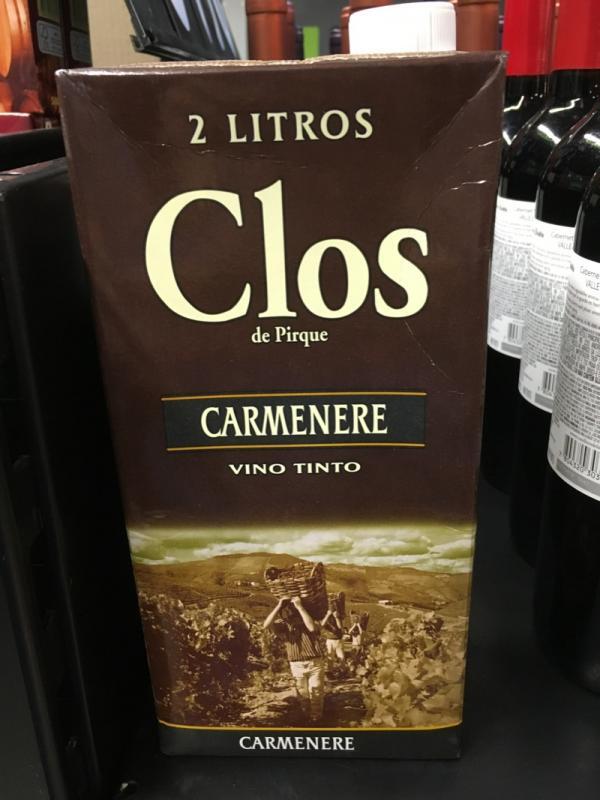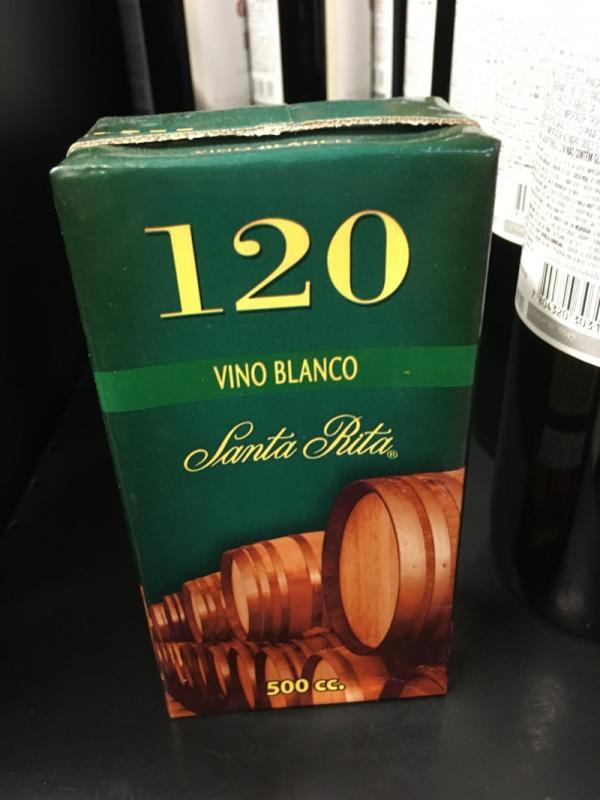 Naw, just kidding. Instead we had some Luyt rarities like this 2008 sans-souffre Chardonnay that took two years to ferment: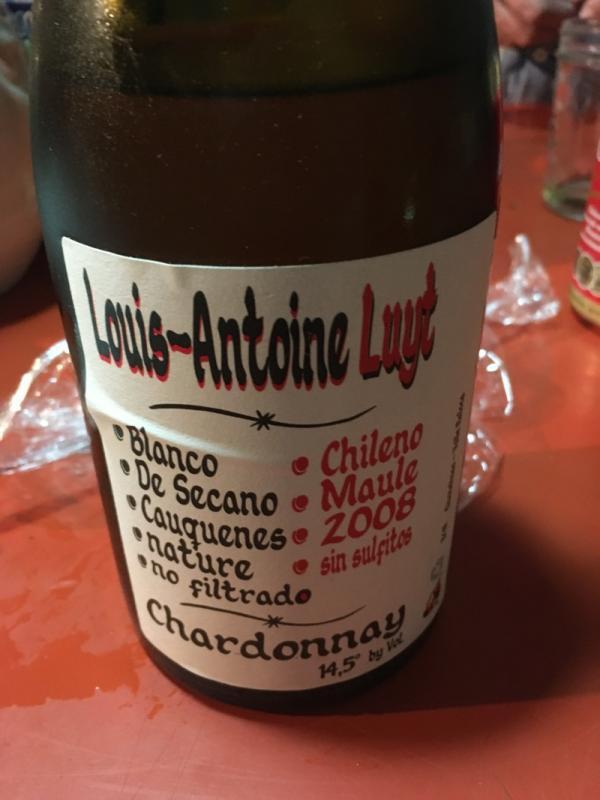 And a 2008 Clos Ouvert, the first wine we ever imported from Luyt!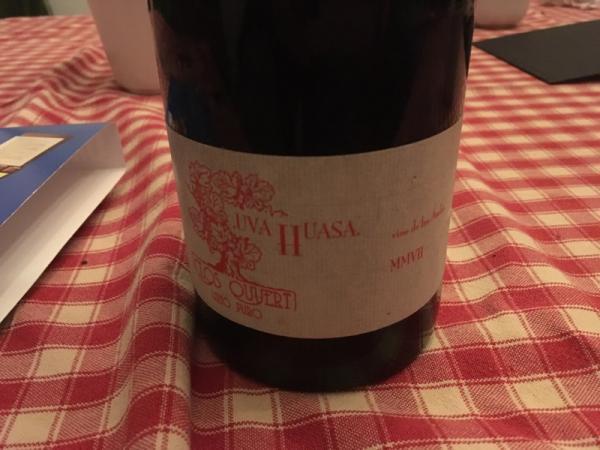 It was a hell of a first day!

A la proxima por la parte 3!