‹
›
Article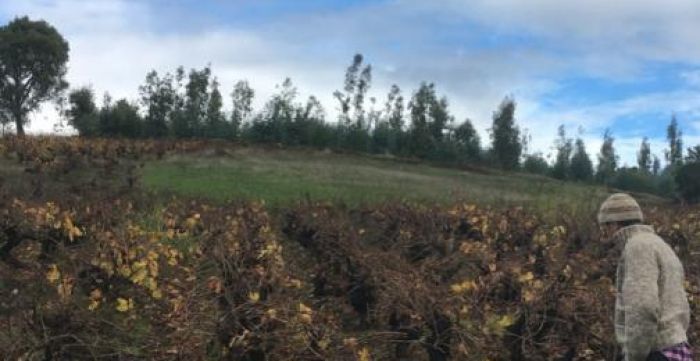 The Chile Chronicles, Part 6: Yumbel and Santa Juana!
After an extensive tour of the Maule Valley, it was time to spend some time in the Bìo Bìo Valley! Our first stop was in the sector of Yumbel to visit Tito Saavedra.
Surprise: this area produces...
Anyhow, the Bìo Bìo itself is a river, and the region is divided into two main sectors. Some, like Yumbel, have sandy volcanic soils. Other parts are more similar to the Maule, with limestone and granite. It rains more in Bìo Bìo than in the Maule, but it's still very hot. Because there is less industrial farming here than the Maule, you find a lot less French grapes. Bìo Bìo is dead in the center of Chile, and has some of the oldest vines in the country.

On to Tito's vines:
The soils consist of light clay and decomposed granite, and are much darker than any other site we'd visited.
These País vines were planted in 1580!!!!!!
"The vines here are incredible. But I still feel Tito overworks them. A huge challenge with farmers is convincing them to prune for lower yields. In their minds, a good harvest is a plentiful one."

LA and Tito have been having pruning conversations that would reduce yields by 30%, in turn sacrificing quantity for quality. It's a recurring conversation with all of his suppliers; most are willing to compromise and do this on the vines LA purchases fruit from, but not the entirety of their land.

From the vines, we checked out Tito's "cellar" to try his Pipeño.
Check out this elaborate stool setup to get up to the lagar.
Ouuuhhh, a puppy!
It was time to taste Tito's Pipeño straight out of a big plastic jug.
It was fruity and spicy with nice structure. This is important to note since Tito's finished wine is what will be bottled as the 2016 "Yumbel" Pipeño.

"Sometimes I buy made wine, sometimes I buy the grapes to make the wine myself. I know Tito makes a good Pipeño without any bacterial issues so I trust his finished product. It would be great in the long term to buy the wine directly from everyone, but the challenge is being able to bottle very fast. Pipeños are all about freshness, and you don't want to lose that."

In 2016, "Yumbel" will be the only huaso-made wine we import the the US. Everything else was vinified by LA. From Yumbel, we were off to the Santa Juana sector. But first, we had to take a river ferry across the Bìo Bìo!
LA was relieved that it was the guy he liked working the ferry.
"There are two guys who work this job, and they both despise each other. The other guy is a total dick."

Once we were on the other side of the river, we took some dirt roads to the middle of nowhere. The drive brought us right to this closed gate.
Already there was a nice view.
Could we be in Santa Juana? The place that produces:
We were! After a few minutes, the lovely Luis Burgos let us in.
Before checking out the vines, we had to pop into Luis' house to meet his wife and proprietor of the land Sara. She was busy whipping up some home-made empanadas!!!!!
This was probably the most excited I've ever been writing about food on a trip.

But before eating, we had to see vines! This isolated plot of land is hands down one of the most beautiful I've laid eyes on.
Amongst some of the flatter vines, an entire box of harvested País had been forgotten.
"I honestly think they just forgot it."

The soils here are similar to Coronel del Maule: red clay with decomposed gravel and flint. The vines used to be worked with systemics, but LA and his team have helped convert the land back to organic viticulture. Luyt comes with his team each year to prune, green harvest and pick grapes.

While Sara kept cooking, Luis served us a little bit of his Semillon for apero.
We also got to try his Merlot straight from huge plastic barrel.
My notes say: "Fresh, juicy juicy."

We also tried a Malbec, which was darker but still easy drinking.

By this time we were starving, so we checked up on Sara and her empanadas.
They were SO GOOD!!!!!!!!!!!!!
I lost track but I think I ate six.

And of course it needed to be accompanied by some Pipeño!
Don't worry, it was Sara's, not Santa Rita.

Sara used to make the Santa Juana Pipeño herself, but didn't feel like making it this year, so LA bought her grapes instead.

"She's getting older but not letting herself slow down. She's always saying yes to every project thrown her way. However making the wine has become too time consuming. Luis makes his personal stash and that's enough for them."

Before saying goodbye, we had to take some goodbye pics:
And polish off that Pipeño:
By the way, I wasn't joking about those dirt roads: